by Lili
A bad influence: fakes promoted on social media
Table of contents
Social media redefined many aspects of life for brands, including marketing. What used to be a mostly straightforward process got quickly turned on its head with the introduction of the new medium - and influencers.
It's easy to fall into the mistake of grouping social media influencers together with "regular" celebrities for the purposes of marketing. It's true that influencers are famous for something or other, just like celebrities. However, their actions, their reach, and their everyday life greatly differs from that of celebrities in the classic sense of the word.
Which means that brand marketing should definitely separate influencers from celebrities when it comes to the creation of marketing campaigns.

What are influencers?
According to the Influencer Marketing Hub, "an influencer is someone who has the power to affect the purchasing decisions of others because of his or her authority, knowledge, position, or relationship with his or her audience, and has a following in a distinct niche, with whom he or she actively engages."
This definition can encompass anyone who actively shares their views on a certain topic on social media and has gathered a sizable following. For example, Kayla Itsines is a well-known fitness instructor with over 12 million followers on Instagram, while Olivia Palermo is a fashion influencer with 6.5 million Instagram-followers.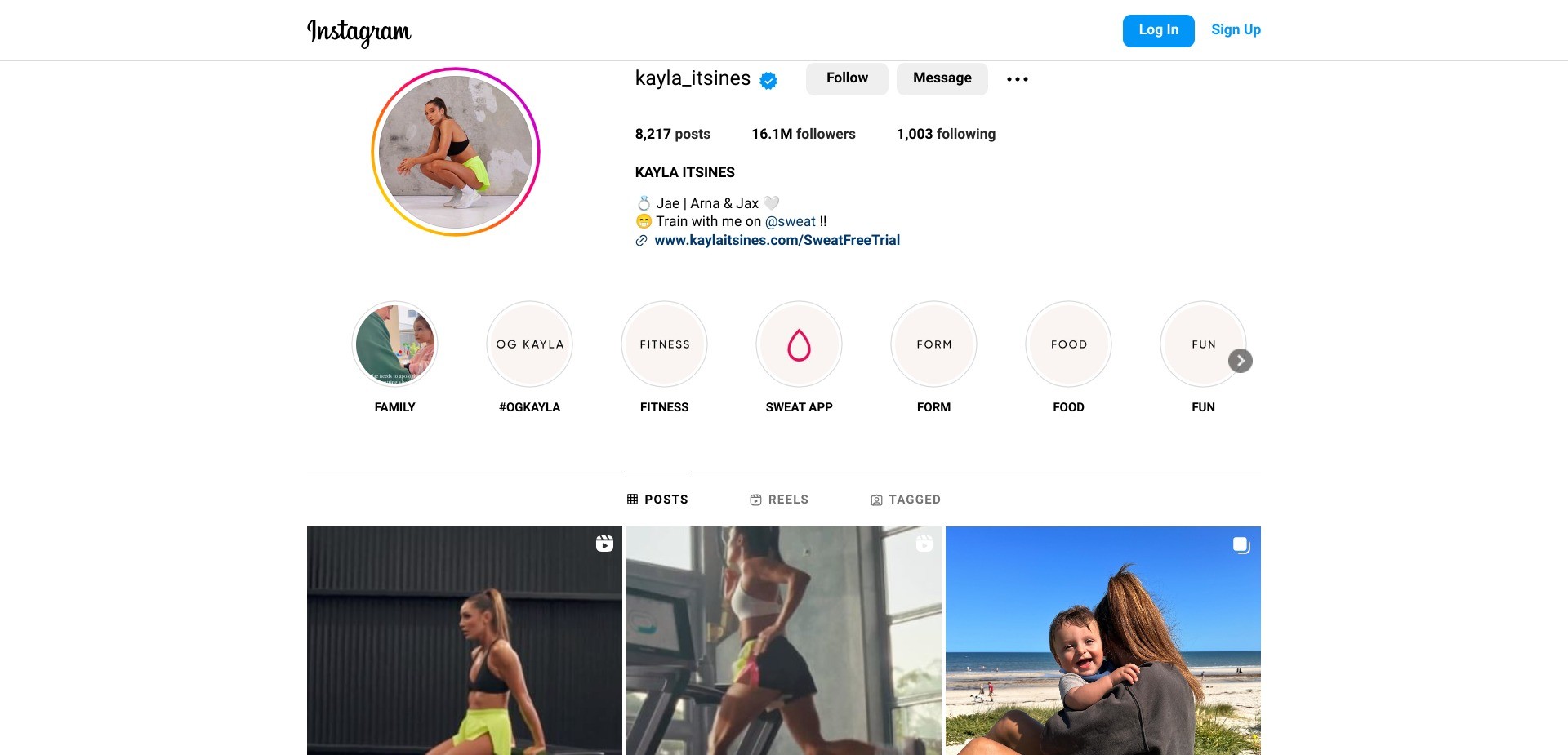 Screenshot of Kayla Itsines' Instagram account

And in our era of the coronavirus pandemic, medical professionals like Dr. Mike Varshavski can rapidly grow a considerable following with sound advice and helpful posts.

Influencer marketing - a sizable market
Because of their experience and attitude, influencers have the trust of their followers on a certain topic. This trust can be invaluable for brands. Since influencers are viewed as authentic experts in their niche, their endorsement of a brand has a lot higher value than the brand's endorsement of itself. In other words, sponsored content posted by an influencer can have a higher impact than a classic ad created by the brand itself.

According to a recent study, 63% of consumers trust the word of a friend, a relative, or an influencer, while only 38% of them are likely to trust promotional information when it comes directly from a brand. Consequently, 89% of marketers believe that influencer marketing has a return on investment (ROI) comparable to, or even higher than traditional channels of marketing.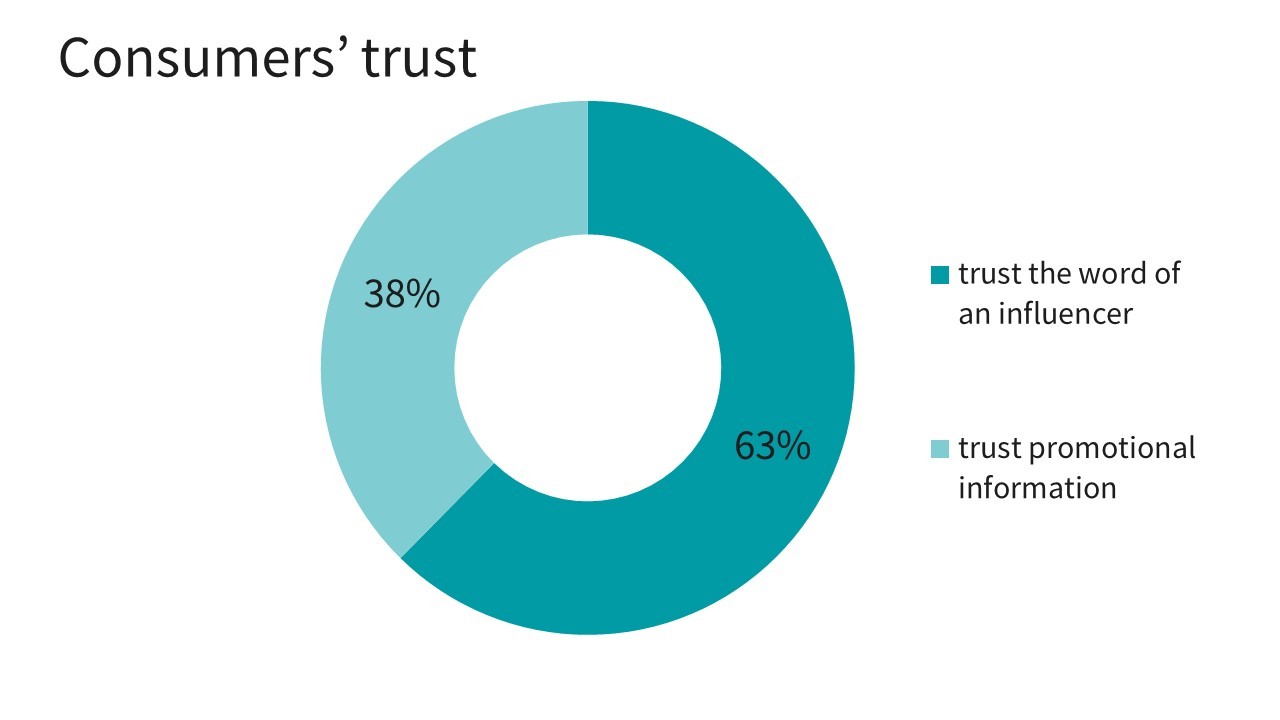 Graphic: Amount consumers trust in the word of an influencer and in promotional information.
No wonder that the global size of the influencer marketing market grew from a "mere" $1.7 billion in 2016 to $13.8 billion in 2021.

Influencer marketing strategies
The beauty of influencer marketing is that its campaigns are very flexible and highly adaptable to any brand's needs. (In that regard, influencer marketing is quite similar to the tailor-made online brand protection programs by globaleyez.)
You can widen your reach by working with influencers who have a larger following in a more general topic, or narrow it down to micro-segments in your industry with the help of influencers highly specialized in a certain niche.
The actual content influencers post can also be tailored to the product and the brand itself. Pictures, videos, tutorials on how to use a product, giveaways, contests, and literally anything else can work, as long as it fits both the image of the brand and the influencer.
For example, unboxing videos are quite popular with both influencers and followers. These videos feature the influencer unpacking the promoted product(s) for the first time, letting viewers experience the joy and excitement of unboxing a desired item. In a way, these videos provide followers with an interactive experience and awaken desire in them to own the product.
Successful influencer campaigns include Mercedes' Loki the Wolfdog content, Hilton's Seven Urban Wonders campaign, or the #ThisOnesFor content by Coca Cola.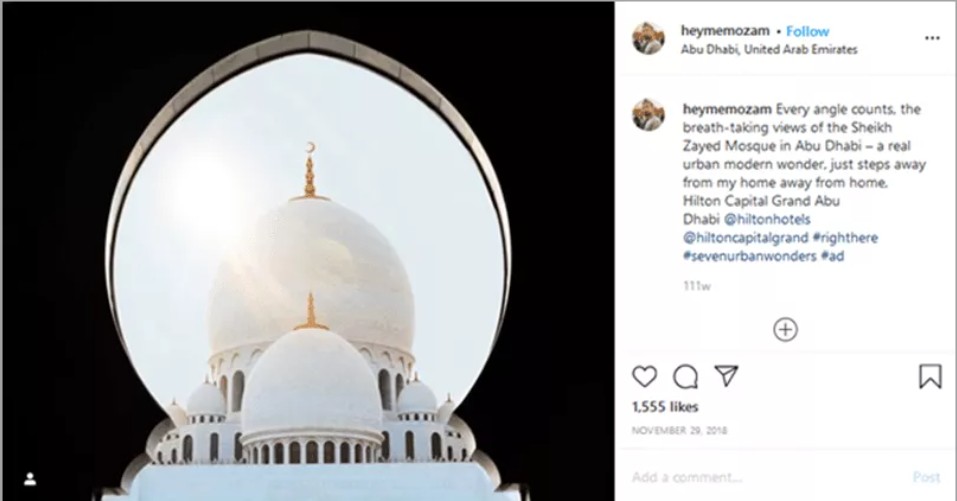 Screenshot from the Hilton Seven Urban Wonders campaign

In a nutshell, influencer marketing can work for any brand with any budget in any market segment. That sounds like a dream-come-true for overworked brand marketing executives, and in an ideal world, that's all it would be.
Unfortunately, our world is far from ideal.

Dupe influencers - bad news for brands
Lately, an alarming trend has emerged on social media: dupe influencers. These social media personalities use their platforms to promote counterfeit goods. In their reasoning, buying fakes is simply a legitimate way to save money for consumers and nothing else.
However, they couldn't be more wrong.
As the report Dupe Influencers: The Concerning Trend of Promoting Counterfeit Apparel, Footwear, and Accessories on Social Media published by the American Apparel and Footwear Association (AAFA) rightfully points out, "to view a fake as simply a cheaper alternative to a brand name product is incorrect and overlooks the health, product safety, environmental, and labor concerns related to the production and distribution of counterfeits."
And those are "only" the dangers counterfeits pose for consumers. For brands, fake products have similarly devastating consequences including the loss of revenue, reputation, and much more.

#DesignerDupe
But dupe influencers don't seem to take into consideration the harm they could cause their followers. In fact, according to AAFA's report, some of them even pride themselves on finding "cheaper alternatives" to designer products, not caring that the products they advertise could very well contain subpar, likely toxic materials.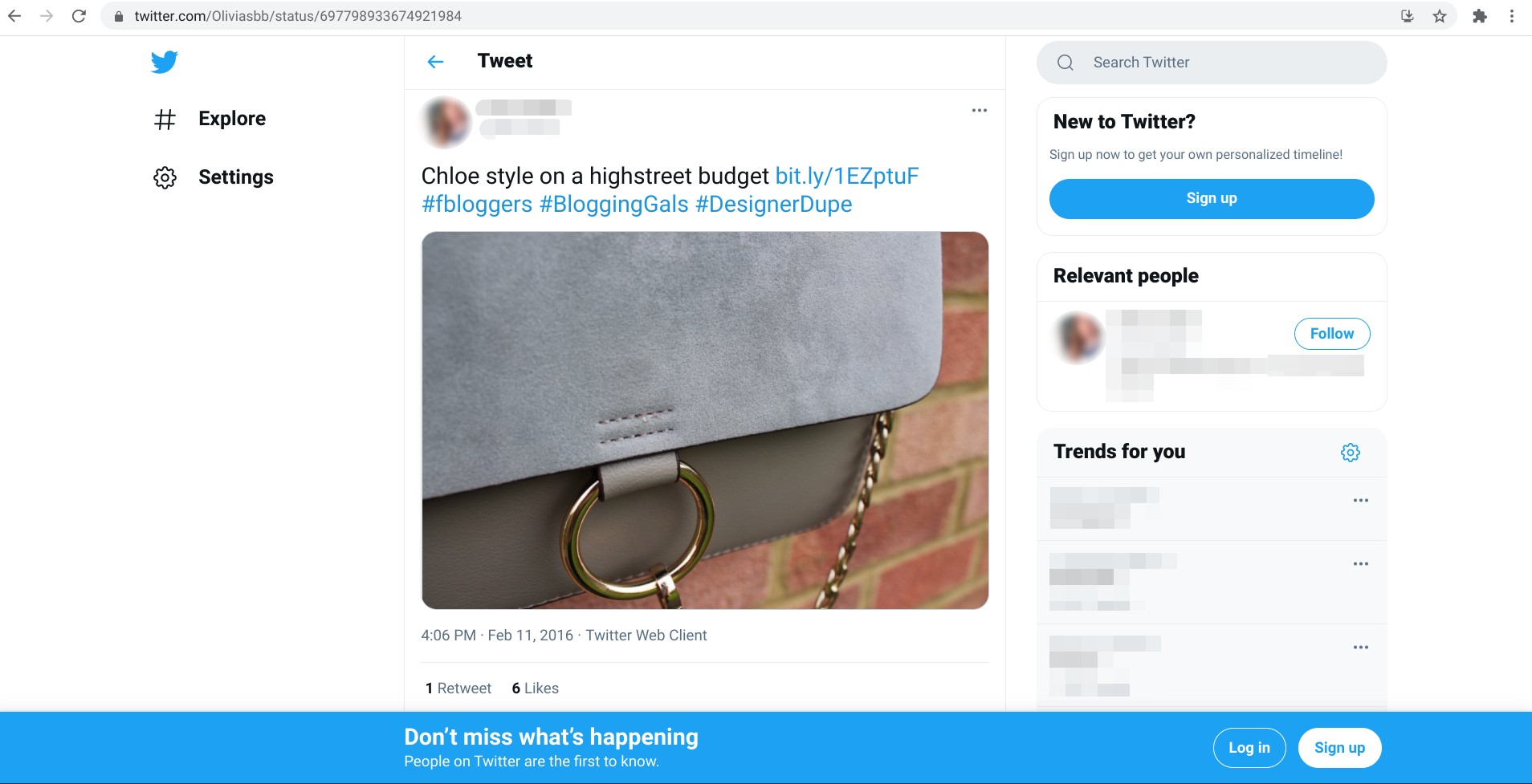 Screenshot from a dupe influencer's Twitter account

Even more, as counterfeits are often linked to other types of crime, these webshops selling fakes - and thus the influencers advertising them - could compromise their customers' personal and financial data.
Just like their "regular" counterparts, dupe influencers use unboxing videos, giveaways, tutorial videos and pictures to promote the fake products. Except in this case, tutorial videos tend to give tips on how to find counterfeited items online. (Here's another similarity to online brand protection: we're also trying to educate people about counterfeits. However, our reasons are quite the opposite: we want to stop the sale of dangerous, toxic fakes that hurt consumers and brands alike.)
Quite often, the social media bio of a dupe influencer features hidden links to the webshops where people can purchase counterfeited items, and some of them even offer discount codes, actively contributing to the sale of fakes.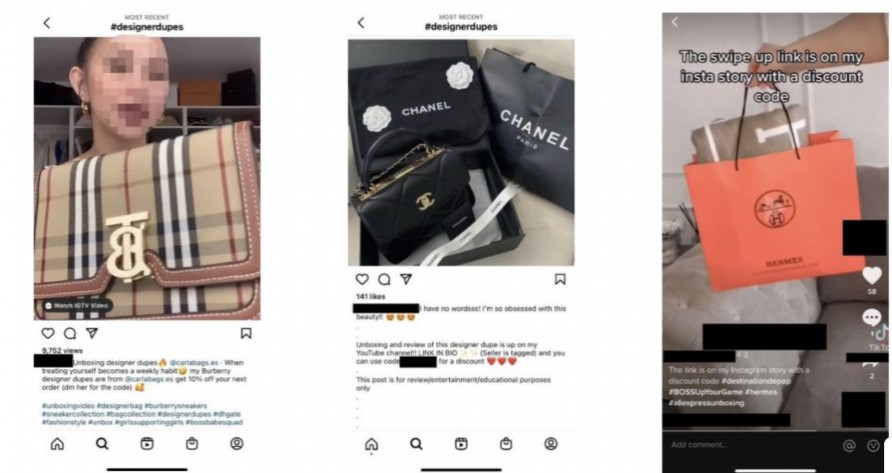 Screenshot from The Fashion Law displaying hidden links and discount codes

Protecting your brand and your consumers
Although regulators have yet to create specific laws that would restrict dupe influencers in their actions, there's a promising sign that this is about to change. In November 2020, Amazon sued two dupe influencers for promoting and facilitating the sale of fakes. If the court rules in Amazon's favour, the judgement could mark a new era where dupe influencers have to face dire consequences for promoting counterfeit products.
Court cases usually take years, though, so let's not hold our breaths until the judgement comes out. And besides, brands are nowhere near powerless when it comes to fighting back against dupe influencers and fake products.
After all, this is what online brand protection is for.

The solution: social media monitoring
globaleyez's social media monitoring service provides powerful protection against people who infringe your IP rights on social media, dupe influencers included. Based on keyword- or reverse image searches, our powerful software monitors social media pages, closed groups, marketplaces, and even advertisements to detect posts hurting your brand's IP rights.
Armed with that information, our enforcement service ensures the infringing content is removed from the social media platform as quickly as possible.
Don't let dupe influencers or any other malevolent actors hurt your brand on social media. Reach out to us and let us know how we can help you.