October 2021 | latest update: 08.09.2023 | by Lili
Introduction to e-Commerce in Indonesia
Table of contents
Composed of over 17.500 islands with stunning beaches and serene temples, Indonesia is the largest archipelago of the world and a popular destination for tourists. But there's so much more to the country than gorgeous scenery and endless relaxation.
For example, did you know that Indonesia has one of the fastest growing e-Commerce markets in the world?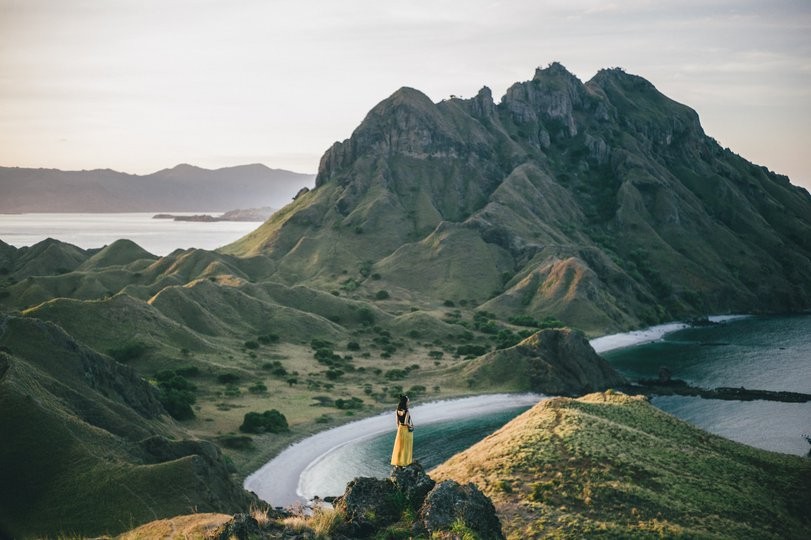 Picture of Padar Island, Indonesia

The basics
With over 275 million inhabitants, Indonesia is the world's fourth most populous country following China, India and the US. As the largest economy of Southeast Asia, Indonesia's GDP is currently $1.32 trillion. In comparison, this figure is $25.46 trillion for the US, $17.96 trillion for China and $3.39 trillion for India.
Indonesia has a relatively young population (68.1% aged between 15-64 years and 24.22% between 0-14 years.) Combine that with a rather high internet penetration (approximately 224 million people were accessing the internet in 2022), and very high smartphone usage (ranked fourth in the world behind China, India and the US), it's no wonder that Indonesia presents a fertile ground for e-Commerce.

To infinity and beyond
Indonesia's e-Commerce sector experienced rapid growth in the second half of the previous decade. From only 2% in 2016, the share of e-Commerce in the total number of retail transactions rose to 25% in 2022.
Revenue in the Indonesian e-Commerce market is currently projected to reach $45.28 billion in 2023 and 62.6% of Indonesian internet users aged between 16-64 bought something online in 2022. With numbers like that, success is almost inevitable.

Most popular online marketplaces
The booming of e-Commerce created a favourable environment for online marketplaces in the country. There are many, both international and local platforms that Indonesians favour when shopping online.
The ten most visited online marketplaces are Tokopedia (135.08 million visits per month), Shopee (127.4 million), Bukalapak (34.17 million), Lazada (30.52 million), Blibli (19.59 million), Bhinneka (6.53 million), Orami (5.34 million), Ralali (5.48 million), JD.id (4.06 million) and Zalora (2.86 million).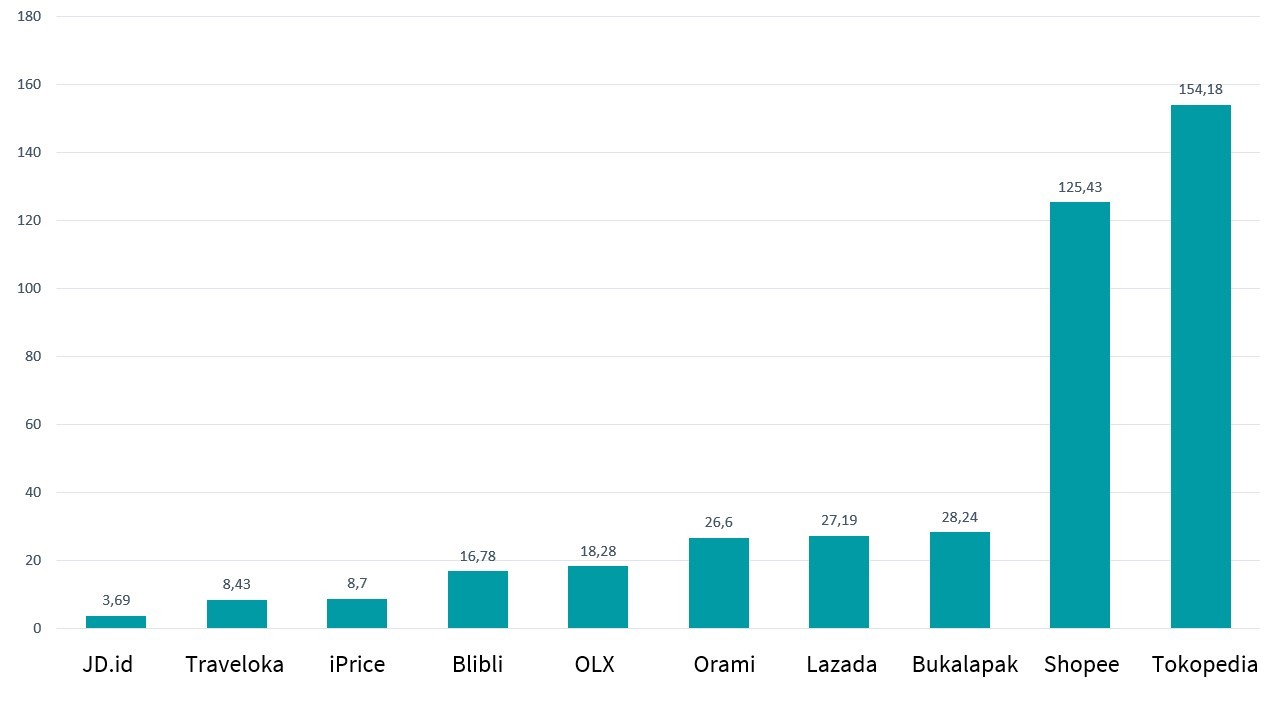 Bar chart of the ten most visited online marketplaces in Indonesia

As we mentioned in the second part of our series on popular online marketplaces from around the globe, Indonesian online shopping platforms are versatile and offer a wide range of products to buyers from electronics, fashion and home appliances to groceries, furniture, baby gear and much more.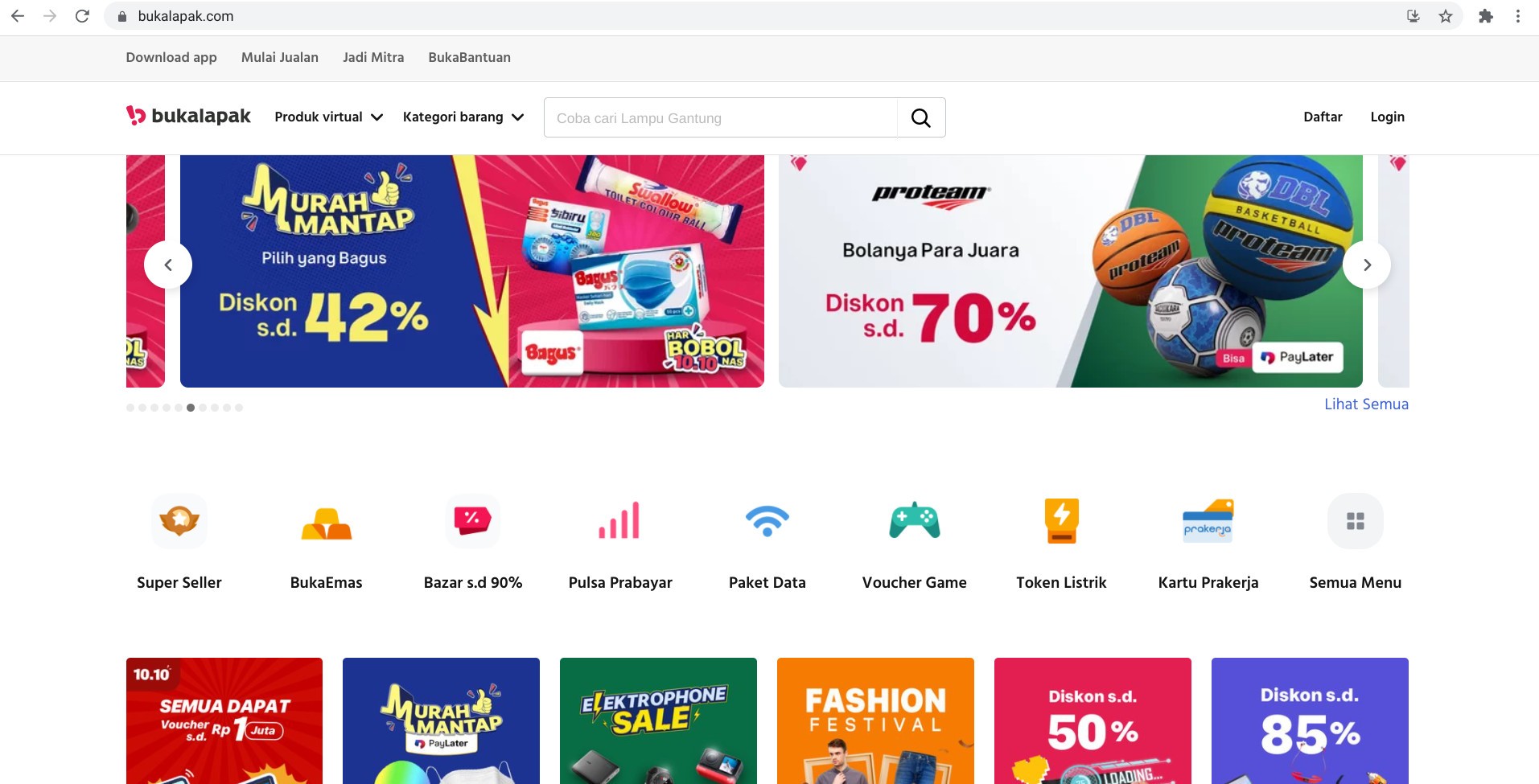 Screenshot of bukalapak.com's homepage

Unfortunately, since the average income of an Indonesian consumer is relatively low, online marketplaces are teeming with cheap, bad quality and often even fake products. No wonder that many of them regularly make it to the United States Trade Representative's Annual Review of Notorious Markets for Counterfeiting and Piracy.

Most popular product categories
The COVID-19 pandemic hasn't left Indonesia untouched. In fact, like in the rest of the world, social restrictions drove masses of people to do their shopping online in Indonesia as well.
The most popular products bought online are fashion and beauty items (purchased in a value of $13.22 billion in 2021), electronics ($8.17 billion), toys and DIY products ($6.78 billion), furniture and appliances ($6.26 billion), as well as personal care and hygiene items ($4.15 billion).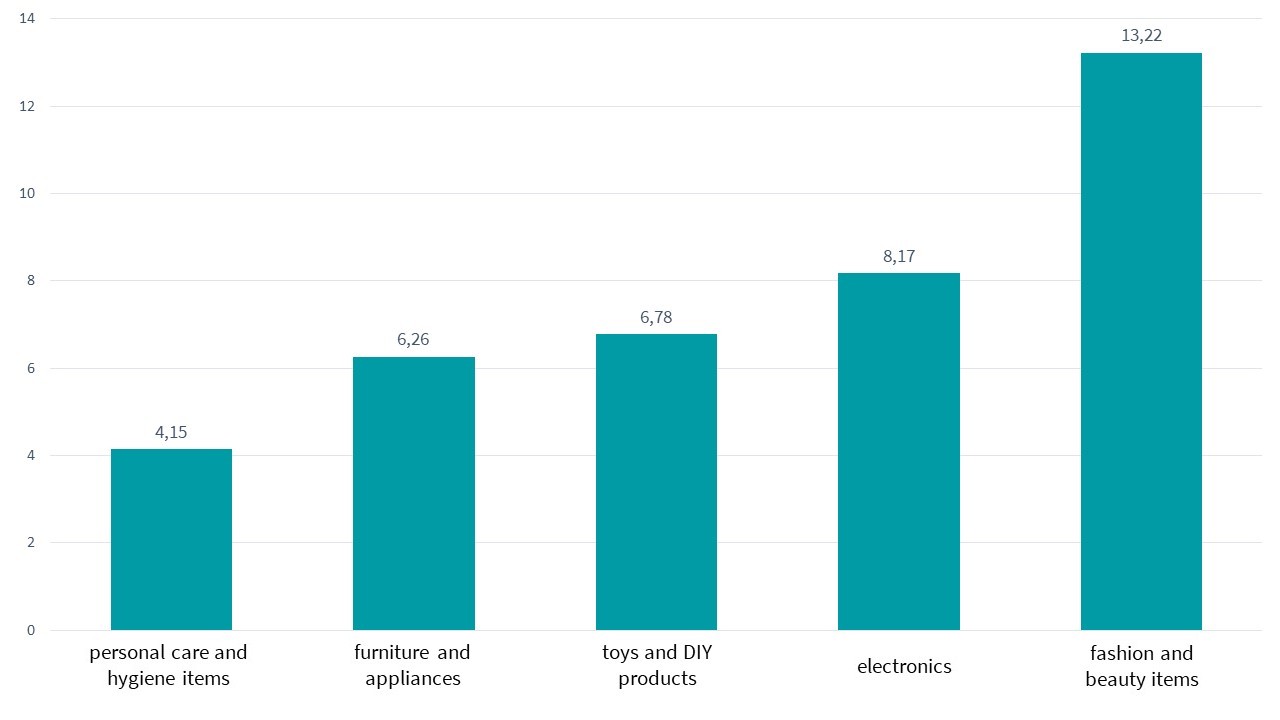 Bar chart of the most popular products bought online

Indonesia's market welcomes international brands, and given the country's huge potential, many brands are eager to enter the lucrative Indonesian market.
But then again, many brands may already be present without actually knowing about it.

A haven for infringements
Indonesian marketplaces are no strangers to online brand protection experts at globaleyez and with good reason. As mentioned earlier, Indonesian online marketplaces are often flooded by fake products, as well as grey market or any other type of IP-infringing listings.
We've found infringing products from many sectors here, including cosmetics, perfume, software, or power tools on various marketplaces, like Tokopedia, Blibli and Bukalapak.
Luckily, most of the affected platforms usually respond to our takedown requests within a reasonable timeframe, although we're sorry to say that infringing listings keep reappearing on the marketplaces, which makes a continuous marketplace monitoring service necessary.
Indonesian marketplaces are aware of the serious issues posed by IP-infringements and are ready to step up their game. For example, Tokopedia launched a Brand Alliance Program that aims "to allow Tokopedia and right holders to have a continuous dialogue and cooperation for effectively combating counterfeit on the Tokopedia platform." globaleyez is a member of this platform and we're glad to report that it's an effective tool for eliminating infringements to our clients' IP rights.

The answer: online brand protection
Indonesia is an exciting market for international brands. A young population combined with good (and still growing) internet and cell phone penetration equals great opportunities for brands that take the leap.
Unfortunately, opportunities don't come without threats. Fraudsters who sell IP-infringing products are often present on Indonesian online marketplaces and pose a very real threat for brands. Even those that haven't entered the market themselves.
But rest assured: you don't have to accept this as an inevitable fact of life. Instead, let us set up a comprehensive online brand protection program for your brand. Our services will ensure that existing and emerging threats to your IP-rights are discovered and eliminated as soon as possible. With the help of our resources, including our Tokopedia Brand Alliance membership and our frequent test purchases in the country, we deliver scalable and highly effective off- and online brand protection services.
Contact us to find out how we can save your brand from fraudsters in Indonesia or anywhere else in the world.