Paris, London, New York, Milano, … your living room? Thanks to Tmall Luxury Pavilion's groundbreaking fashion show held in the metaverse, the world's fashion hotspots have just been extended to cover, well, the entire world.
Although not the first ever fashion show in the metaverse, Tmall Luxury Pavilion's 22 September 2022 event, hosting several luxury brands and their newest products, was definitely a giant step towards the future of fashion.
What is Tmall Luxury Pavilion
Launched in 2017, Tmall Luxury Pavilion (owned by the Alibaba Group) is an app within the Tmall app, allowing luxury brands to find their target market in China. Providing consumers with a very premium and exclusive experience, Tmall Luxury Pavilion works on an invitation-only basis.
This means that brands need to secure an invitation if they want to set up shop on the platform. Invitations are handed out based on various data points that should prove to Tmall Luxury Pavilion if a brand is considered luxury by its clientele.
All consumers have access to the platform, however, some are selected to enter Tmall Luxury Pavilion by an algorithm based on their previous purchases. Those among the lucky few will see an icon on their regular Tmall app that opens the virtual door to the Luxury Pavilion. Everybody else has to type the name into their Tmall apps.
While Tmall Luxury Pavilion definitely has fewer visitors than Tmall (which sits at 500 million users and a whopping 61.5% share in the Chinese B2C e-Commerce market), conversion tends to be higher. The Luxury Pavilion currently hosts around 200 brands including global names like Hermès, Chanel and Richemont, introducing around 30,000 new products per month. The platform's sales figures grew by 300% between 2019 and 21.
The fashion show
Tmall Luxury Pavilion is not new to the virtual world. After all, 3D shopping, digital avatars and collectibles, as well as AR and VR options for trying on clothes are already available on the platform. Not to mention the popular one-on-one online consultation sessions with a sales associate.
Earlier this fall, a gala celebrating the fifth birthday of the Pavilion held in Shanghai allowed brand representatives to walk in an XR (extended reality) setting of a luxury store, interacting with brand mascots, learning more about products by clicking on them and placing a virtual luxury handbag into a box.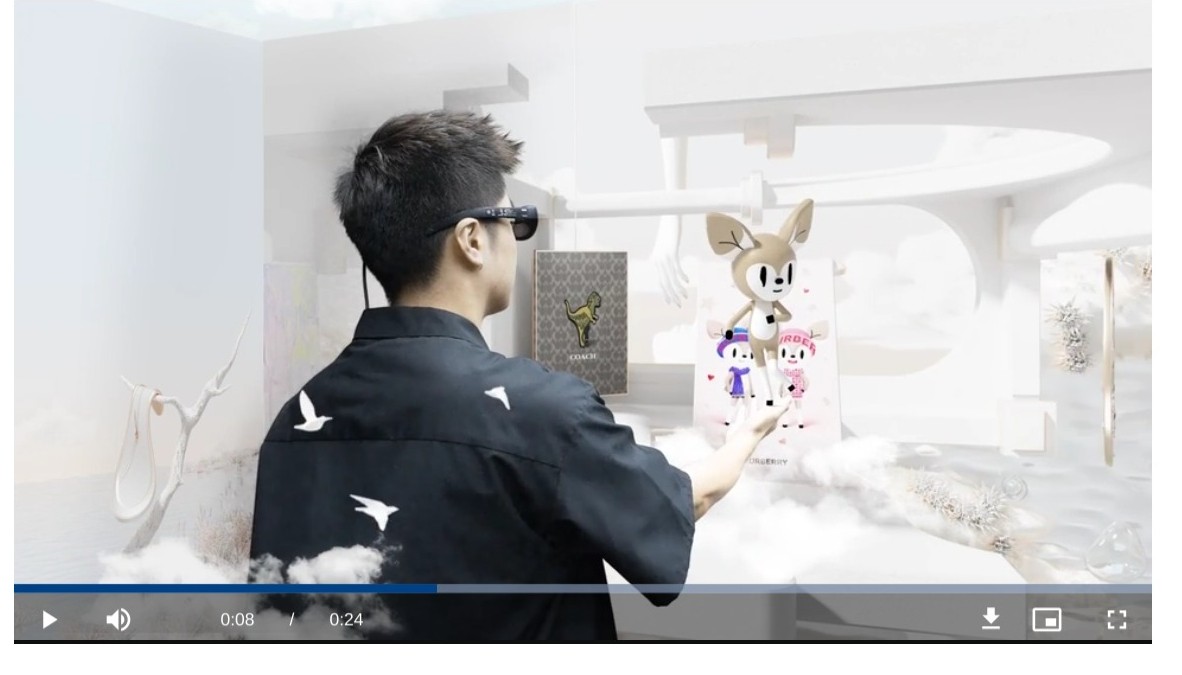 Still image from a video on https://www.alizila.com/alibaba-rolls-out-immersive-luxury-shopping-metaverse/ publicizing the gala
The fashion show on 22 September brought this experience to the next level. Collaborating with Vogue China, Tmall Luxury Pavilion arranged for the mascots of brands like Burberry, Max Mara and Bogner to parade down the virtual catwalk, presenting their brands' latest products.
The interactive experience allowed viewers to engage the "models", e.g. take selfies with them. Thanks to the Meta Pass, an innovative access pass launched at this event, spectators were able to enjoy early sales of new products and other special features like brands' offline events.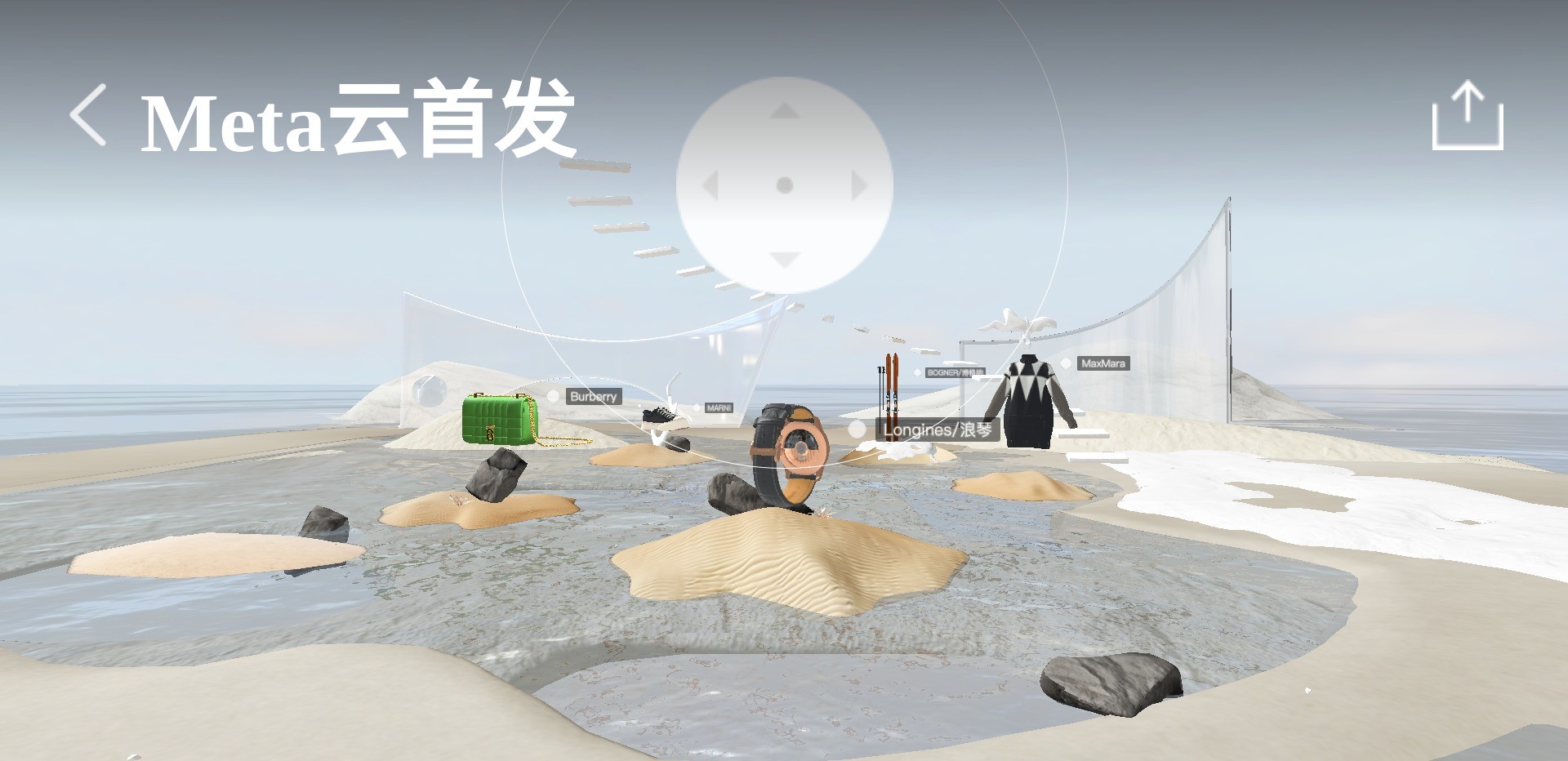 Screenshot of https://www.tmall.com/wow/z/mlh/LP-Meta/M4WxDK5D3mfCKYfMfAnn?disableNav=YES, a site leading to the Meta Pass
Part of the Meta Pass was a voucher stored on and verified by the blockchain that allowed the fastest users to exchange it for coveted limited-edition products, including a Bogner's 90th edition snowboard, Burberry's Lola bag and a Max Mara sweater from the 2021/22 fall-winter collection.
Mall shopping
When it comes to the metaverse, Alibaba doesn't stop at fashion shows. In honour of Singles Day (11 November, a day of shopping extravaganza in China aimed at people not in a romantic relationship), Alibaba opened a shopping mall in the metaverse.
This means that instead of physically walking into a store, or looking at product listings on a traditional online marketplace, shoppers can let their avatars walk into virtual stores. They're able to check out products, try them virtually (e.g. by pasting a virtual coffee table into an image of their living room), and then put them back on the shelf or into their shopping basket.
Shop assistant avatars, including virtual influencer Timo are helping consumers with their shopping. The metamall uses XR technology, and was developed by Alibaba's research and innovation facility, DAMO Academy.
Brands on the metaverse
Should we enter the metaverse? Brands all over the world have been asking themselves this question, and Tmall Luxury Platform, together with the international consulting firm Roland Berger published a white paper to provide an answer.
The Tmall Luxury Strategic Consumer White Paper argues that a significant part of the population of China is increasingly able and willing to shop for luxury goods online. Since the country is already a leading power of e-Commerce (analysts expect 2022 to bring in a 10% growth and reach a value of $2.3 trillion), brands entering the market face huge potentials - but also steep competition.
The white paper found new trends emerging amongst the shoppers of luxury products. Six groups of consumers were identified, e.g. stay-at-home mothers, young professionals and even people who view luxury products as investments.
As the competition among luxury brands on the Chinese market is high, those taking the leap and entering the metaverse, at least via Tmall Luxury Pavilion and its immersive shopping experience may find themselves at an advantage.
Furthermore, the current economic slowdown and inflation may have less of an effect on the shoppers of luxury products than on the general population. Tmall Luxury Pavilion's sales numbers have some proof for this theory: even during the years plagued by the coronavirus pandemic, the platform grew its audience by 153% and its transaction volume by 309%.
Online brand protection in the metaverse
Whether or not you want your brand to enter the metaverse is up to you. But regardless of your choice, you have to think about protecting your IP assets in the virtual space. Because even if you decide to stay out of it, virtual versions of your products may make it in there without your knowledge and authorization.
Related topics
Tmall and Taobao merge their platforms

IP infringements in the metaverse

NFT and metaverse marketplaces
Brands like Hermès and Nike could tell you all about the harm that unauthorized virtual products in the metaverse have caused them. Especially since legislators around the globe have yet to fully catch up to the metaverse as an area to regulate, brands have to take matters into their own hands and protect their assets in the virtual world.
Luckily, you don't have to do this alone. We at globaleyez have been paying extra attention to the metaverse and all its implications on the IP rights of our clients. Our services, including marketplace, image and domain monitoring work very well on metaverse marketplaces, finding IP infringing product listings, imagery and websites. The same goes for our enforcement service that ensures the removal of infringing content.
Don't let fraudsters take advantage of your IP rights on the metaverse.
Contact us today and let's devise a strategy to protect your assets in the virtual world, as well as the real one