Haven't heard of Mercari yet? You're not alone. Not particularly well-known in Europe, Mercari is a Japanese C2C marketplace app.
Founded in 2012, Mercari quickly rose to popularity and is currently the third most popular e-Commerce platform in Japan behind Amazon and Rakuten.
With almost 125 million visitors per month and about $270 million sales revenue for the first quarter of 2023, it's no wonder Mercari is referred to as the most popular C2C e-Commerce platform in Japan.
The marketplace is currently available in Japan and the US where the Mercari app boasts 50 million downloads and is the 17th most popular app in its category, shopping. Besides the mobile application, Mercari also offers a desktop version for its shoppers.
Mercari Group
In the US, only the marketplace app is available.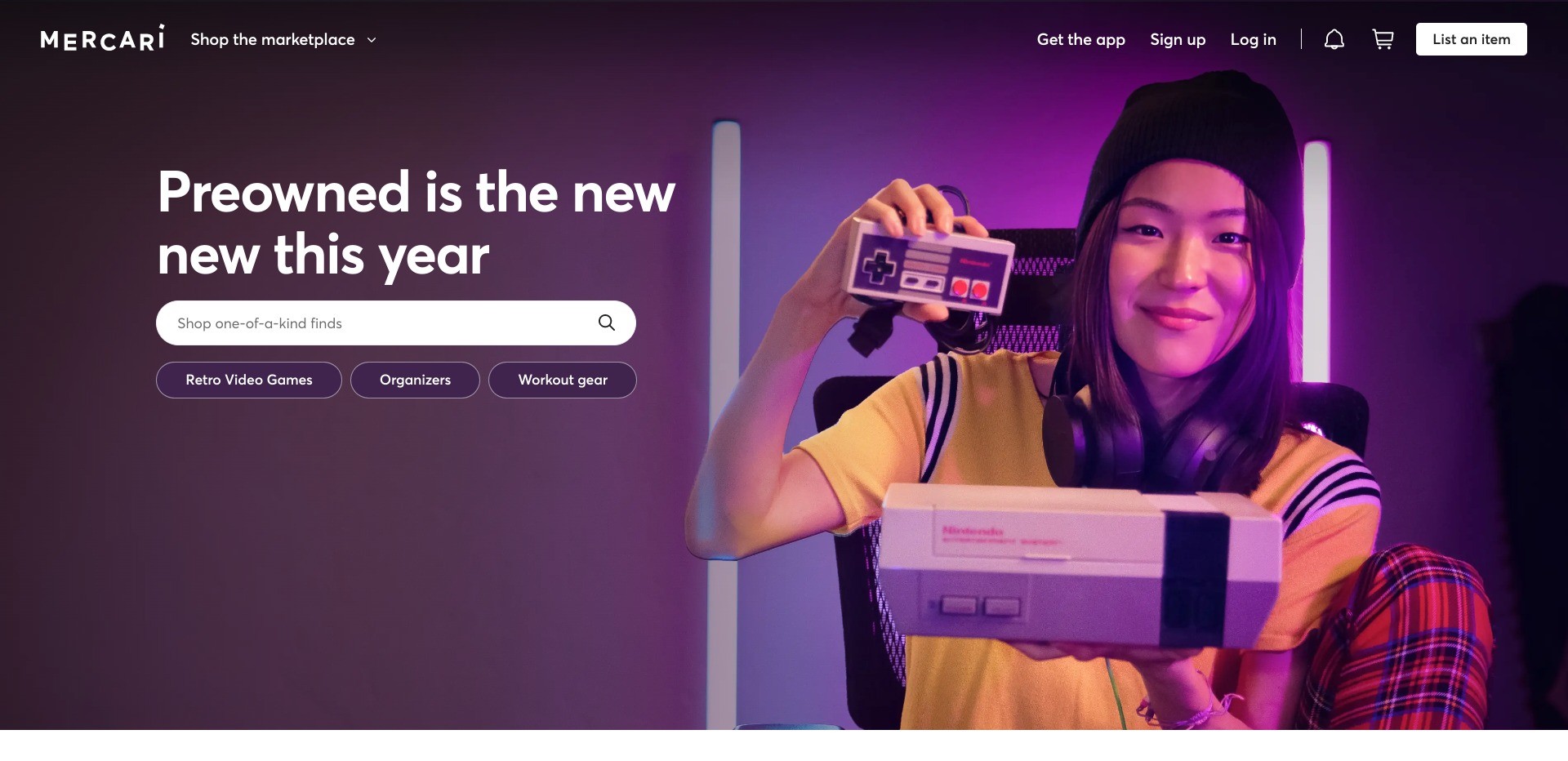 Screenshot of mercari.com's homepage
In its native Japan, however, Mercari is so much more. Next to the C2C marketplace app, Mercari Group offers fintech services including payments and credits via Merpay and NFT/cryptocurrency management via Mercoin. Moreover, Mercari launched Mercari Shops, its very own B2C marketplace in 2021.
Sellers on Mercari
Consumers based in Japan or the US can register to Mercari as both sellers and buyers. The platform runs a verification process to minimise marketplace fraud, and awards sellers who verified their profile a badge with a blue tick on their profile page.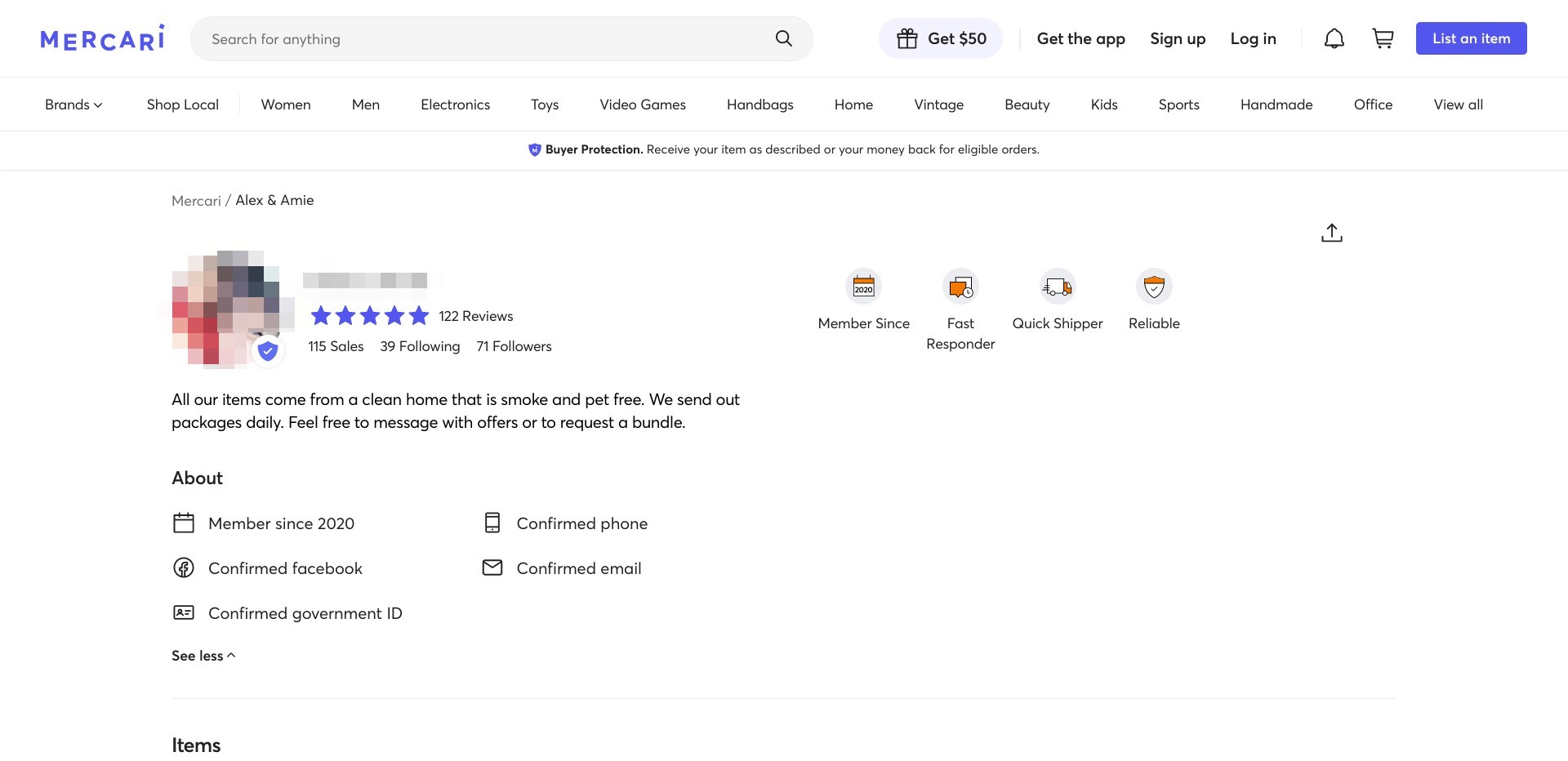 Screenshot of a random seller's account on mercari.com complete with blue tick badge and verification information
As you can see from the above screenshot, Mercari sellers can provide a government issued ID along with their contact information. This is a welcome feature for online brand protection experts, as such an ID adds a layer of security for brands (as well as buyers) and the seller is easier to track down in case of any infringement issues.
Unfortunately, providing an ID is not a requirement to become a seller on Mercari, which opens the door to fraudsters. In addition, sellers don't even have to register under their real names; providing a nickname or simply their first names is enough.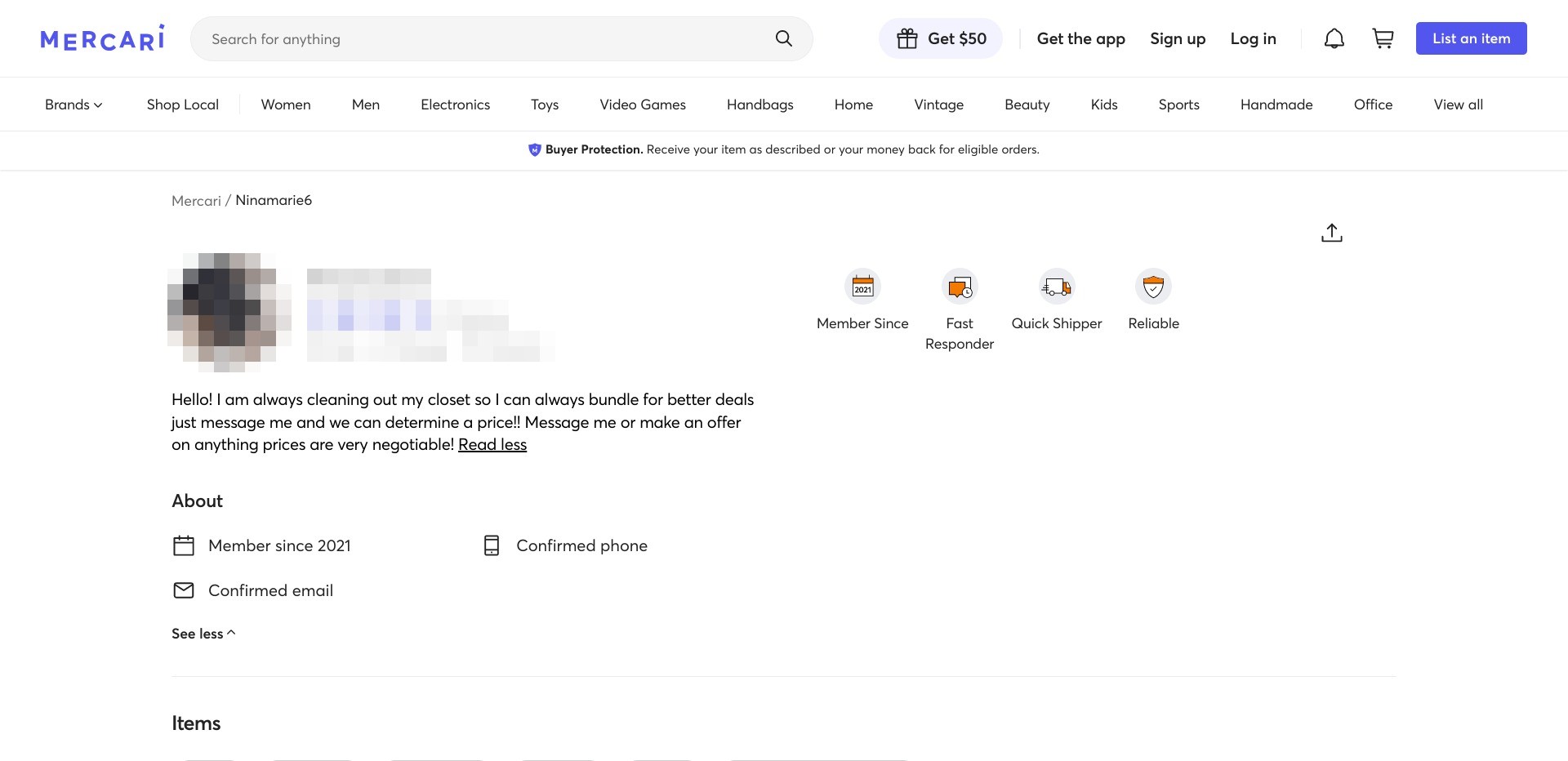 Screenshot of a random seller's account on mercari without a blue tick badge and confirmed government ID
What does Mercari sell
Since Mercari is a C2C marketplace, a variety of miscellaneous product categories can be found on the platform. Clothing, accessories, toys, books, electronics, sports gear, baby care and many more categories are available for sellers and shoppers to browse from.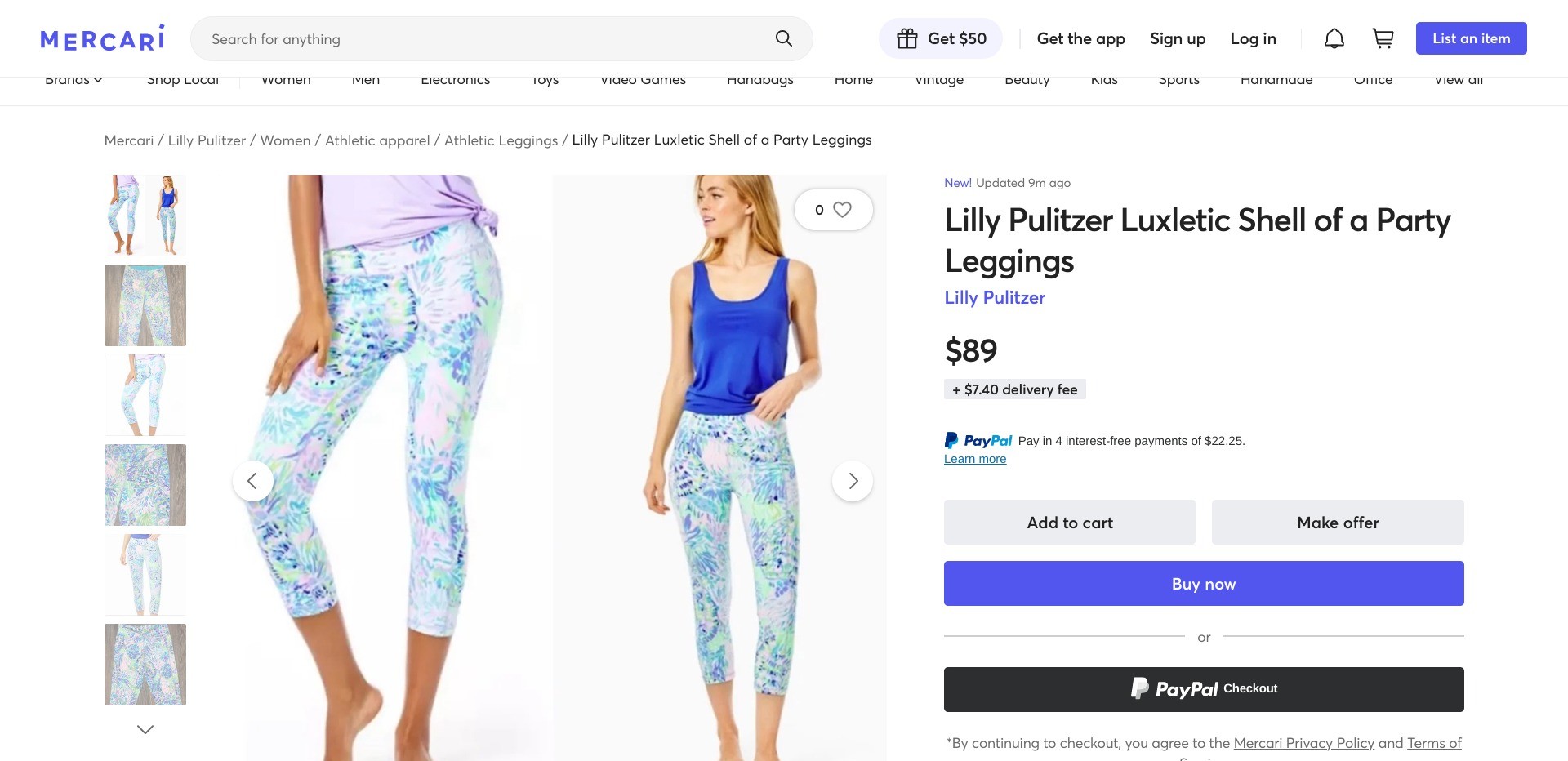 Screenshot of a random listing on mercari.com
Besides the product categories, the top bar features a tab called "Brands". Once you click on it, a drop-down menu allows you to choose a brand whose products you're after.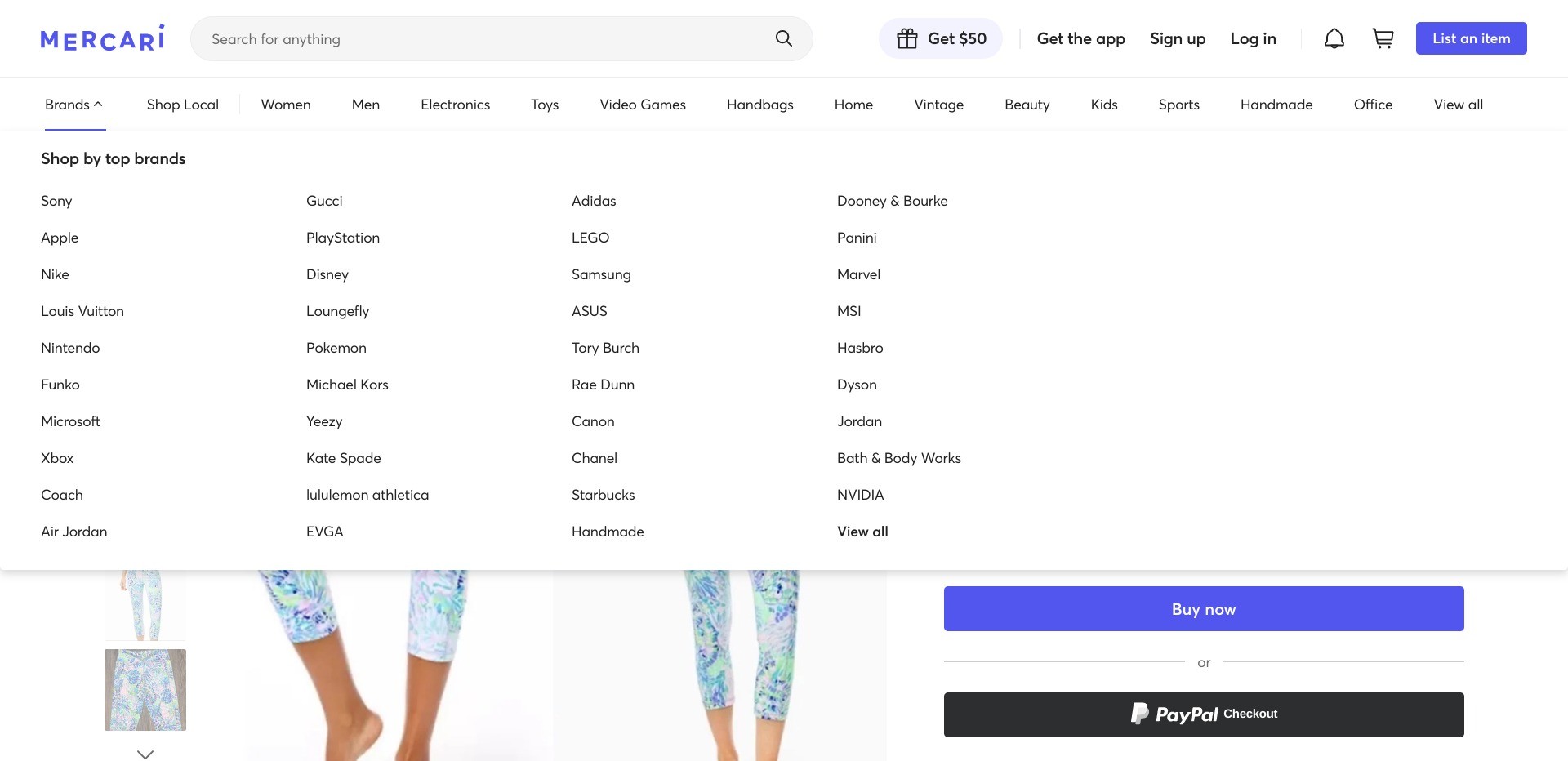 Screenshot of the "Brands" tab on mercari.com
Clicking on the chosen brand name, you land on the page aggregating all the listings that feature said brand.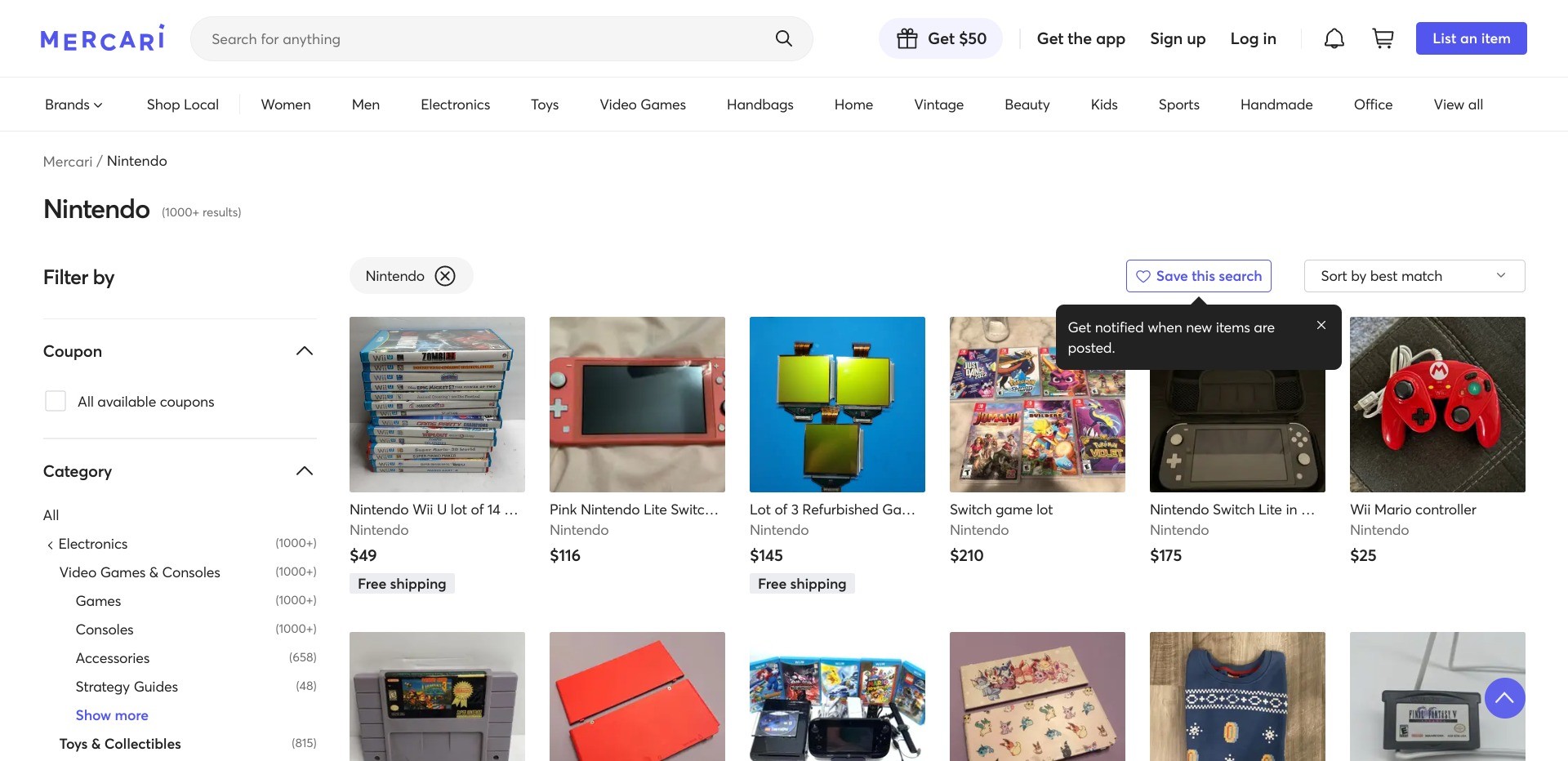 Screenshot of mercari.com displaying all the product listings labelled "Nintendo"
While this feature definitely allows consumers to filter their search results according to a chosen brand, it may also encourage IP infringements that could hurt your brand.
IP infringements on Mercari
As Mercari is a C2C platform, you can't craft your brand's presence there as on B2C marketplaces like Amazon or eBay. Take a look at the screenshots below to see the difference between a random selection of product listings with a brand name, and that brand's official store on Amazon.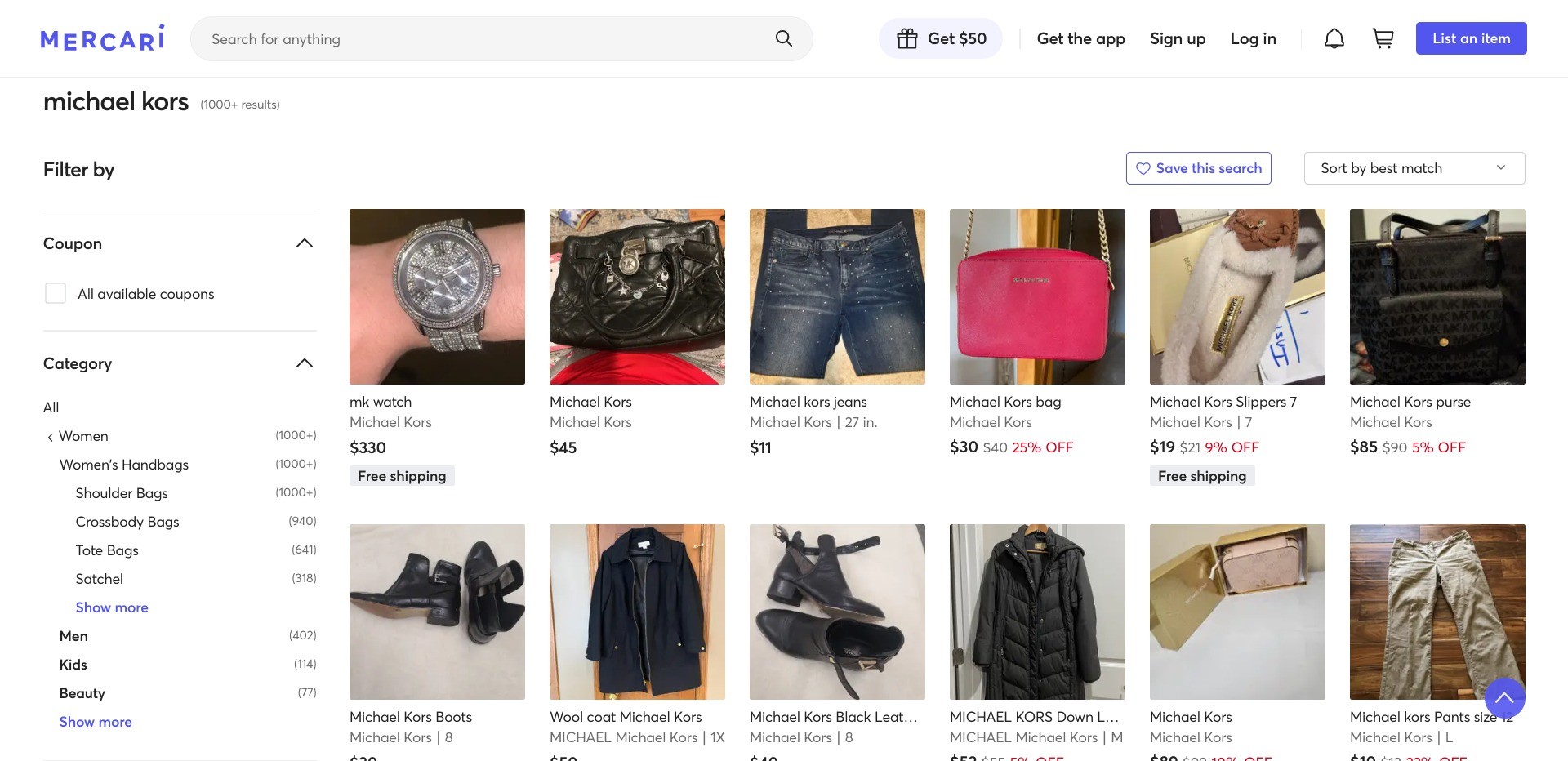 Screenshot of mercari.com displaying random Michael Kors product listings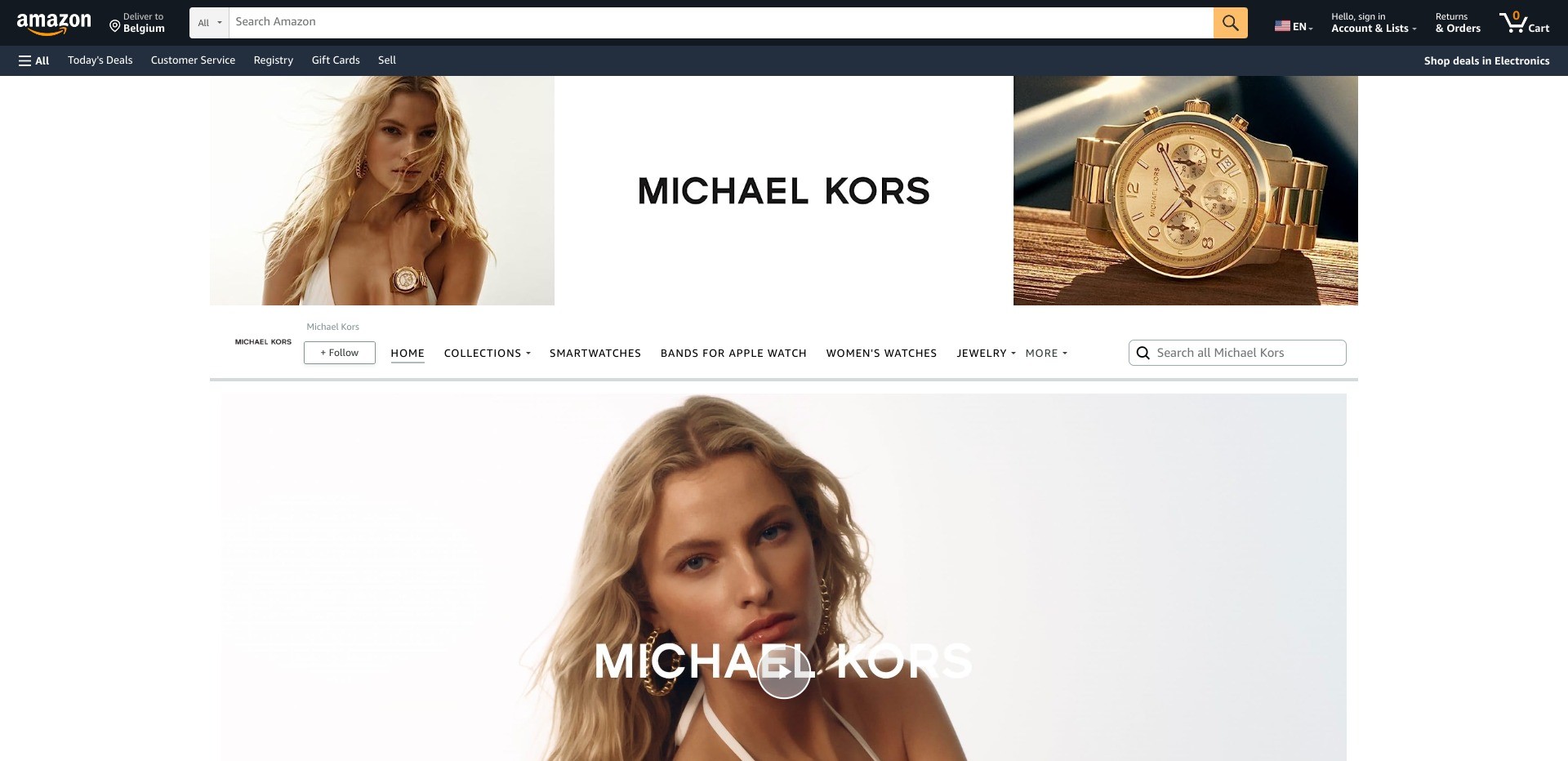 Screenshot of the Michael Kors brand store featured on amazon.com
Luckily, nobody expects your products to look as flawless on Mercari as on top B2C e-Commerce platforms.
However, dangers graver than that may await you on Mercari.
We've seen quite a high number of infringements affecting different brands across the platform, especially on its B2C division, Mercari Shops. Its image seems to correspond to that of Wish, a.k.a questionable goods for highly reduced prices.
In addition, the information provided about sellers is quite scarce, and what's actually visible (e.g. the selling statistics of various stores) may be too good to be true.
Online brand protection on Mercari
Luckily, Mercari has an IP protection policy for right holders. Like all marketplaces, Mercari accepts takedown requests from brands and brand protection experts, should a product listing infringe on your IP rights.
Brands wishing to speed up the process can enrol in Mercari's IP protection program that promises faster takedowns following a simpler notification method. The only problem is, you have to submit all the necessary documentation in Japanese.
Another way to enforce your rights on Mercari is to set up a complete online brand protection program.
globaleyez's marketplace monitoring service detects IP infringing listings on Mercari (and over 150 other online marketplaces worldwide). Whether the seller is a seasoned fraudster or an unsuspecting consumer who has posted the listing in good faith (i.e. not being aware that they're infringing on your IP rights), we'll find and categorise unauthorised listings that may hurt your brand's rights, revenue and reputation.
Since pictures are a major boost to promoting a product listing, we also recommend a round of image monitoring when looking for infringing listings on Mercari. Infringing imagery leads us to further content like ads, social media posts and other product listings that may not feature your brand's name, thus uncovering hidden connections between fraudulent sellers and listings.
Once we've determined that a listing is infringing on your brand's IP rights, we're happy to enforce your rights and demand the takedown of the offending content from Mercari. In our experience, the platform's IP protection team responds quickly and effectively to our takedown requests, which means that infringements against your brand's rights are terminated as fast as possible.
Conclusion
Since Mercari is a C2C marketplace, you can't exactly control your brand's presence there (except for Mercari Shops in Japan). But don't assume that Mercari can't cause you any trouble. Whether intentionally or by accident, fraudsters and consumers may hurt your IP rights, your revenue and your reputation on Mercari.
Don't let this happen to you! Contact globaleyez and we'll set up a comprehensive online brand protection program to ensure the safety of your IP rights on Mercari (and any other corner of the internet).