The otto.de marketplace today
As an all-around marketplace, OTTO came a long way from those first pairs of shoes. Today, customers can buy electronics, fashion, furniture, sportswear, home equipment and much more, including, obviously, shoes.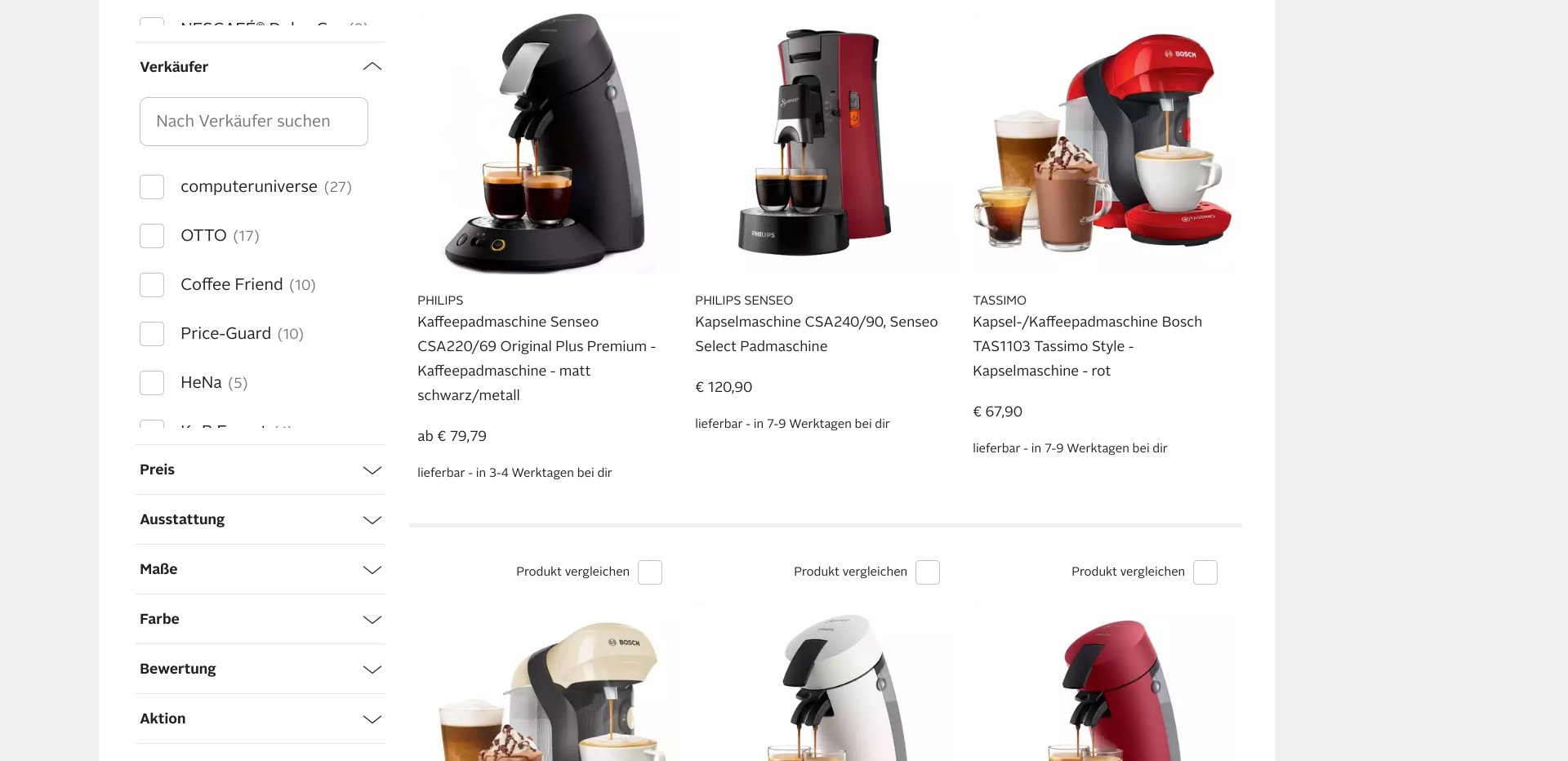 Screenshot of random listings on otto.de
Similarly to Amazon and many other competitors, OTTO works with third party sellers. However, quite unlike most marketplaces, OTTO makes it easy for consumers to find out who they're buying from.
On the left hand side of the screen, OTTO displays search filters to help consumers narrow down product listings. These filters include, among many other features like brand, price, colour, the names of sellers.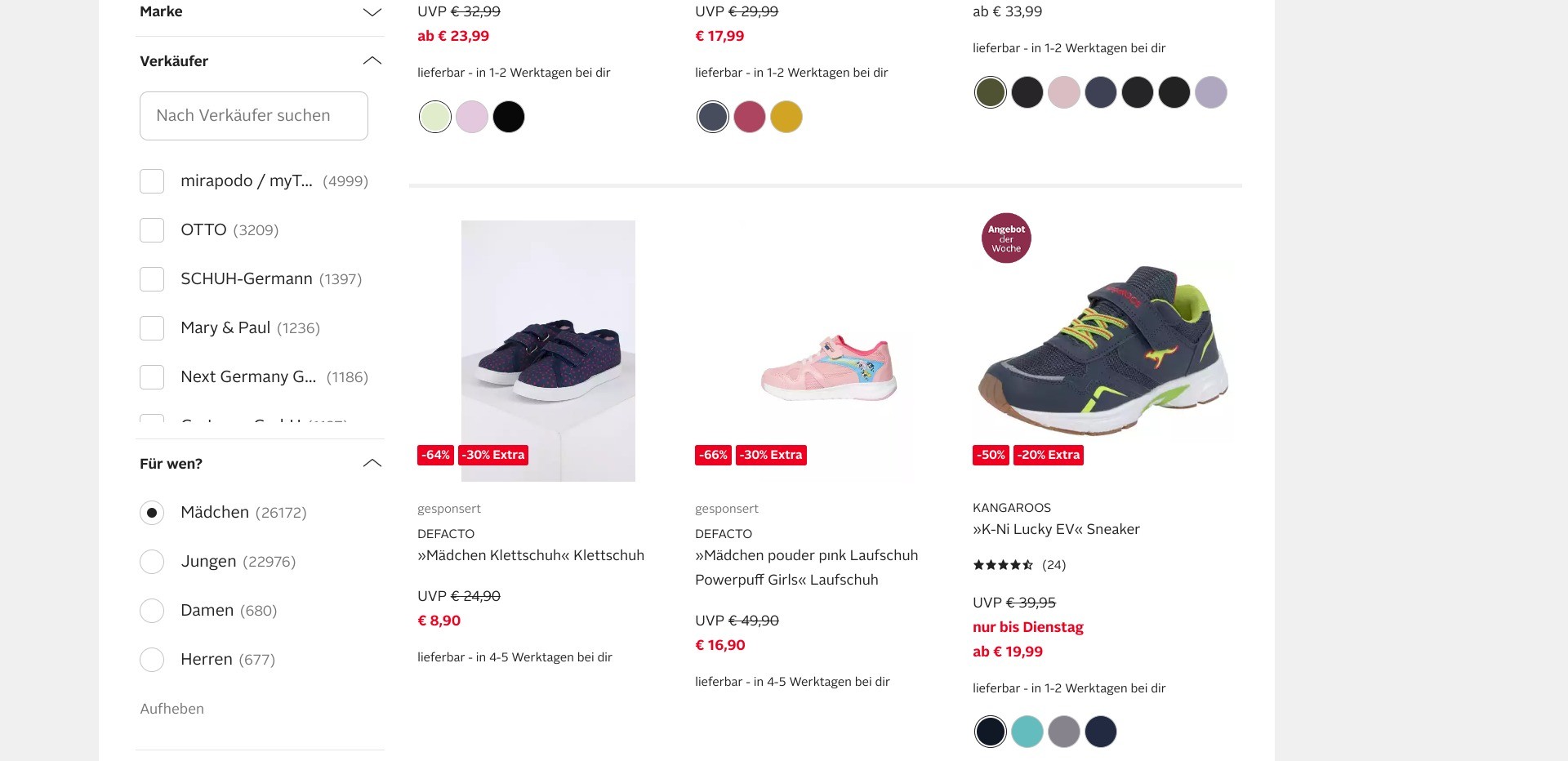 Screenshot of random product listings on otto.de with the option to search for sellers displayed on the left
As online brand protection experts, we at globaleyez have to commend OTTO on this transparency about its third party sellers.
In our experience, fraudsters seek out marketplaces that allow them a higher degree of anonymity. With such a move, OTTO makes itself less desirable in the eyes of fraudsters. Sadly, we can't say that any marketplace is totally free of them, but such transparency is definitely a move in the right direction.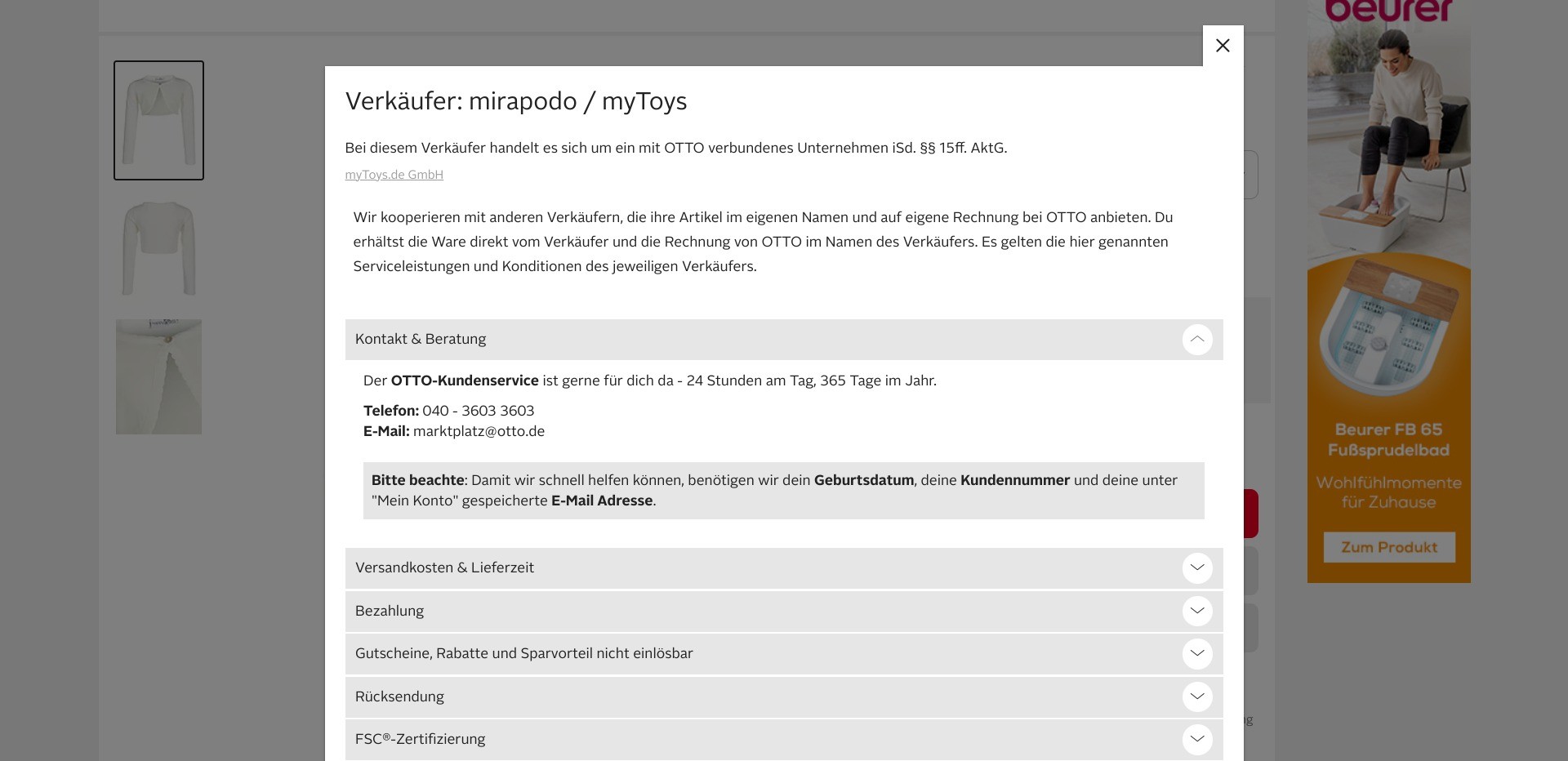 Screenshot of a random seller's information page on otto.de
Besides providing the marketplace, OTTO itself is a seller too - quite like Amazon. The display of product listings also resembles OTTO's largest competitor, and the process of shopping is quite similar as well - though that can be said of almost any marketplace. Click on product, place it in shopping cart, choose shipping option, then pay.
Sustainability
As we pointed out in our article about consumer trends in 2023, sustainable operations are gaining increasing importance in the eyes of consumers.
Well, OTTO has taken that to heart and launched several initiatives to be more sustainable. For example, in April 2022, the company introduced its circular fashion collection that is created in accordance with the principles of the circular economy.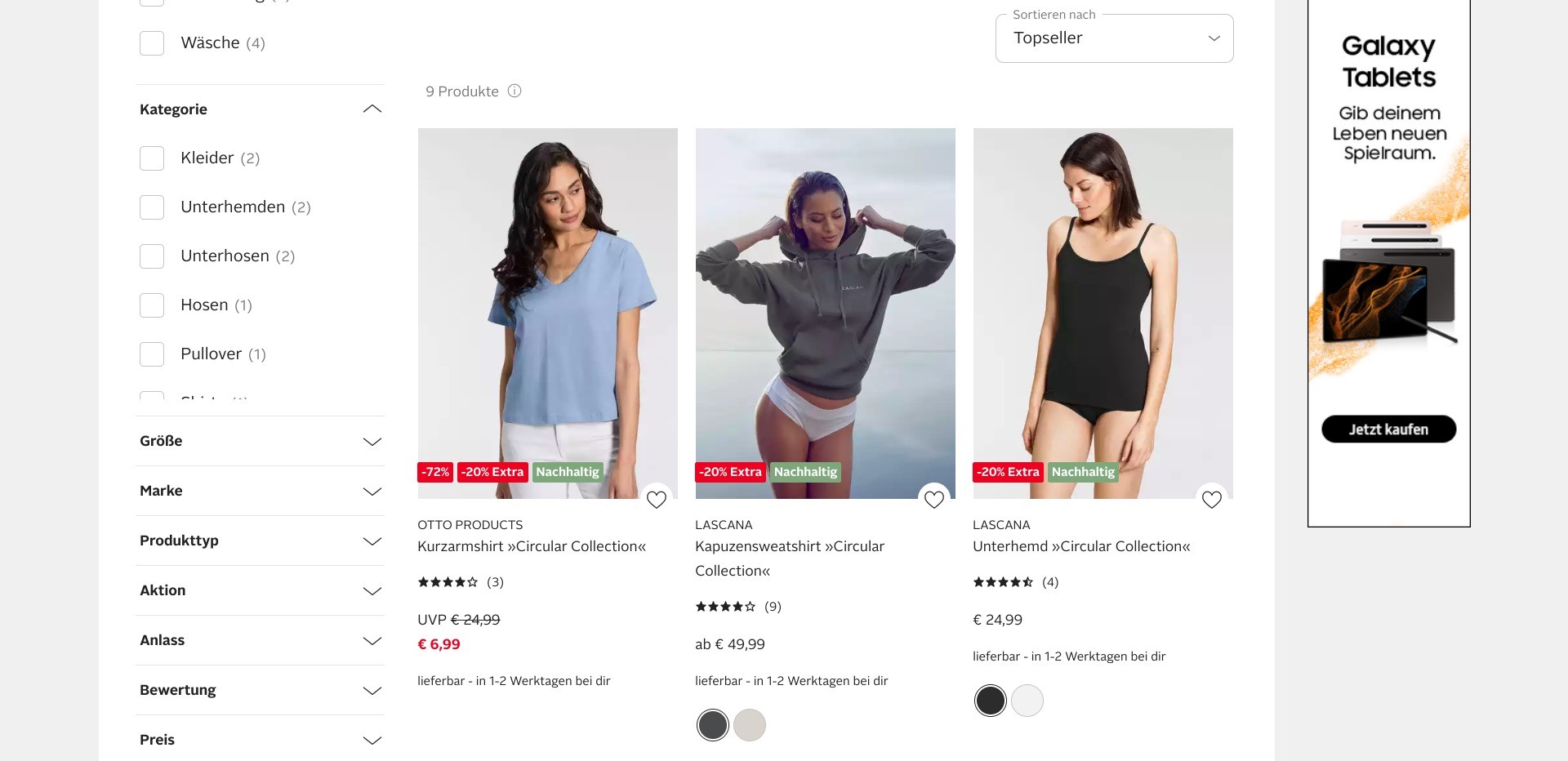 Screenshot of random products from the Circular Collection on otto.de
But OTTO doesn't stop here. In November 2022 the company unveiled its new sustainability strategy which contains measures for more sustainable packaging, shipping and an increased number of sustainable products available on the marketplace.
All this is supposed to contribute to OTTO's overarching goal: to become climate-neutral by 2030.
The company's efforts don't go unrecognised. In fact, the Forest Stewardship Council (FSC) awarded the prestigious title of "FSC Retailer of the Year" to OTTO in 2022. Each year, this title is given to the most sustainable producer and/or trader of furniture, recognizing the awardee's efforts in protecting forests and sustainable production.
With climate change becoming a more pressing issue every day, we believe that OTTO is on the right track. e-Commerce is a growing contributor to pollution, therefore OTTO is right to try and tackle these issues. As we've seen above, consumers are highly likely to reward this kind of action, which could greatly benefit OTTO in the end - not to mention the environment.
---
+++ Update Fall 2023 +++
Based on the success of the first one,
OTTO has recently launched its second circular collection
. The new collection contains 16 clothing items, including shirts, trousers and undergarments.
With sustainability as their main objective, the new OTTO clothes are made of durable material that can be recycled and entered into the circular economy once their original owners decide to part ways with them. That may not happen for a while though, as the items follow classic designs and colour patterns to ensure they'll be in fashion for a long time.
OTTO worked closely with circular.fashion, a startup based in Berlin to create the collection. The garments all possess a digital product passport called circularity.ID that contains all the information about recycling options. Once the owner decides they don't want it anymore, they can simply read the digital tag with a cell phone and follow the instructions to give their old garment a new life.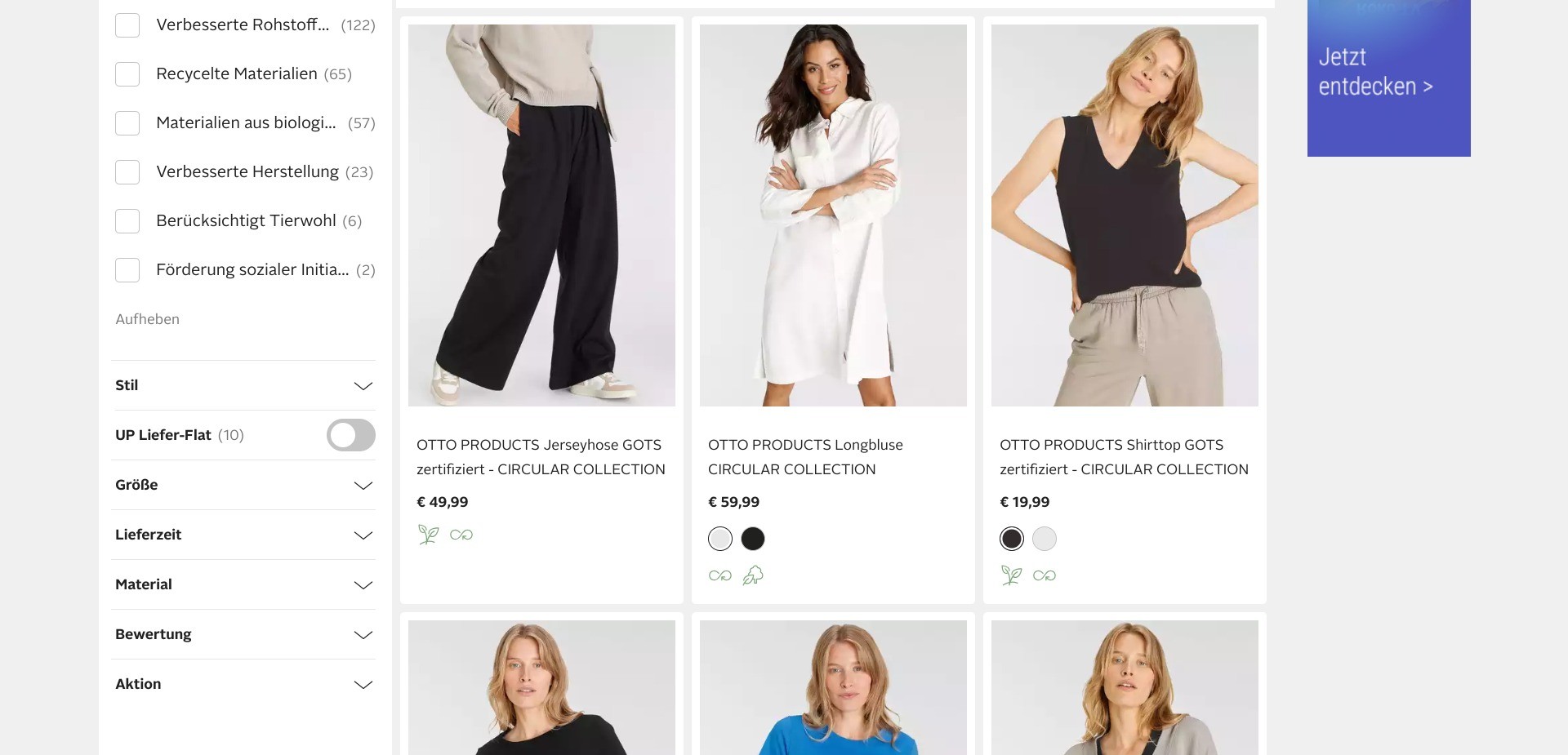 Screenshot of otto.de displaying items from the new circular collection
The collection is available on otto.de under the tag Otto Products. Items cost between €19,99 and €69,99.
Payments
Sustainability is not the only major trend that businesses in e-Commerce have to be aware of. Smooth payments are also on top of the list in 2023 - and with good reason.
Once again, OTTO acted in accordance with the newest trends when it announced the launch of its own payment method in the summer of 2022. The goal is to create a smooth and modern payment method that helps both sellers and consumers to keep their earnings/spendings on otto.de in check. Since no external providers are used, payment transactions should become faster and cheaper for all parties involved.
At the time of writing this article, only payments on otto.de were involved in the new method but the company plans to extend it gradually to the entire OTTO Group by the end of 2023.
Delivery by OTTO
Another innovative solution by the company is "Ship from Store." This initiative, created together with shopping mall operator Ece, allows businesses to send products to customers directly from their stores and not from a central warehouse.
Otto-Group members About You and Limango, as well as the PTH Group (including brands Esprit, Tommy Hilfiger, Calvin Klein and Levi's) also participate in this initiative.
The Ship from Store concept could be another stepping stone that connects online to offline commerce, and may contribute to a significant increase in turnover in participants' physical stores.
Brands and sellers on otto.de
According to 2022 data, around 3.500 brands and sellers are present on OTTO, over three times more than in the previous year. This is a big success for the marketplace, especially considering that it has various entry criteria and even fees for business partners to consider.
OTTO charges its sellers a monthly €39.90 flat fee for access to the platform, as well as a surcharge after each product sold. The amount of this depends on the actual product.
From an online brand protection point of view, these barriers OTTO created for potential sellers are definitely beneficial, as they may deter fraudsters from trying to join the marketplace. The monthly fee is also discouraging for sellers who just want to make quick money and sell cheap, bad quality products.
Thanks to all these measures, the marketplace has a good reputation amongst consumers. No wonder that some fraudsters try to imitate the platform and dupe consumers into thinking they're actually buying from OTTO.
Nevertheless, no marketplace can be completely free from the danger of fake, grey market and other IP infringing products finding their way to the platform. In OTTO's case, we assume that grey market items may be the phenomenon your brand needs to be aware of.
These are original products sold outside of your authorised distribution network, which means that consumers won't notice a thing, apart from the slightly lower price of the product. But it's especially this lower price that creates an unfair competition between your own products, eroding trust within your distribution network and causing your brand significant losses.
Therefore, setting up a comprehensive online brand protection program is necessary to keep your IP rights safe and your distribution network free of leaks.
Conclusion
Whether you're considering a market entry to Germany or just expand your reach to new consumer groups, OTTO is an important platform for your brand to consider.
If you have any questions or concerns about OTTO or your IP rights in general, reach out to us at globaleyez and let us know how we can assist you.