Spanish fast-fashion retailer Zara is expanding its online used-garment marketplace. Zara Pre-Owned has been available in the United Kingdom since October 2022, and now there's talk of expanding the marketplace to other European countries.
The exact locations and timing is not yet known, but it seems the Netherlands is going to be among the chosen destinations.
What is Zara Pre-Owned
Just like its name suggests, Zara Pre-Owned is a C2C marketplace facilitating the exchange of used Zara garments between consumers.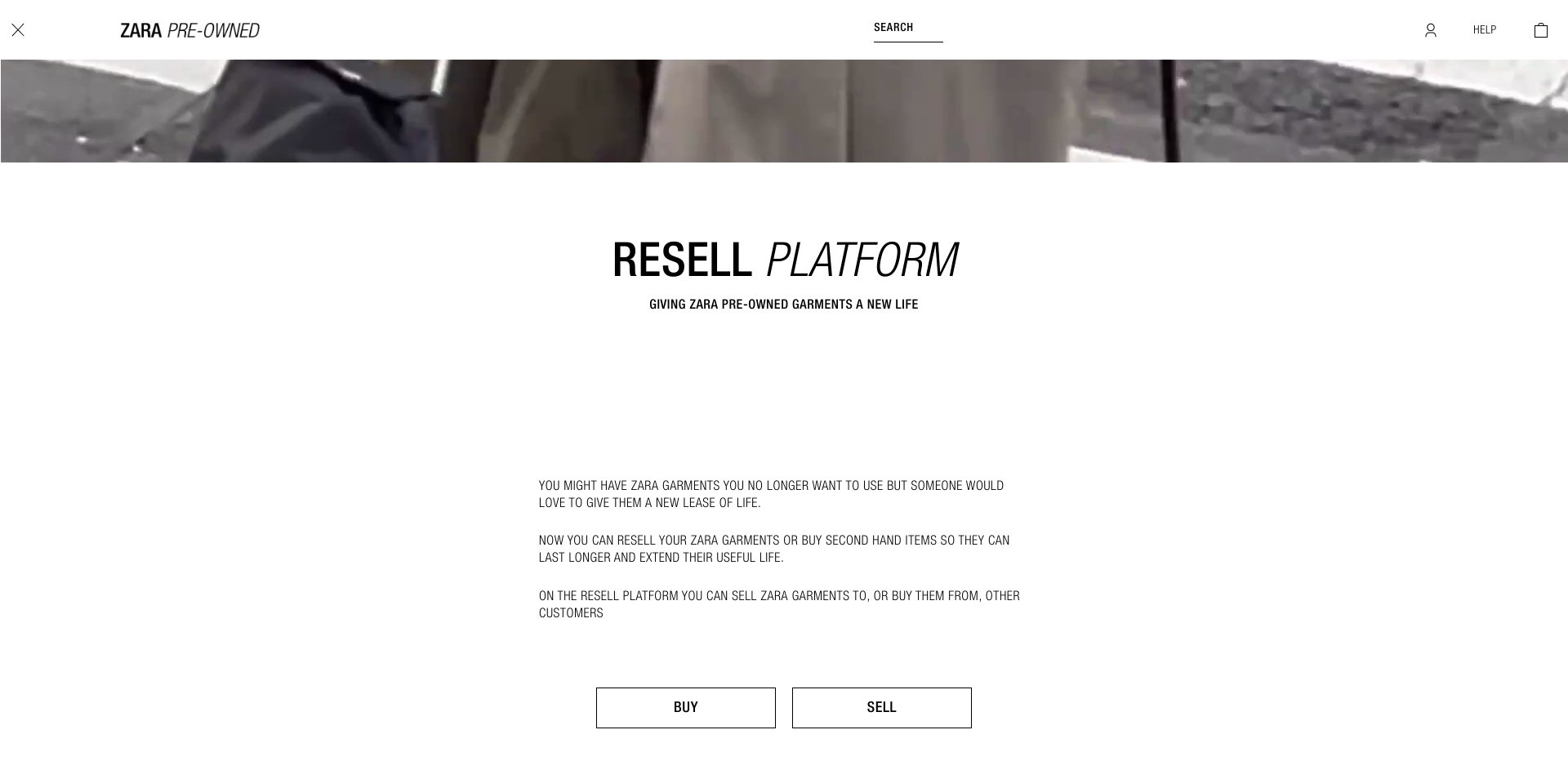 Screenshot of resell.zara.com
It works like this: anyone who wishes to sell any pre-loved Zara garment has to first create an account on the Pre-Owned site.
Then they have to select the chosen garment(s) from Zara's catalogue and add their own description of the item, including size, price, condition and potential issues. Uploading photos is also required. Once the item sells on the platform, sellers can use Zara's prepaid delivery option and send the product to the buyer within three days.
Comparing Zara Pre-Owned with other C2C marketplaces, the clean and sophisticated look of the platform is the first thing that stands out. No wonder: since the grid of product listings displays professional photos of Zara's own catalogue rather than the pictures taken by customers, the marketplace has a neat, uncluttered atmosphere that resembles a high quality shop.
See for yourself the difference between the appearance of Zara Pre-Owned and that of Kleinanzeigen.de, one of the most popular C2C platforms in Germany.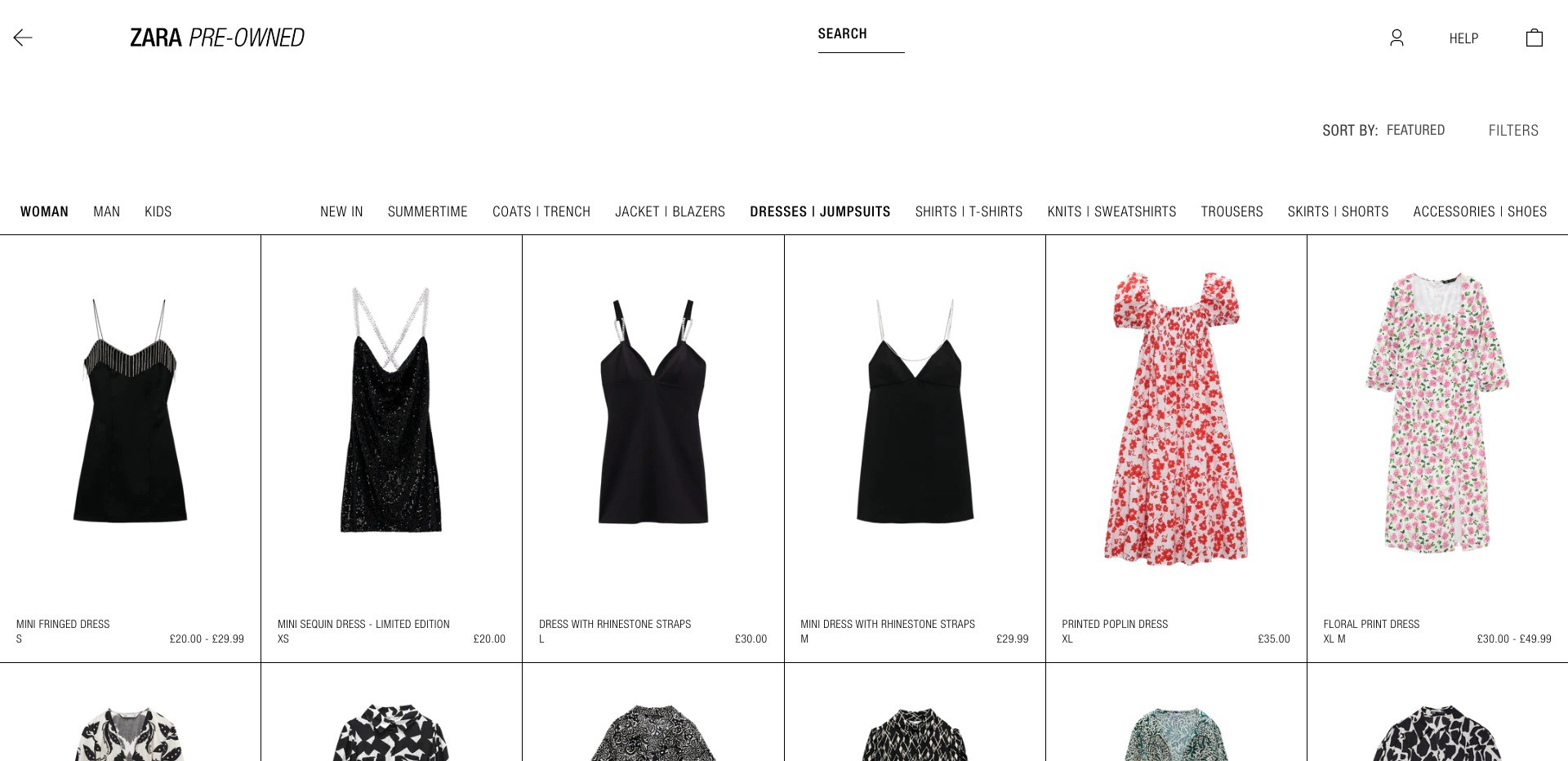 Screenshot of https://resell.zara.com/collections/womans-dresses/vendor-zara-resell displaying random product listings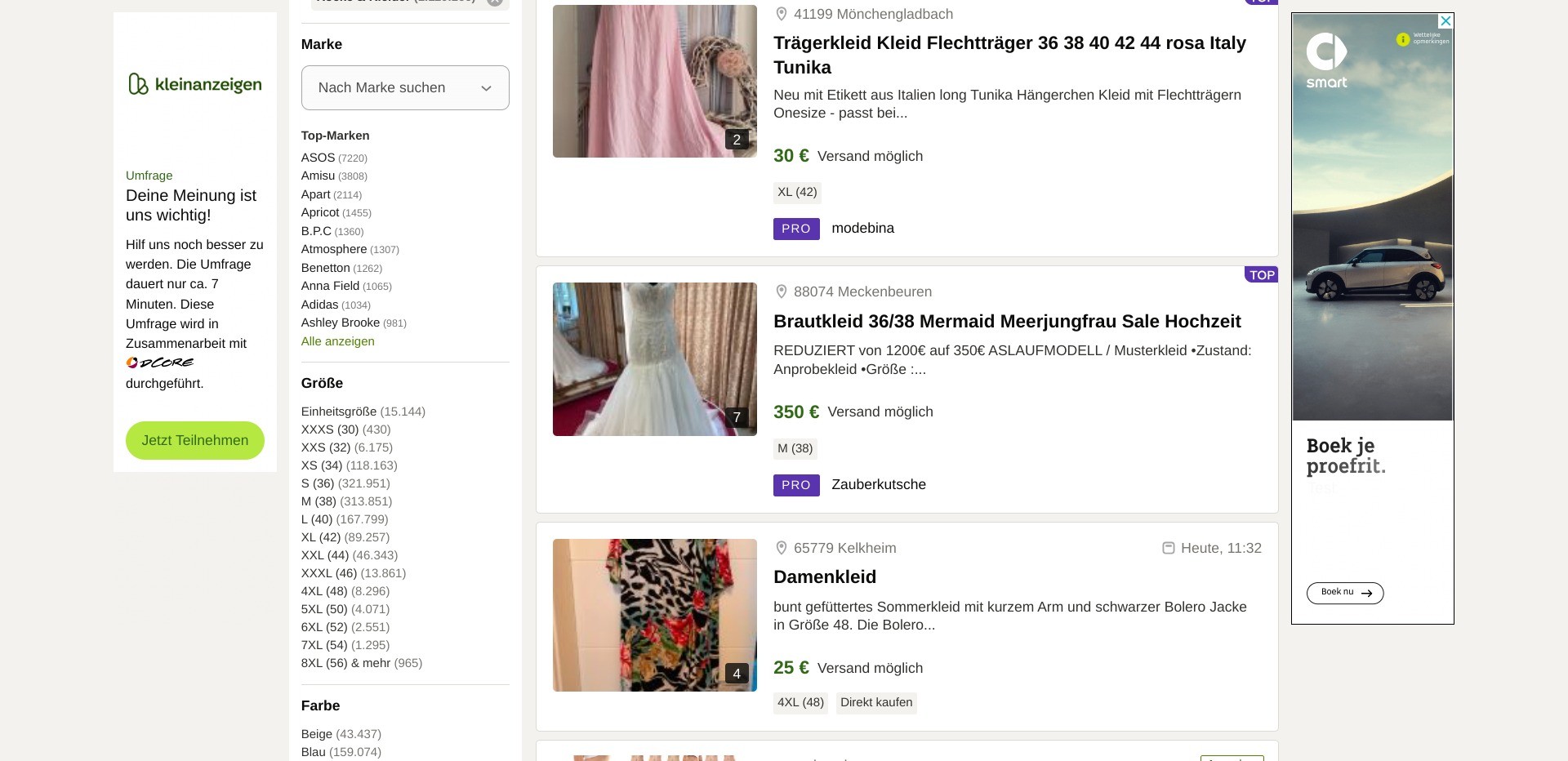 Screenshot of kleinanzeigen.de displaying random product listings
The product presentation on Zara Pre-Owned is a perfect example of why your brand image should be taken into consideration when displaying your products on any online marketplace. The professional appearance of the product listings elevates the products themselves, assuring potential customers of the quality and feel of the garments they're about to view.
Since Pre-Owned is Zara's own marketplace, it makes sense that the look and feel of the platform corresponds to its brand image. Unfortunately, not all brands have the luxury of possessing total control over their products' online appearance, however important it is.
If you worry about your products' online presentation, take a look at our clean marketplaces solution!
Shopping on Zara Pre-Owned
When clicking on a product picture, you land on a site aggregating sellers of the given product.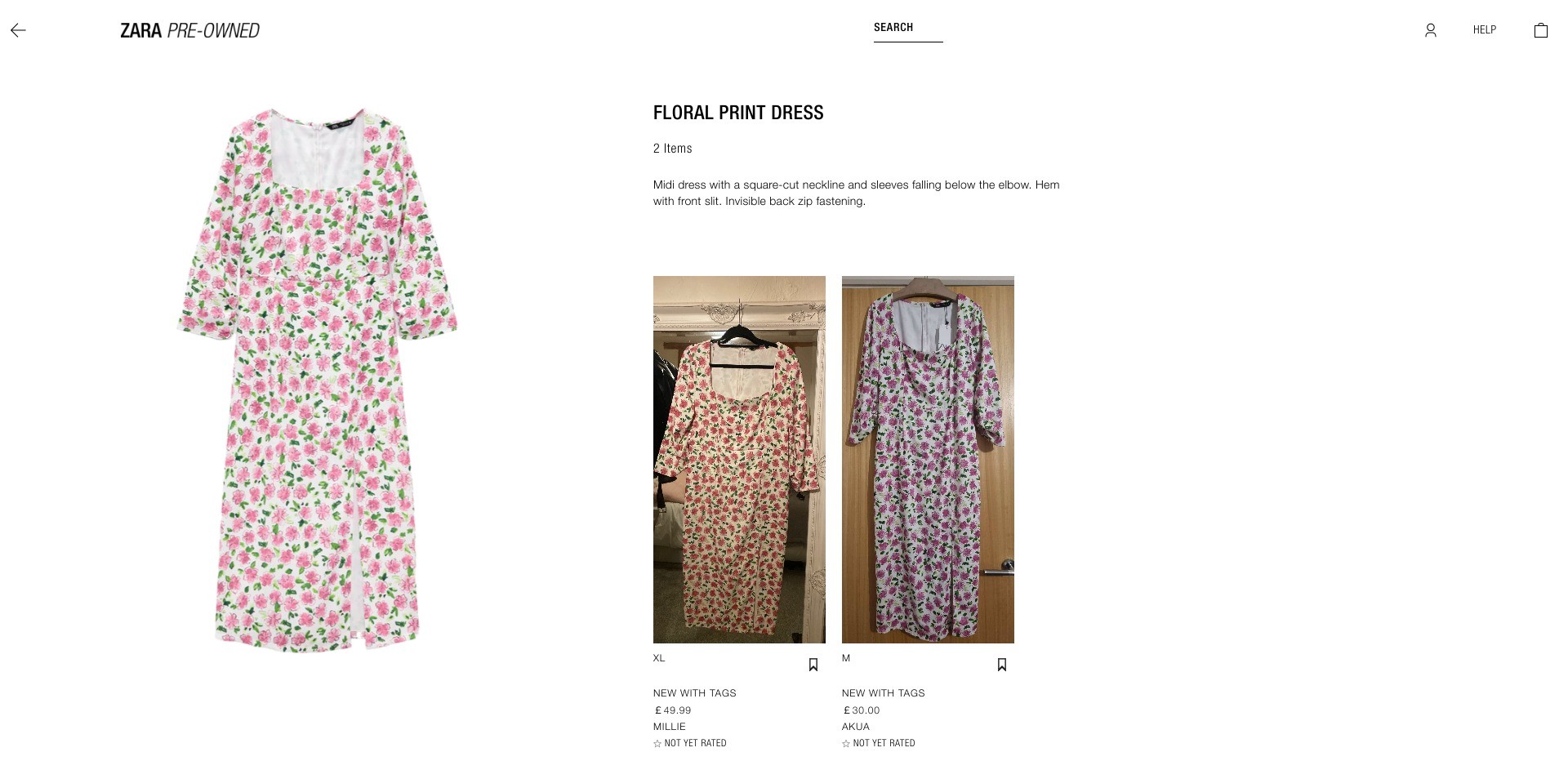 Screenshot of a random product picture on resell.zara.com
Clicking on an image leads to the actual product listing created by a consumer selling their pre-loved Zara garment.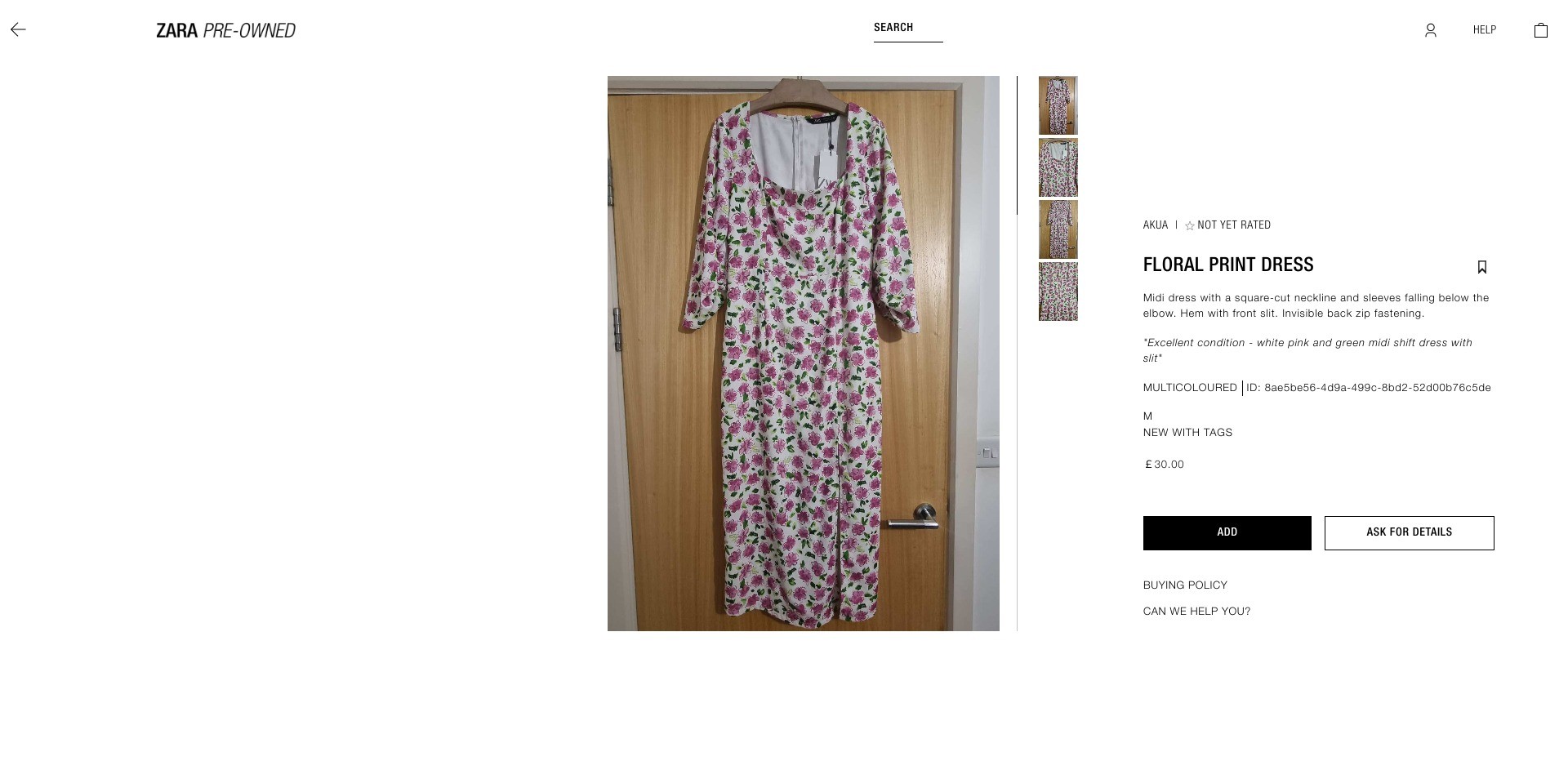 Screenshot of a random product listing on resell.zara.com
The product page details all the information the seller has uploaded about their garment. Shoppers have the choice to buy it right away or ask questions about it from the seller.
Since we're talking about consumers on both sides of the selling process, all sales are final and returns are not possible. If the item purchased is not as it was described, the buyer can open a dispute that Zara offers to mitigate.
Information about sellers on the marketplace is quite scarce. All we see is a first name or a nickname, which may make it harder to track down the seller if it turns out there was a problem with the product.
Besides buying and selling used garments, Zara also offers to repair torn or damaged clothing for its customers. All you need to do is request a repair either in a physical store or on Zara's website. In-person customers can leave the garments in the store while online shoppers have to ship it to the company via a drop-off point.
Zara is not the only fashion retailer who set up an online marketplace for pre-loved garments. In fact, it's not even the first one to come up with such an idea.
What is Zalando Pre-Owned
German fashion retailer Zalando set up its own Pre-Owned shop two years before Zara, in 2020, when it introduced a new category, "Pre-Owned" on its marketplace.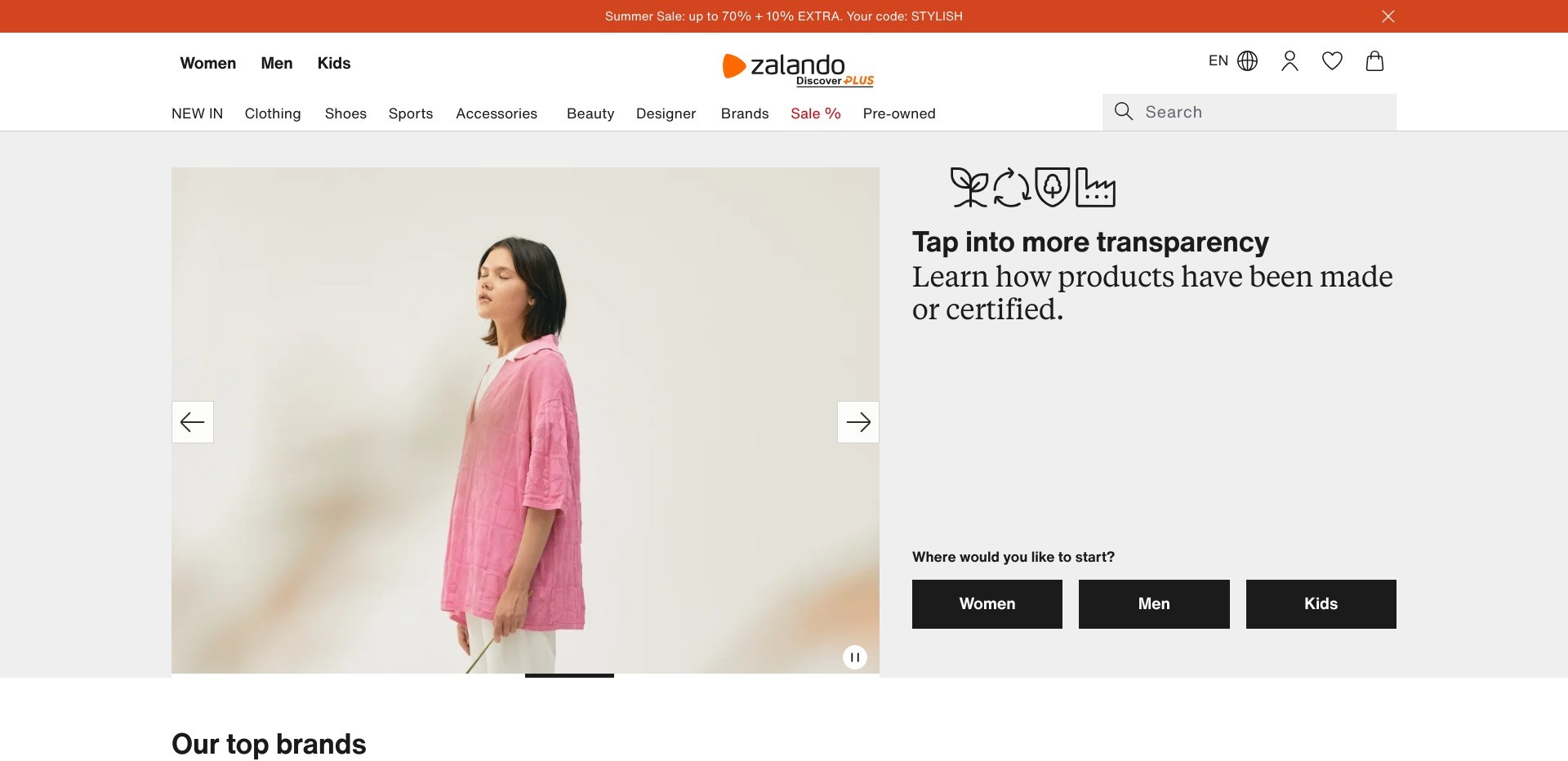 Screenshot of en.zalando.de with the Pre-Owned tab visible among the categories
Available in 11 countries including Germany, Poland, Spain, the Netherlands, Austria and Denmark, Zalando Pre-Owned allows consumers to upload used clothing in like-new condition by over 3,000 brands to the platform. Consumers can then ship them to Zalando for free for a quality check. Should the garments pass the test, their previous owners receive store credit in return. Alternatively, consumers can also donate the money to a charity Zalando partners with (currently either the Red Cross or WeForest).
Since Zalando actually holds the pre-loved items (as opposed to Zara Pre-Owned that only facilitates the exchange), new buyers can enjoy all the perks that come with shopping on a B2C marketplace. This means hassle-free shipping, returns, quality-checked pre-loved products, and so on.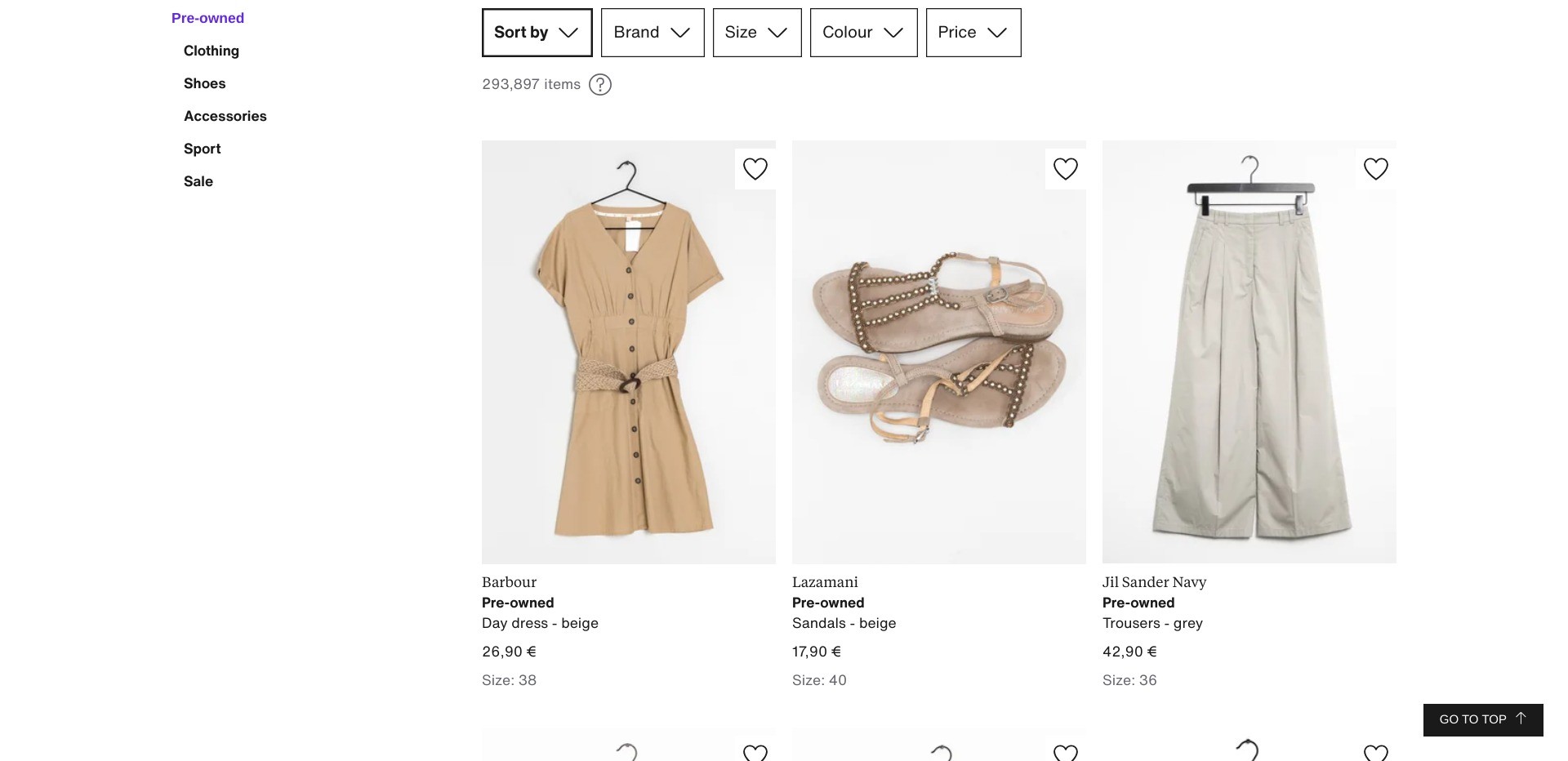 Screenshot of random product listings on en.zalando.de
Just like Zara, Zalando uses professional pictures for its pre-owned listings, creating a clean and professional feel for the marketplace.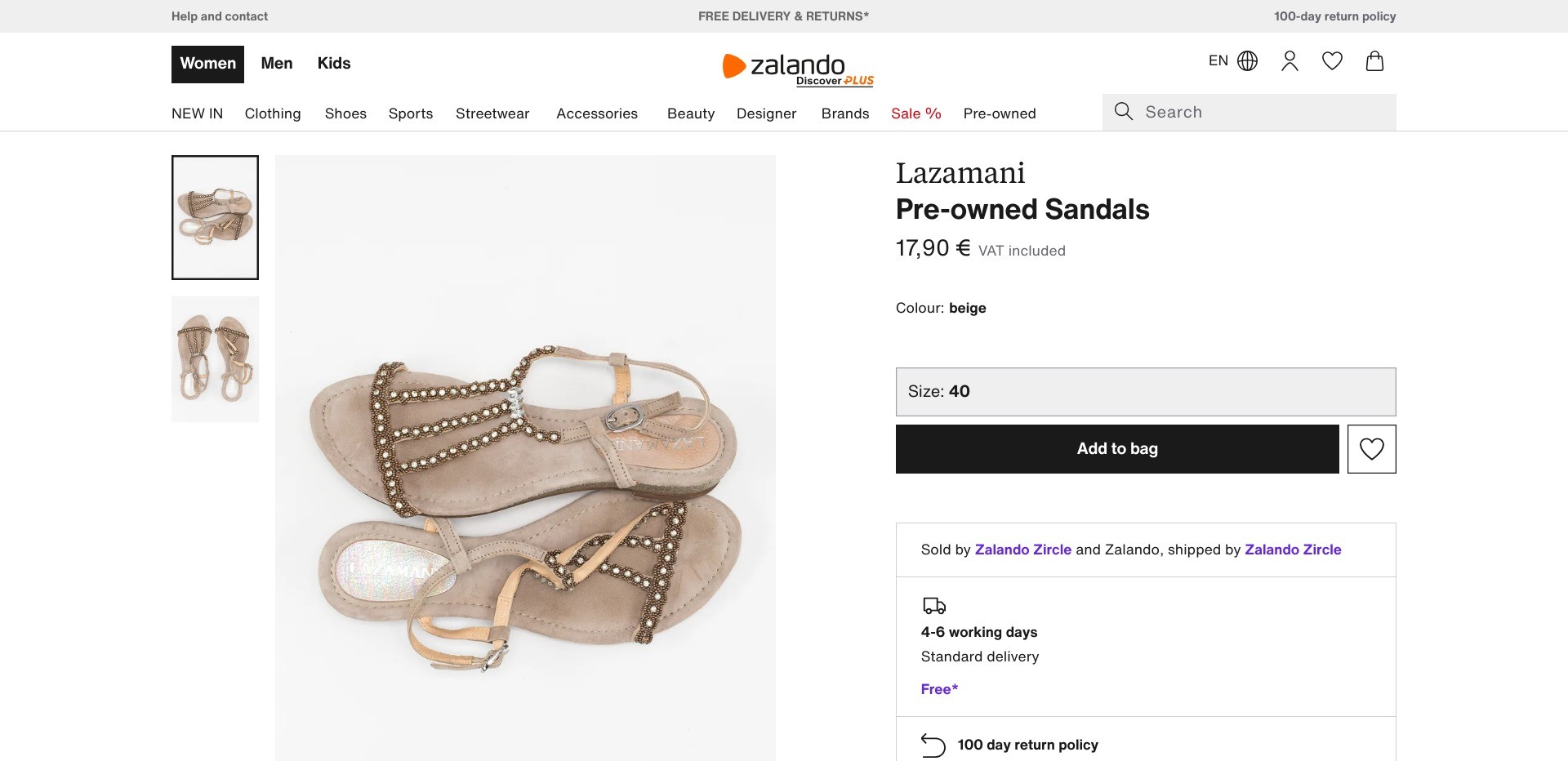 Screenshot of a random product listing on en.zalando.de
But Zalando takes it one step further. Since the company manages fulfilment as well, Zalando is able to take professional pictures of the actual products being sold again, which means that even the product listings have a clean and businesslike appearance.
In fact, buying a used product on Zalando is only different from buying new that customers get a warning about the pre-loved nature of their purchase. All the other processes, including payment and shipping are similar to what they'd usually expect on Zalando.
Pre-owned marketplaces and sustainability
Zara, as a large fast fashion company, significantly contributes to pollution and the increasingly wasteful consumption patterns prevalent today. Hence, the initiative to encourage the trade of used clothing between consumers is a welcome step towards a more sustainable future.
Since increasing sustainability is a well-articulated demand from society in general, more and more companies are looking for ways to diminish their ecological footprint. There's certainly room for improvement: according to a recently issued report by the World Bank, only 8.6% of all raw materials come from recycling.
However, if you decide to follow this trend, make sure to actually make meaningful changes and don't fall into the trap of greenwashing. Pretending to be more sustainable than you are does no good for the environment - and definitely not for your reputation.
Related topics
Fraud alert: Scammers trick customers on Vinted
How online brand protection contributes to circular economy
Major consumer behaviour trends for 2023
C2C marketplaces and online brand protection
We at globaleyez welcome any effort to increase sustainability, which is why we fully support the idea behind C2C marketplaces that help extend the life of all kinds of products - and thus diminish the need to create new ones.
However, as online brand protection experts, we can't ignore the dangers these kinds of marketplaces mean for brands. Because unfortunately eco-conscious consumers are not the only crowd these marketplaces attract.
Fraudsters are right there with them.
Since brands tend to focus on B2C marketplaces, fraudsters may feel they can operate more freely on C2C platforms. Just like they do in the famous Vinted-Zalando fraud where consumers believing they're paying for second hand items on Vinted get brand new ones from Zalando - along with a hefty price tag.
In addition to intentional fraud, fake products can get a second life here when consumers put them up for sale. Whether they know it's counterfeit or not is not the issue here: it's the harm a fake product can do to consumers' health and the environment. Not to mention your brand's reputation.
Because although none of this is your brand's fault, it can definitely fall back on you, unless you do something about it.
How to protect your brand on C2C marketplaces
Our services are geared towards protecting your brand's IP rights anywhere on the internet, including on C2C marketplaces.
Just like we do on B2C platforms, we can check C2C marketplaces for potentially IP infringing listings as well. A round of image monitoring will ensure that no image-based content, like fraudulent ads, product pictures or posts escapes our attention. Finally, we'll enforce your rights and ensure the swift removal of any fraudulent content from C2C marketplaces (and the rest of the internet).
Conclusion
The C2C trade of used garments is definitely a step in the right direction for a more sustainable economy. Unfortunately, fraudsters may try to misuse this trend to boost their own counterfeit business.
Don't let this ruin your brand; contact us today and let's set up a comprehensive online brand protection programme for your brand.