24.01.2023 | by Lili
New features to make shopping on Amazon more attractive
Table of contents
This past Christmas season, Santa may have procured many presents on Amazon (after all, his loyal elves can't be expected to make everything by hand), but that doesn't mean consumers are the only ones who got any perks from the e-Commerce giant.
In fact, Amazon introduced a couple of features to help marketers succeed - just in time for the Christmas shopping frenzy. Missed out on them? No worries.
Here's your chance to find out all about them.

Scrollable images

Images usually appear on the left side of a product listing on Amazon. Since product information is becoming more important than ever for consumers living on tightening budgets, it's crucial for sellers and brands to display the best possible images on their product listings.
However, clicking through a line of pictures may become boring for consumers, so much so that they could get frustrated and leave the page. Well, that could stop now.
Amazon's been testing a new feature that allows desktop users to simply scroll through the series of images featured on a listing, just like on the rest of the product page. This feature was live for a while, but now it seems that Amazon went back to the drawing board and disabled the function for users. Whether it will be reintroduced at some point is unclear. We'll keep youupdated about the issue on our blog.
This simple thing could prove to be a great asset for marketers who wish to make online shopping an even more seamless and enjoyable process for customers. Also, this step could take Amazon product pages a bit closer to the features of social media sites like Instagram and Facebook, where shopping via pictures is a given.

What about IP rights?

But what if those pictures are fake, and what if those sellers infringe on your brand's IP rights? Unfortunately, this feature could help them just as well as honest marketers. But don't worry, with a bit of precaution you will be able to safely enjoy the advantages of scrollable images (whenever they're introduced) without having to worry about who else is using them.
globaleyez's image monitoring service is aimed at detecting IP infringing images like product pictures and brand imagery online. Our software tool, infrimage quickly uncovers suspicious imagery (e.g. stolen pictures or fake images resembling your authentic ones), and its versatile built-in filters help us separate authorized images from infringing pieces.
Image monitoring is the perfect way to detect fraudsters infringing on your copyrighted pictures, logos and any other brand imagery, whether on Amazon or anywhere else online.

Related topics:

TikTok and Douyin in e-Commerce

Small businesses succeed on Amazon

Major consumer behaviour trends for 2023
Shopping feed à la social media

On the other hand, a feature that looks like it's actually here to stay is a social shopping feed called Inspire, which brings the shopping experience on Amazon closer to that available on social media platforms. With this step, Amazon aims to jump on the bandwagon of social commerce and gain new customers.
According to Amazon Shopping director Oliver Messenger, Inspire was created to "make shopping easy and fun."
This shoppable feed, quite like the ones employed at TikTok & Co, allows marketers to target social shoppers with personalized images and videos. Products are tagged in the imagery, making it easy for interested customers to simply tap their screen if they want to learn more about the product. With another tap, they can put it into their cart to purchase it.
Making the most of social shopping, Inspire allows customers to personalize their feed by listing their interests upon signup (or anytime after that) and interacting with content, for example via likes.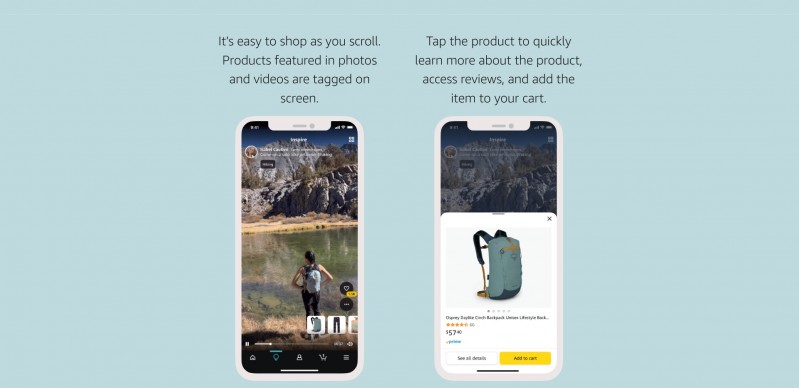 Screenshot of amazon.com displaying the look of Inspire on a smartphone

The new feature is currently available to select shoppers in the US. Amazon plans to roll it out to all US customers in 2023. If and when Inspire will make it to other parts of the world is currently unknown.
Inspire certainly sounds like a great asset for marketers - and unfortunately, for fraudsters as well. After all, fraudsters are certainly getting better at producing quality marketing content, which helps them target customers more efficiently both on traditional marketplaces like Amazon and social commerce sites.

Brand protection to the rescue

Luckily, globaleyez's services, including social media and marketplace monitoring are perfectly geared towards detecting fraudulent marketing, or any other type of content on marketplaces and social media platforms. Infringing product listings, images, ads, posts in buying groups, etc - you name it, we find it.
However, on top of the straightforward problems infringements cause on social media and online marketplaces, there's another, less often considered issue that's just as dangerous for brands.
In social commerce, looks are everything. This is especially true with social shopping feeds like Inspire, Instagram, TikTok and the rest, where a bad quality image stands out like a sore thumb.
If a fraudster infringes on your brand's IP rights, their pictures and videos may show up in your customers' feeds as yours, ruining your brand image on the marketplace and significantly damaging your reputation and bottom line. That's why a clean marketplace, where only your authorized content is displayed, is crucial for your brand.

Find out how a clean marketplace contributes to your brand's success

With globaleyez's monitoring services in place, you can forget worrying about IP infringing webcontent and concentrate on how to make the most of Amazon's new features. Contact us today if you have concerns about IP infringements both on- and offline.