Alibaba is about to strengthen its position in Europe. While the Chinese e-Commerce giant is already present in Europe due to its subsidiary AliExpress, another popular online marketplace from the Alibaba family, Lazada has announced its expansion into our continent.
The exact schedule and specific European countries where Lazada will set up shop are unclear at this point. However, since Alibaba has recently opened a logistics hub in Liege, Belgium, preparations may be well on their way.
Lazada vs. AliExpress
Since both companies belong to Alibaba, the business models of Lazada and AliExpress have been aligned to ensure they don't ruffle each other's feathers. While AliExpress works with Asian, mostly Chinese sellers, Lazada will focus on local European vendors, thus ensuring they stay out of each other's way as much as possible.
Interestingly, a rival Southeast Asian e-Commerce company, Shopee has also recently entered the European market by launching operations in Spain, Poland and France. Unfortunately for Shopee though, it already had to cease operations in France, mainly due to a lack of interest from consumers.
What Shopee is doing in Europe
Whether Lazada will be more successful on this highly competitive market depends on many factors, not in the least the marketplace's profile and ease of use.
What is Lazada
Founded in 2012 in Southeast Asia, Lazada quickly became successful in the region and was acquired by Alibaba in 2016. Currently the third largest online retailer in Southeast Asia behind Shopee and Tokopedia, Lazada has 128.4 million monthly visits from the region and brought in $21 billion GMV in the first nine months of 2021. The marketplace is currently available in six countries, Thailand, Vietnam, the Philippines, Indonesia, Malaysia and Singapore.
Lazada is a general marketplace, offering a very wide range of diverse products in categories like electronics, appliances, fashion, footwear, beauty, toys, lifestyle products, and even cars and motorcycles. As many other Southeast Asian marketplaces, Lazada often runs promotions and offers significant discounts on various products.
Similarly to many of its competitors, Lazada operates with the popular tile format, well known to shoppers from social media. Users can choose between various device options, including a smartphone app and desktop version.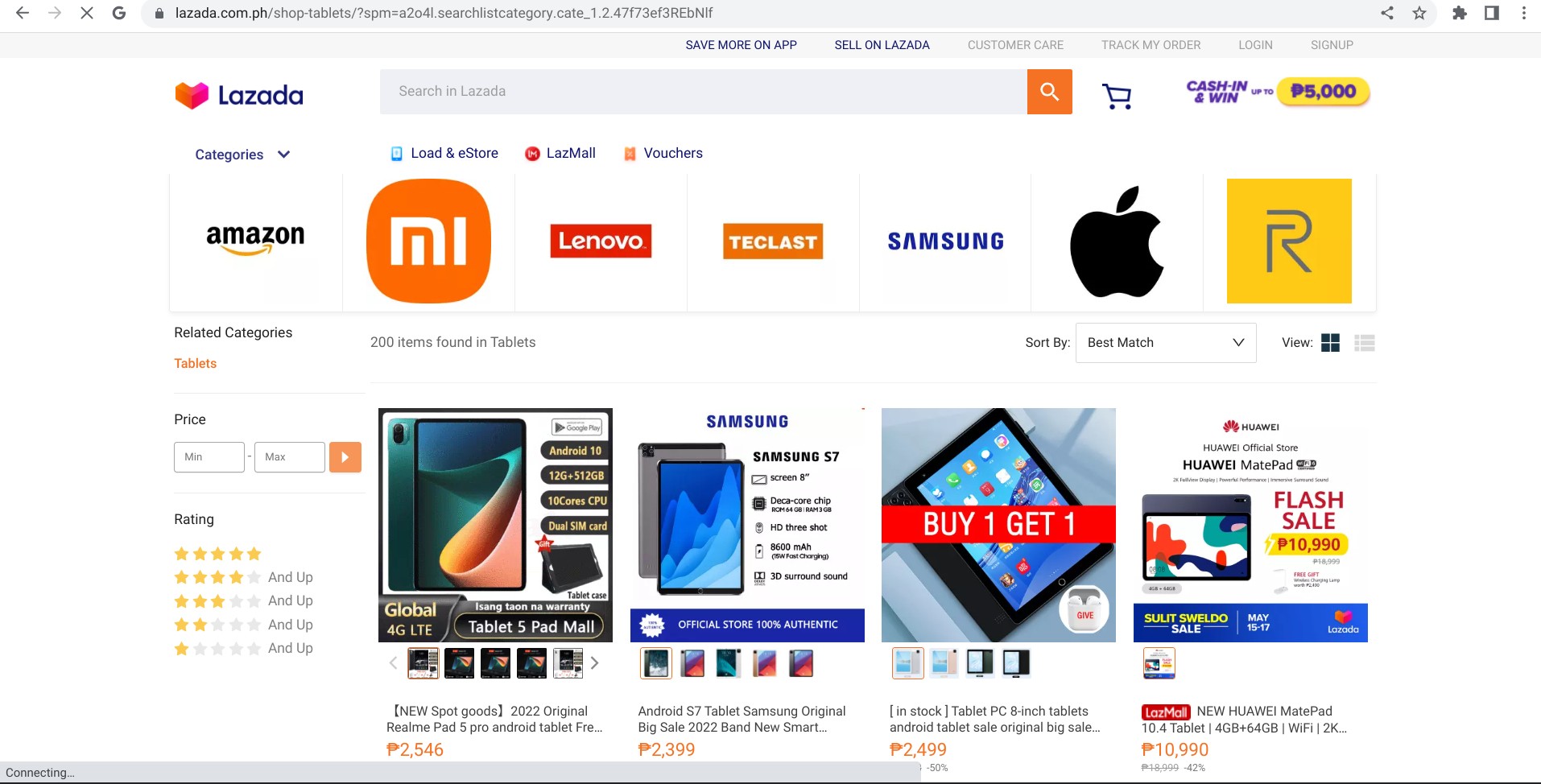 Screenshot of lazada.com.ph displaying the desktop version and tile format
The marketplace offers various payment options, including Lazada's own method (Lazada wallet), a 'pay later' option, and in some regions even cash on delivery.
Business model
Although Lazada started out as a classic retailer selling products from its own stock, the marketplace soon switched to a different business model allowing third party sellers to appear on the platform.
Vendors wishing to sell on Lazada need to register a business account on the platform. This requires submitting various identification data, like a business registration number, bank account and contact information. Lazada verifies the contact information via text codes.
The marketplace offers training and practical help to ensure that new vendors quickly get the hang of the platform and receive every information to get started as smoothly as possible. Like, for example, Lazada's IP protection policy.
Related topic
The booming of e-Commerce in Indonesia
IP rights on Lazada
Lazada has installed its IP protection program in 2019 to fight against IP infringements on the platform. The marketplace works with online brand protection experts, including globaleyez to ensure swift action against infringing listings.
According to its last annual report on IP rights, Lazada managed to double the number of brands that participate in the IP protection program in 2021 and reduced the average time it takes to process a takedown request by 40% compared to 2020.
As we work closely with Lazada to ensure the protection of our clients' IP rights, we can confirm that the platform is committed to the elimination of infringing listings. In fact, even the USTR's 2021 Review of Notorious Markets for Counterfeits and Piracy commends Lazada on its efforts in the fight against counterfeits.
However, since third party sellers are heavily present on Lazada, it's impossible to fully prevent problematic listings from appearing on the platform. We have mainly encountered counterfeit and grey market listings of our clients in the current, Southeast Asian Lazada marketplaces.
Luckily, as mentioned above, our cooperation with Lazada is excellent and our takedown requests always get addressed as quickly as possible.
What to expect from Lazada in Europe
As the press release announcing the expansion outlined, Lazada will mainly focus on local sellers in Europe. However, since it's unreasonable to expect the marketplace to deviate from its usual profile (offering a large variety of products at a reduced price), it's quite likely that cheap goods of sometimes questionable quality will be available en masse to European customers.
When shopping on a marketplace with such a profile, it's important for customers to keep their eyes open. When a deal sounds like it's too good to be true, it most likely is.
For example, the screenshot below shows a listing of a product that claims to be a 100% authentic Gucci bag, sold for 959 Philippine pesos (ca. 18 euros). We haven't done a test purchase of this product so we can't be entirely certain, but just from the looks of it, it doesn't seem to be original.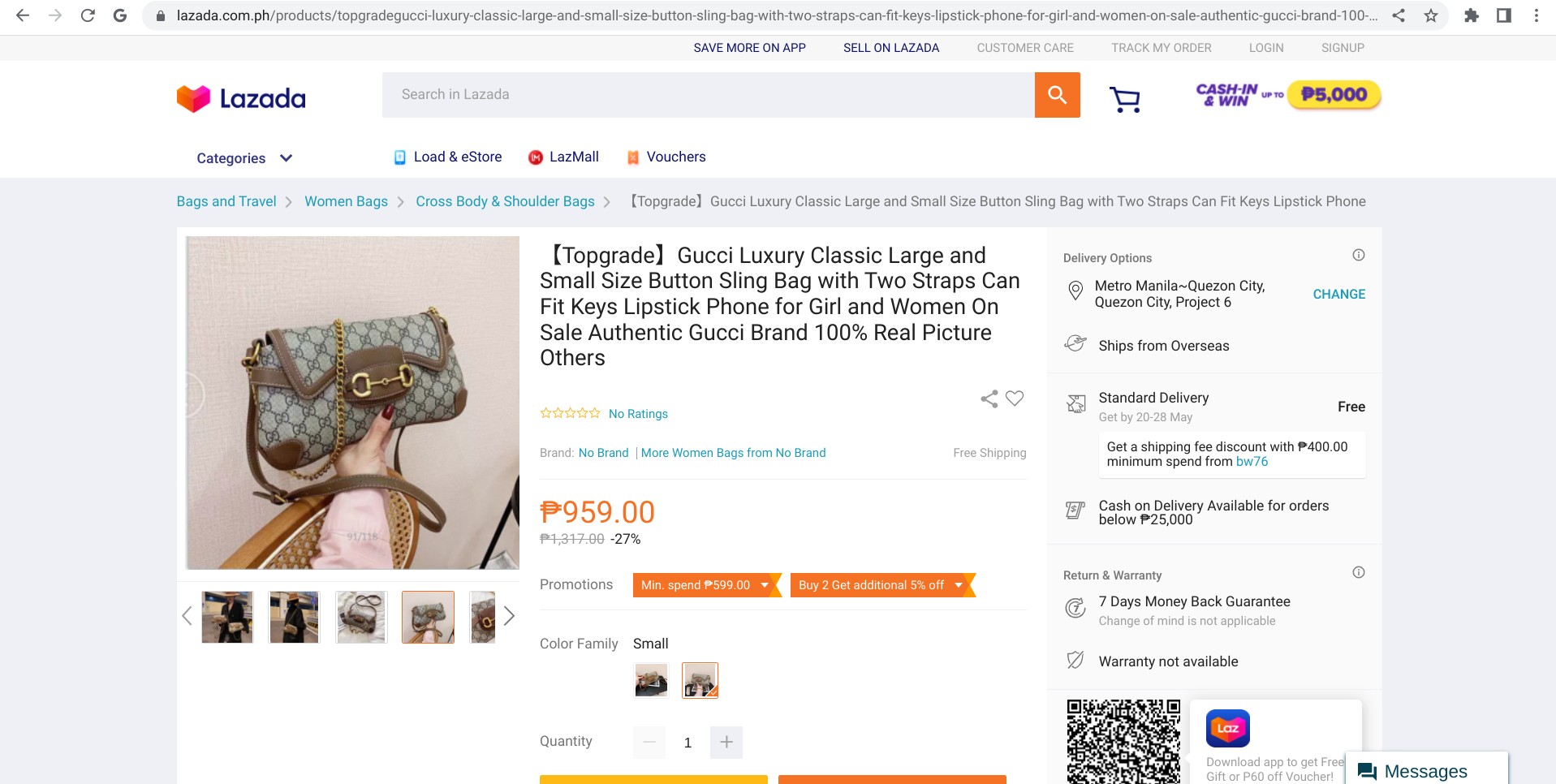 Screenshot of lazada.com.ph displaying a potentially IP infringing product listing
Red flags like price, customer reviews, shipping time and costs, or even using the phrase "100% authentic" can out a product as fake and a seller as untrustworthy.
Read our full guide on how to recognize counterfeits!
With the arrival of Lazada, brands and shoppers alike can expect low-priced, potentially IP infringing products to become more easily available in Europe. Luckily, that's exactly why online brand protection was invented.
globaleyez & Lazada
As already mentioned, we have an excellent working relationship with Lazada and we expect this will continue once the platform is present in Europe as well. This means that we are well prepared to look after your brand's IP rights.
Our online brand protection services, especially marketplace and image monitoring are perfectly suited to detect infringing listings and pictures on Lazada (and over 150 other marketplaces.)
Relying on state-of-the-art software tools and years of experience, our online brand protection experts provide you with comprehensive analytics and tangible advice on which sellers to take action against. Then, should you wish to do so, we can enforce your rights and ensure the removal of infringing content from Lazada.
Conclusion
The European e-Commerce market is getting a new player. Although many uncertainties still surround Lazada's European entry, we believe the new marketplace will provide brands with both threats and opportunities.
If you don't want fraudsters to steal your revenue and reputation, reach out to us and let globaleyez protect your IP rights on Lazada and any other corner of the internet.