The partnership
The new partnership should bring mutual benefits for both Pinterest and Amazon. Pinterest hopes the new opportunity will attract more brands and products to the platform, since the on-Amazon shopping experience and the great advertising options are bound to increase the number of users buying products on Pinterest.
As Bill Ready, CEO of Pinterest remarked, "This milestone partnership will add to the great brands already on the platform and provide more comprehensiveness, shoppability, and a best-in-class buying experience for users, along with greater performance for brands and advertisers."
For Amazon, the benefits of the partnership should include the widening of its reach, and the inclusion of Pinterest users in its considerable consumer base. Thanks to over 400 million monthly active users and a $2,803 million annual revenue, Pinterest is certainly a social media platform to be reckoned with.
According to Amazon's Senior Vice President Paul Kotas, "Amazon Ads is delighted to partner with Pinterest and make it even easier for customers to discover and buy relevant products through shoppable content, while also providing differentiated value for brands."
Pinterest and Amazon are now in the final stages of preparation. The exact implementation date is not yet known, however, it's promised to occur later in 2023, with the rollout lasting over several quarters.
What are third party ads
Third party ads are the phenomenon when "a website operator or publisher presents content for users and the site also includes advertising delivered by another provider." Similarly to TV or newspaper advertising, third party ads are independent from their carrying medium and promote the products or services of the advertising party.
Traditionally, some website operators were wary of installing third party ads, fearing that it would annoy their users, divert traffic from their site, or both. However, a recent study commissioned by Google found that this is not the case at all.
In fact, e-Commerce sites not featuring third party ads may be losing money. How come? Well, since the overwhelming majority, 93% of shoppers visit several websites before making a purchase, a lot of users don't come to a website with the intention of actually buying anything. Sans third party ads, these shoppers could come and go without generating any revenue for the site.
But third party ads are an effective way to direct the attention of these users to other sites and products, which makes these ads perfect for monetising shoppers on research visits. By following the ad, the users generate revenue for the hosting website, revenue which otherwise would not be realised.
The same study found that 90% of shoppers don't mind seeing third party ads on a website, disproving the myth that these ads would annoy people to the point of leaving the site.
Third party ads on Pinterest
Pinterest, a popular lifestyle social network that helps people discover creative new ideas, is not new to running ads on the platform. However, current ads feature Pinterest's own content creators and not third parties otherwise unavailable on the platform.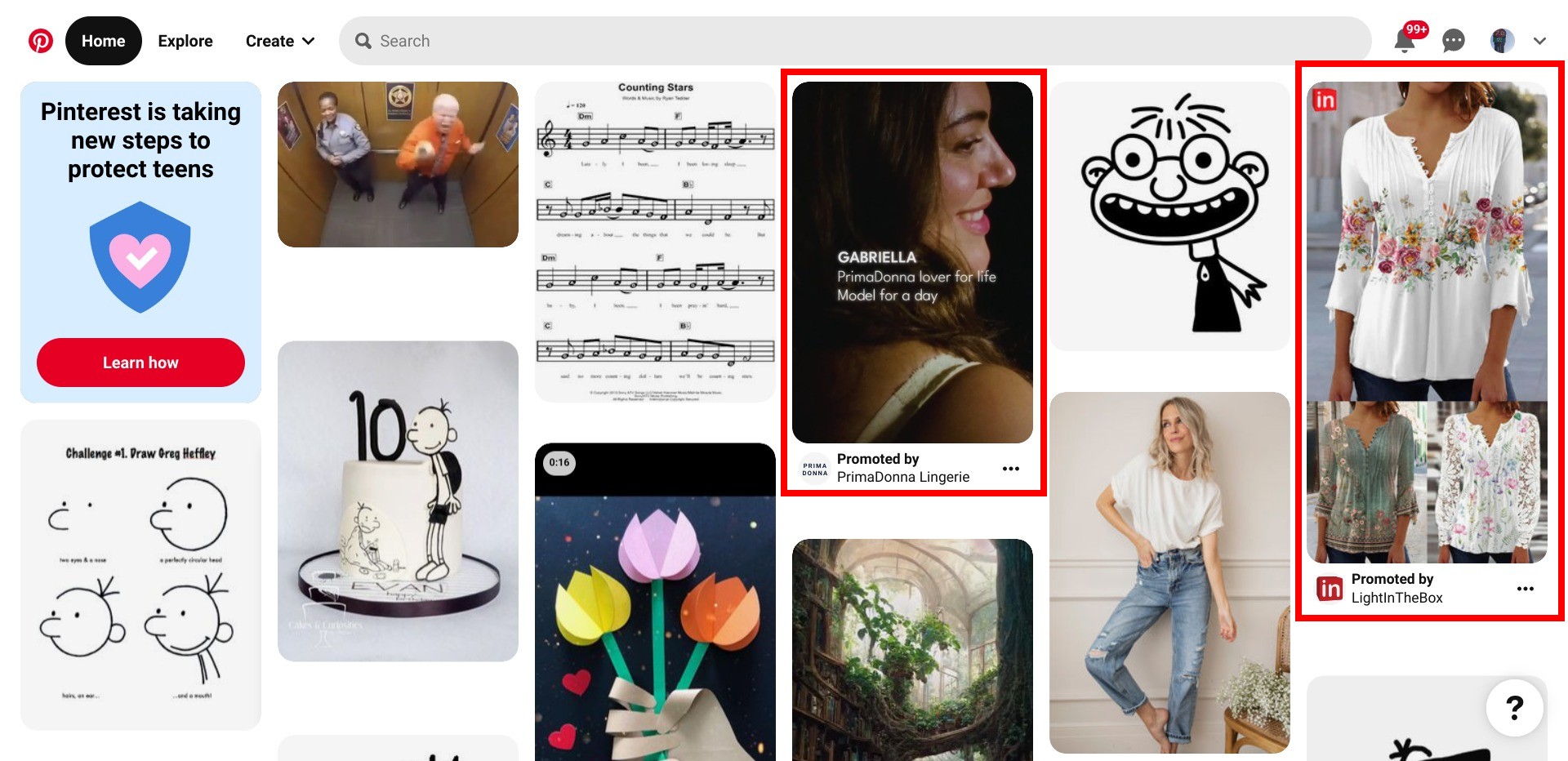 Screenshot of pinterest.com featuring two native ads
The partnership with Amazon may bring Pinterest to the big leagues of e-Commerce. Connecting ads on Pinterest with the corresponding Amazon listing will enable a seamless shopping experience for customers and enhance their shopping journey from spotting the product on Pinterest to actually purchasing it. This advantage will doubtless encourage several brands to give it a go and include Pinterest in their social commerce portfolio.
However, here's the downside: what's good for honest brands is just as good for fraudulent sellers as well.
Seamless shopping vs your brand's IP rights
Related content
WooCommerce simplifies shopping on Pinterest
New features to make shopping on Amazon more attractive
TikTok and Douyin in e-Commerce
eBay and Snapchat join forces in social commerce
A seamless shopping experience, in addition, significantly contributes to faster purchase decisions, especially in the realm of social commerce. Users wooed by beautiful content can make a split-second decision to buy something.
If they don't have time to think about it (because seeing it, putting it in their cart and paying for it all occur naturally in quick succession), users can fall into the trap of fraudsters, causing significant losses for themselves - and for honest brands.
How to protect your brand on Pinterest
Pinterest provides a great opportunity for brands to connect with their audience. Especially if you're in the lifestyle, creative or home decoration industry, featuring yourself on this social network can be highly beneficial.
However, rest assured that counterfeiters and grey market sellers know about this opportunity, which is why it's essential to include Pinterest in your online brand protection strategy. As the platform is just getting started in social commerce, it makes sense to keep watch on it to prevent fraudsters from flooding the space and stifling your brand's genuine presence.
Our social media monitoring service, for instance, discovers IP infringing content like posts, ads and more on social media platforms. With image monitoring, you can catch fraudulent ads and other image-based content anywhere online. Combine those with our marketplace monitoring service detecting fraudulent listings on over 150 marketplaces, and you can cover both sides of the Pinterest-Amazon partnership.
With a test purchase, we'll learn as much as possible about the origin of the product and get closer to the seller. Finally, our enforcement service ensures the swift takedown of the infringing content from Pinterest, Amazon, or any other corner of the internet.
Conclusion
Third party ads are a great way to widen your reach and gain new customers. Don't let fraudsters ruin it for your brand; contact us and ensure you enjoy the benefits while evading the dangers of this new development on Pinterest.