The European Union Intellectual Property Office (EUIPO) has recently published the newest edition of its periodic study on the perception of IP rights. The report, titled EUROPEAN CITIZENS AND INTELLECTUAL PROPERTY: PERCEPTION, AWARENESS, AND BEHAVIOUR - 2023 examines how aware European citizens are of IP rights and how much they respect them.
Intellectual Property – Awareness and opinions
Over 25,000 European consumers aged 15 or older were interviewed for the study. 83% of all respondents stated having a very good understanding of IP rights, although there are some differences between EU Member States. Respondents in Portugal and Hungary assess their IP knowledge to be the highest (92%), while people in Sweden (47%), Denmark (49%) and Finland (50%) claim to have the lowest knowledge of these rights (47%).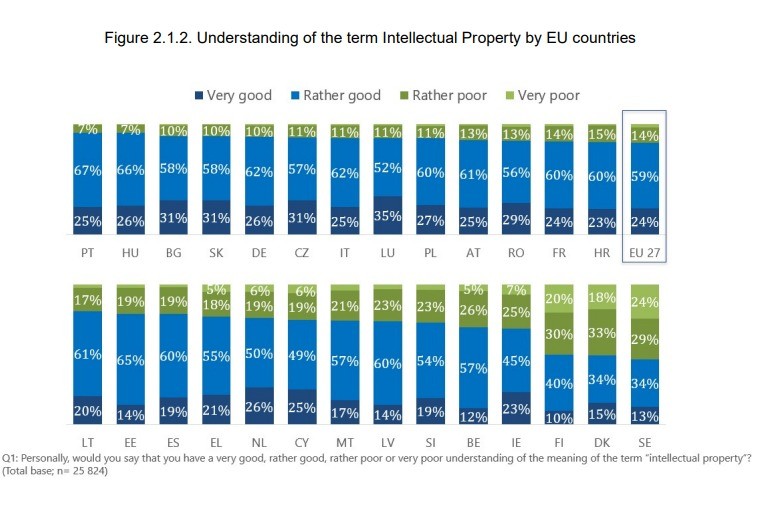 Screenshot of euipo.europa.eu displaying the IP rights awareness figures attributed to each EU Member State
As online brand protection experts, we're very glad that IP rights are generally recognised amongst the European public. However, we have to point out the large difference in awareness between countries may give rise to serious issues for brands active in cross-border commerce.
Besides different legislative environments, shopping habits, market specifics and much else, the level of IP awareness in your chosen countries is a factor your brand has to bear in mind when devising your sales strategy.
From an online brand protection point of view, there's another, even more startling issue: 85% of people with a self-proclaimed good understanding of IP rights have still intentionally purchased counterfeit products at least once in the past 12 months.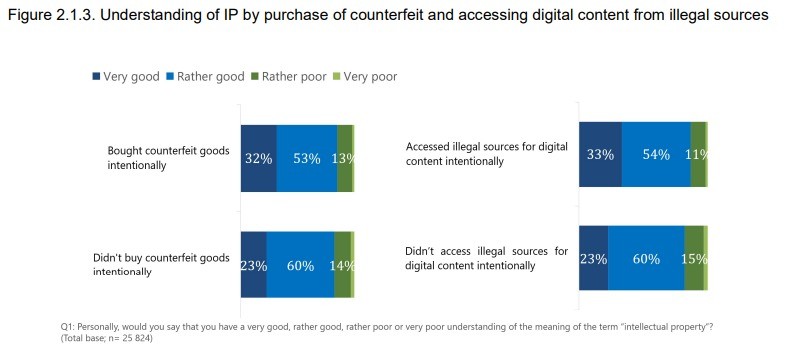 Screenshot of euipo.europa.eu displaying the figure comparing awareness of IP rights vs. intentional purchase of counterfeits
Find out why people buy fake products on purpose!
This underlines that brands can't solely build on consumer awareness when it comes to IP protection, but must proactively engage and set up a comprehensive strategy to protect their valuable IP assets.
Artistic vs industrial IP rights
A high number of respondents, 93% see the value in protecting IP rights, especially when it comes to the IP of inventors, creators, publishers or performing artists. In line with this, over 50% of people think that artists benefit the most from IP rights while only 24% believe that large companies and even less, a mere 7% think that SMEs also benefit from IP protection.
And although 88% of respondents believe that IP rights contribute to the quality of goods and services, only 8% see consumers as beneficiaries of the protection of IP rights.
It is interesting to see how people still associate IP mainly with artists and tend to see its value less when it comes to the economy. We see an opportunity here for brands to raise consumer awareness regarding the value of their IP rights.
Unfortunately, online marketplaces are often flooded by lookalikes, counterfeits, and low quality goods trying to mimic your original products and steal your customers. In such an environment, highlighting the value of your IP rights may become more difficult, which is why we do our utmost to clean infringing product listings from online marketplaces and allow your genuine products to shine.
Counterfeit goods – Behaviour and drivers of consumption
According to the EUIPO survey, European consumers are highly aware of the dangers in buying fake products. Over 80% consider it unethical and believe that it supports criminal organisations, while 79% think that it has a negative effect on the economy and jobs. Furthermore, over 60% believe that counterfeit products are a health hazard and are bad for the environment.
Find out what kinds of harm fake products cause you!
Respondents to the survey largely reject the most common reasons behind buying counterfeits. 81% disagree that buying fakes is OK because everybody does it, while 76% don't accept the reasoning that you can buy counterfeits as long as the original is not available. 75% believe that buying counterfeit is not acceptable even if it concerns luxury products.
The only reasoning that respondents accept refers to price: 31% believe buying fakes is understandable if the price of the original is too high.
This figure even grows when we divide respondents by age: 50% of consumers aged between 15-24 would accept buying a counterfeit product if the original is too expensive, and 41% of them believe that it's OK to do so in the case of luxury products.
Unfortunately, this means several things for your brand. First of all, there's a number of consumers who knowingly and willingly purchase counterfeits. These people don't have to be duped into getting a fake, because they do so intentionally.
And since these people tend to come from the younger generation, this attitude may become more accepted as they grow older and become more dominant in the marketplace.
This all points to one thing: you can't rely on consumers doing the right thing and rejecting fakes on principle. Instead, you have to approach this issue proactively and set up a comprehensive online brand protection to remove damaging counterfeit offers from the reach of consumers.
Social media as the key
Social media is increasingly important for everybody, but it becomes basically ubiquitous when it comes to the younger generation. 85% of people aged between 19-29 use social media, but the number diminishes with age: 81% of ages 30-49, 73% of 50-64s, and only 45% of people aged 65 and over have an account on any social media platform.
With the advance of social commerce, the right ad or product listing can turn social media users into paying customers in a heartbeat.
Fraudsters are well aware of this trend, which means that a large amount of IP infringing offers can be found on various social media platforms. There are even people who promote buying fakes for a living.
Find out all about social media influencers promoting counterfeits
Therefore, it's high time to integrate social media monitoring into your comprehensive online brand protection strategy.
Unintentional buyers of fakes
About 15% of respondents have unknowingly purchased counterfeits while a much larger number, 39% of people have wondered if the product they ended up with may be fake. The most common reason for this is misleading ads and product listings that advertise their products as original branded goods and (usually) offer them at a favourable price.
Thanks to tools available to honest sellers and counterfeiters alike, fraudsters are getting better at producing compelling webshops, ads and listings online. With stolen images, aesthetically pleasing websites and a smooth shopping experience, it's very hard for consumers to distinguish between originals and fakeshops.
Discover how fraudsters use Shopify and other services to dupe consumers!
Since you can no longer rely on all counterfeit offers looking fishy and unprofessional, it's even more important to detect and rid the market of such offers before it can reach consumers and damage your brand.
Conclusion
While Europeans are generally aware of the value of IP rights and the dangers of buying counterfeits, it seems that some people may still knowingly purchase fake products while others are tricked into buying them. Whatever the reason behind, counterfeits still make their way into consumers' homes.
Educating people certainly helps, but one of the most effective solutions to both of these scenarios is the removal of fraudulent product listings from the internet. As the saying goes, "Out of sight, out of mind." If it's not available, consumers can't buy a counterfeit product, whether intentionally or by accident.
globaleyez specialises in the protection of your brand's IP rights. Our comprehensive, highly scalable services detect and remove IP infringing content, including fakeshops, product listings and ads from marketplaces, social media platforms and any other corner of the internet.
Reach out to us and let's devise an effective online brand protection strategy completely tailored to the needs of your brand!