Late August 2023, luxury watchmaker Rolex announced it has acquired its business partner Bucherer, a Swiss watch and jewellery retailer. The two companies have a long shared history: Bucherer has been an official Rolex retailer for over 90 years. In fact, company owner and president Jörg Bucherer is one of the last people to have personally known the legendary founder of Rolex, Hans Wilsdorf.
Rolex intends to keep the Bucherer brand name and allow the retailer to operate independently within the Rolex Group.
The deal becomes final if the Competition Commission approves it. And that, according to analysts, is a big if.
What is Rolex
Founded in 1905 in London, Rolex was the first company to produce accurate and reliable wristwatches. After its move to Geneva in 1920, the Rolex brand became known for its innovative, precise and reliable wristwatches worn by pioneers in science, business, sports and politics.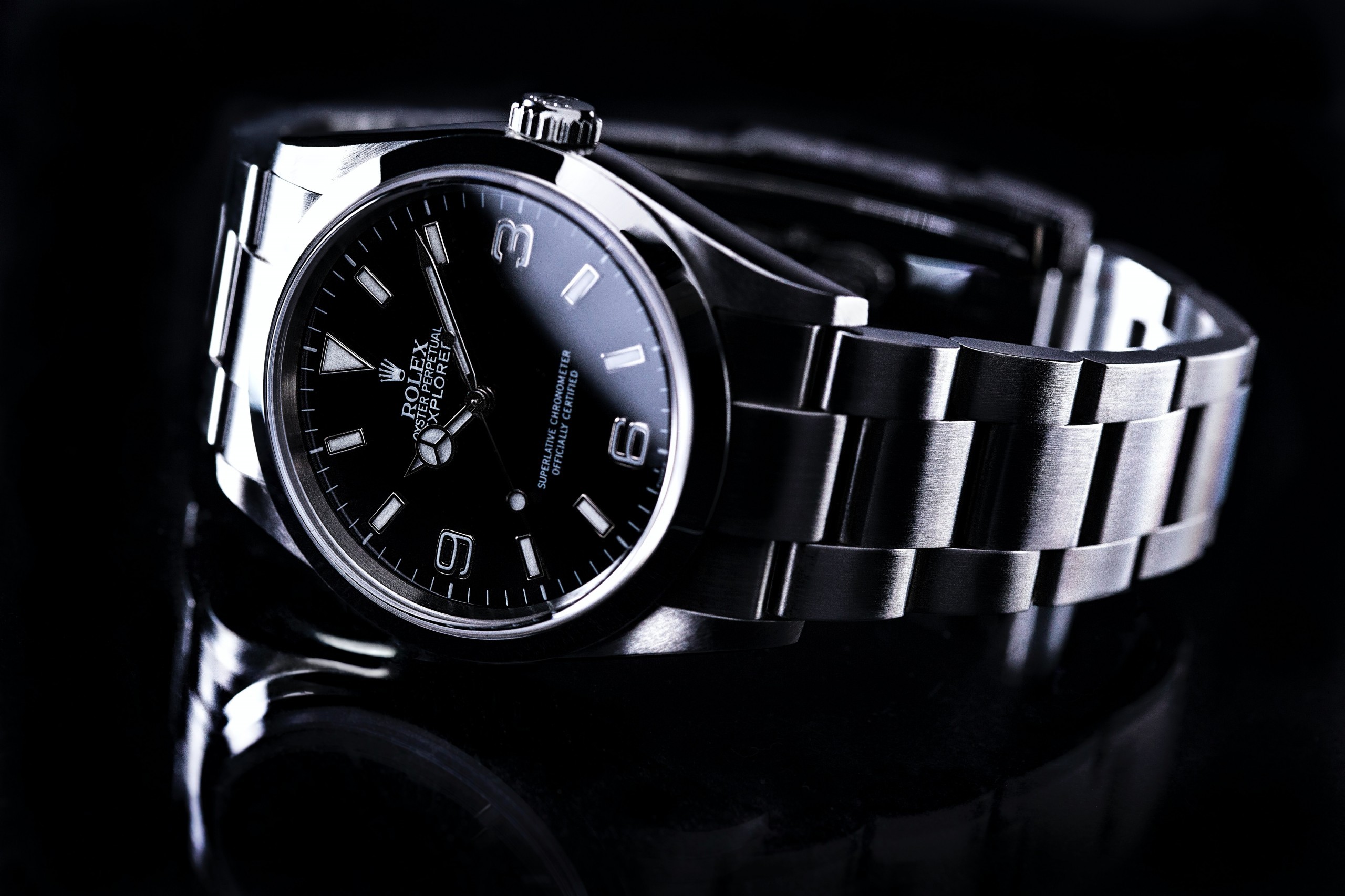 Image of a Rolex watch
Today, Rolex is one of the most successful luxury watch brands in the world. The company boasts an annual sales revenue of over $9,747 million, well ahead of its competitors. In comparison, runner-up Cartier reported a sales value of $2,882 million with Omega coming in third at $2,588 million. 
What is Bucherer
Bucherer is a family enterprise selling specialist watches and jewellery which was founded in 1888 in Luzern, Switzerland. Today, the company has over 100 stores all over the world, including the US, France, Germany and Denmark. Bucherer has an estimated value of 4 billion Swiss francs (ca. $4.4 billion) and accounts for about 5% of all Rolex sales.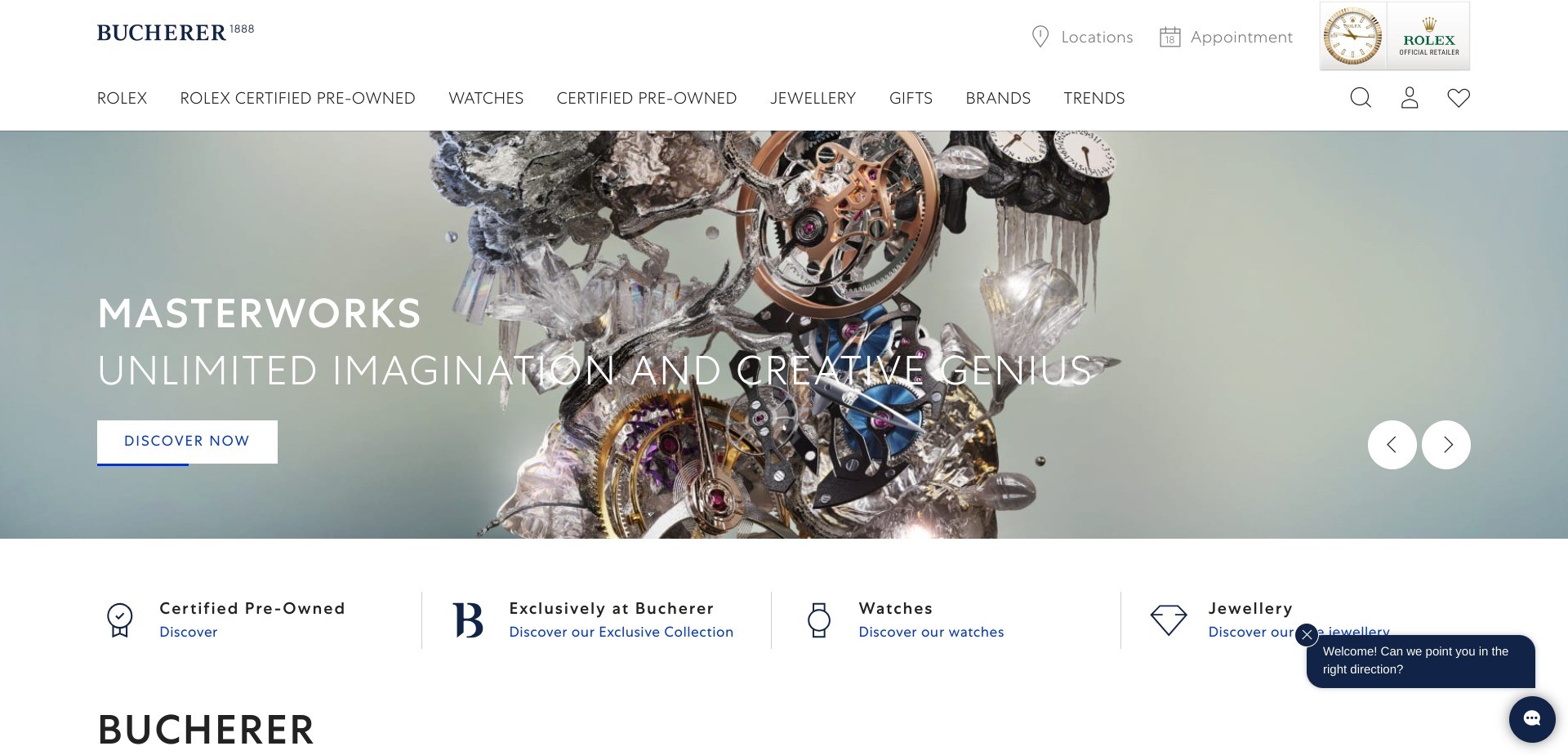 Screenshot of bucherer.com's homepage
The current owner, Jörg Bucherer, the grandson of the original founders, has no children of his own, hence the decision to sell the business to Rolex, a special partner of the company since 1924.
A danger to fair competition?
Given the companies' value and market share, it's no wonder that news of the acquisition has shaken the exclusive world of luxury watches. Although strictly speaking, Rolex and Bucherer are not involved in the same business (one makes, the other sells watches), a significant portion of the market will now be concentrated in one hand.
However, considering that other business partners of Bucherer are direct competitors of Rolex (e.g. Cartier, Breitling and Longines), the acquisition becomes even more alarming. It's customary amongst watchmakers to share insider information about upcoming collections and other plans with their retailer. And since Bucherer now becomes a part of Rolex, the dominant watchmaker suddenly has access to many of its competitors' trade secrets.
It's now up to the Swiss Competition Commission to approve or deny the merger. Considering the sensitive information Bucherer already possesses and its market share, it's possible that even a positive decision allowing the merger will come with restrictions for Rolex. For example, the Commission may impose restrictions for accessing sensitive information provided by other brands, and may even prohibit Rolex to favour its own products on Bucherer.
Find out how the EU's DMA tries to prevent Amazon from favouring its own products
What the Commission decides remains to be seen and we promise to keep an eye on the issue.
Counterfeiters against the merger
Should the merger go ahead, another group will find it harder to access this significant market segment: counterfeiters. With a central entity controlling a large part of Rolex sales, it will be harder for them to slip into the marketplace undetected.
Especially since there's already excellent cooperation in place between Rolex and Bucherer regarding the sale of pre-owned timepieces. Launched in December 2022, Rolex Certified Pre-Owned on Bucherer.com offers used watches with a two-year guarantee issued by the manufacturer. This certificate guarantees that the watch is genuine at the time of purchase and functions properly.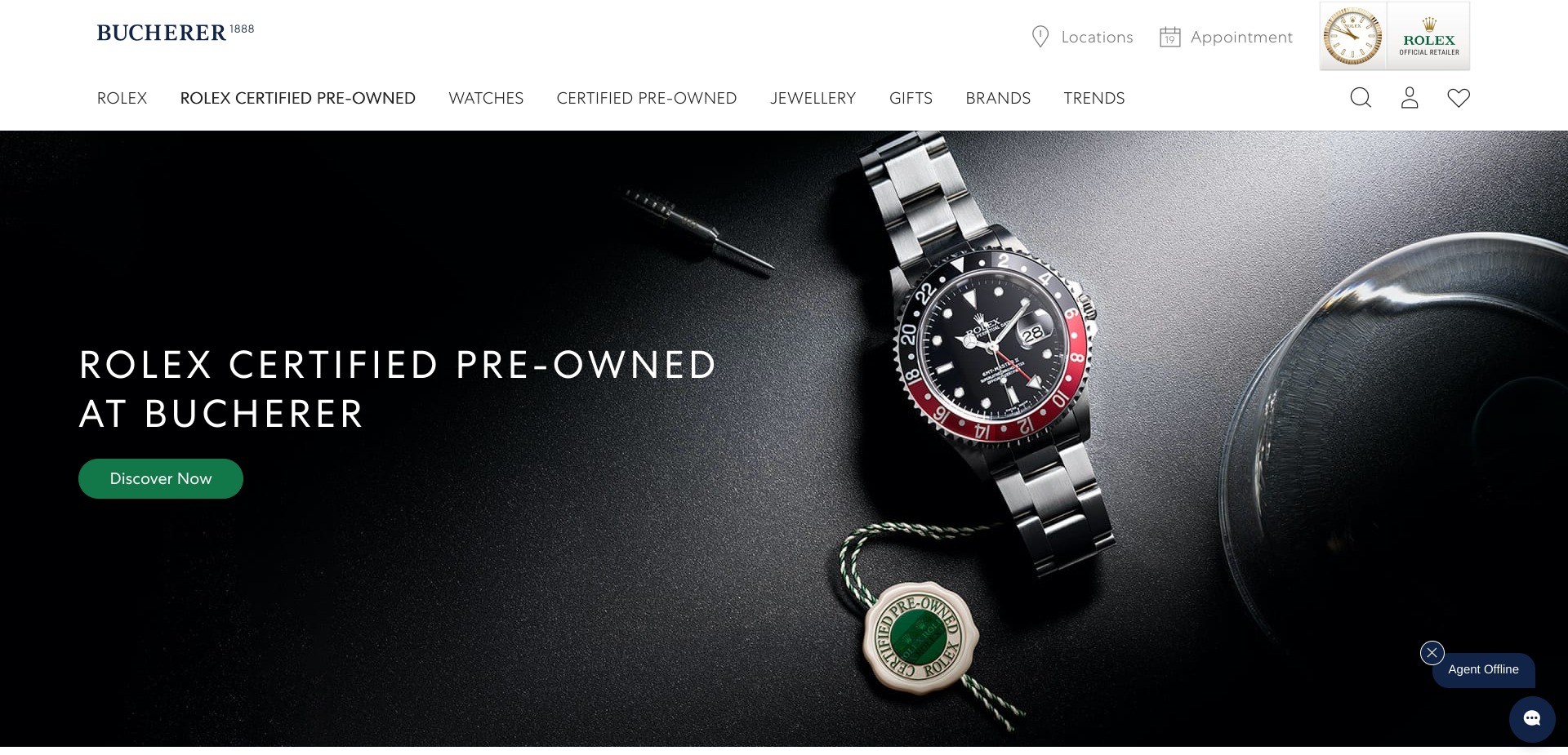 Screenshot of bucherer.com/rolex-certified-pre-owned
Since Rolex is one of the most heavily counterfeited luxury watch brands, it makes complete sense for the company to take active steps against fraudulent sellers and fake manufacturers.
Learn more about the counterfeiting of luxury watches!
As online brand protection experts, we always welcome effective measures taken by brands and marketplaces to stop the spread of counterfeits. Programmes like Rolex Certified Pre-Owned, and other steps marketplaces may put in place can reassure consumers that they're buying genuine branded products and not harmful fakes.
Discover how eBay's Certified by Brand works
In fact, that's just what we encountered on another marketplace specialising in luxury watches, Chrono24.
What is Chrono24
Already introduced in our article about interesting niche marketplaces, Chrono24 is a leading online selling hub of luxury watches. The marketplace was founded in 2003 and is available in over 40 countries, including the US,UK, France, Germany, Switzerland, India and China.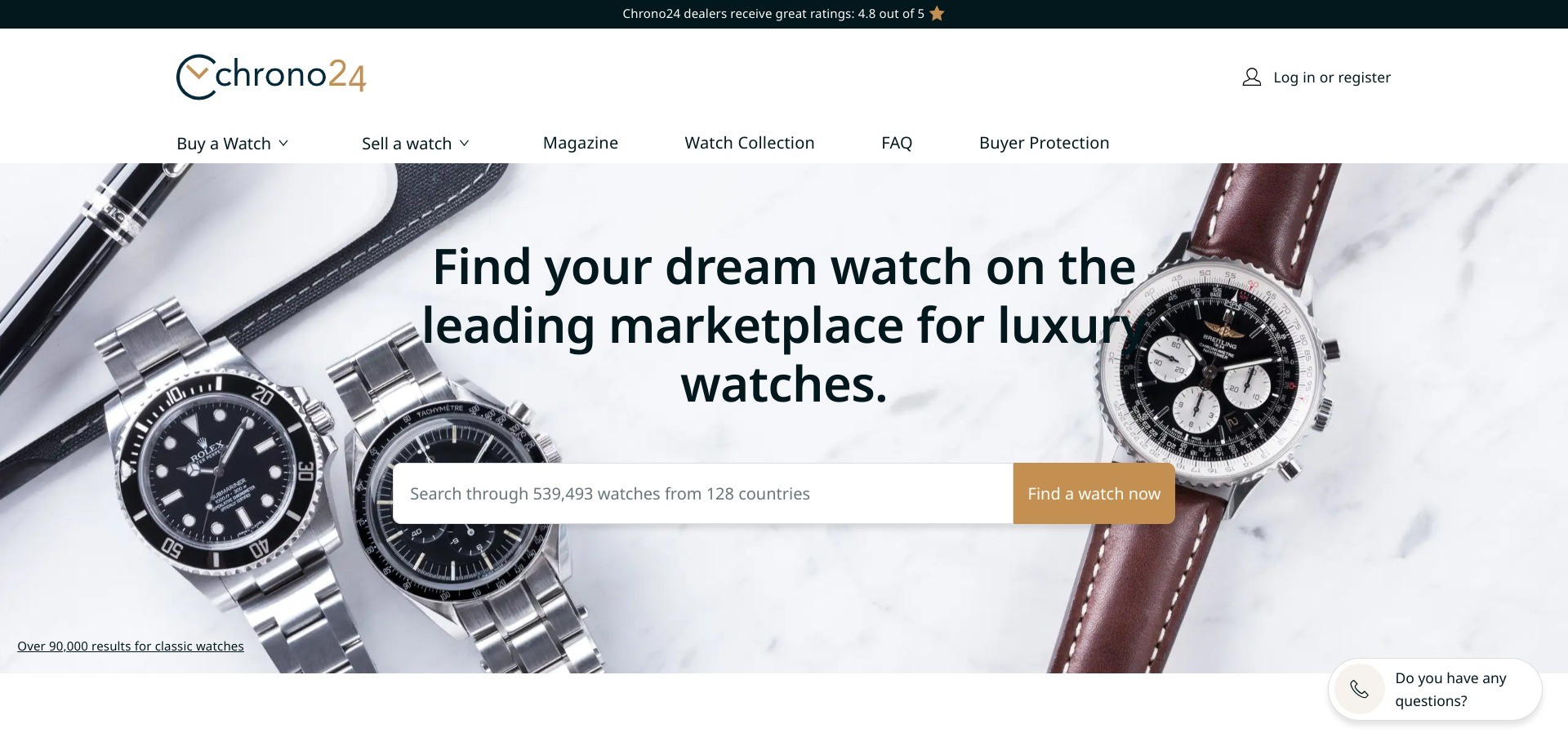 Screenshot of chrono24.com's homepage
Headquartered in Karlsruhe, Germany, Chrono24 has around 5.8 million monthly visitors and is currently valued at $946 million.
In line with the high price of products for sale on the marketplace, Chrono24 offers payments via an escrow service. This means that Chrono24 keeps the purchase price on an escrow account for 14 days, which gives time to the buyer to inspect the product before the money lands in the seller's account.
Chrono24 also requires its sellers to test the authenticity of their products and is thus able to provide a guarantee of authenticity to buyers. This is great news for your IP rights!
Unfortunately, counterfeiters are not the only actors stealing your brand's revenue and ruining your reputation.
Online brand protection on Chrono24
Although vendors of fake products indeed have a hard time getting onto the platform, grey market sellers don't have the same barriers in their way.
Since they sell genuine items outside of a brand's authorised distribution network, a vetting process checking for originality will find these products acceptable and give them access to the platform.
Luckily, that's not where the story ends. Our grey market solution ensures the detection of unauthorised sellers, which is exactly how we landed on Chrono24 while searching for grey market products on behalf of a client.
To detect and curb mass grey offerings on a marketplace, we turn to our image monitoring service.
Grey market sellers tend to upload copyrighted pictures from the brand's official website. We find the images and demand the removal of the listing from the marketplace.
When we approached them, Chrono24 turned out to be cooperative and compliant with anti-infringement regulations. We established a very efficient workflow that ensures the timely removal of listings infringing on our clients' IP rights.
It's always a pleasure working with marketplaces that recognise the value of and are committed to the protection of IP rights, and Chrono24 is an excellent business partner in this regard.
Conclusion
The high value market of luxury watches is on the verge of a big change. If the merger of Rolex and Bucherer goes through, the landscape of the market may forever be altered. We'll keep an eye on the proceedings and let you know if a decision is made.
Contact us if you'd like to know more about our efforts to keep the market of luxury watches safe from fakes and grey market products, or if you're concerned about any other issue regarding your IP rights!