Fake products pose serious problems for virtually any industry. However, we can safely say that some industries are more plagued by the phenomenon than others.
For example, luxury brands have a lot at stake: their products are usually heavily priced and seriously depend on their quality and reputation. With counterfeits becoming increasingly convincing in appearance, buyers may be tempted or fooled to possess a "luxury" product for a fraction of the regular price. Like a Rolex watch for $300, anyone?
But when things go south and the product eventually fails, it's the original brand that gets the blame, even if they had nothing to do with the product. In addition, a brand building on its exclusivity suffers a huge loss of reputation if suddenly every Tom, Dick and Harry starts parading around with a supposedly luxury product.
globaleyez has been at the forefront of the fight against counterfeits for decades. Luckily, we're not alone: an increasing number of marketplaces introduce measures to combat fake products. eBay, for example, has already taken a lot of steps in the right direction. And now they've taken one more.
Read all about eBay's fight against fake sneakers!
Brands certify, eBay sells
Certified by Brand is a new section on eBay, selling luxury handbags, watches and jewellery. Each listing is offered directly by a brand, by their authorised sellers, and in the case of second-hand goods, is authenticated by the brand.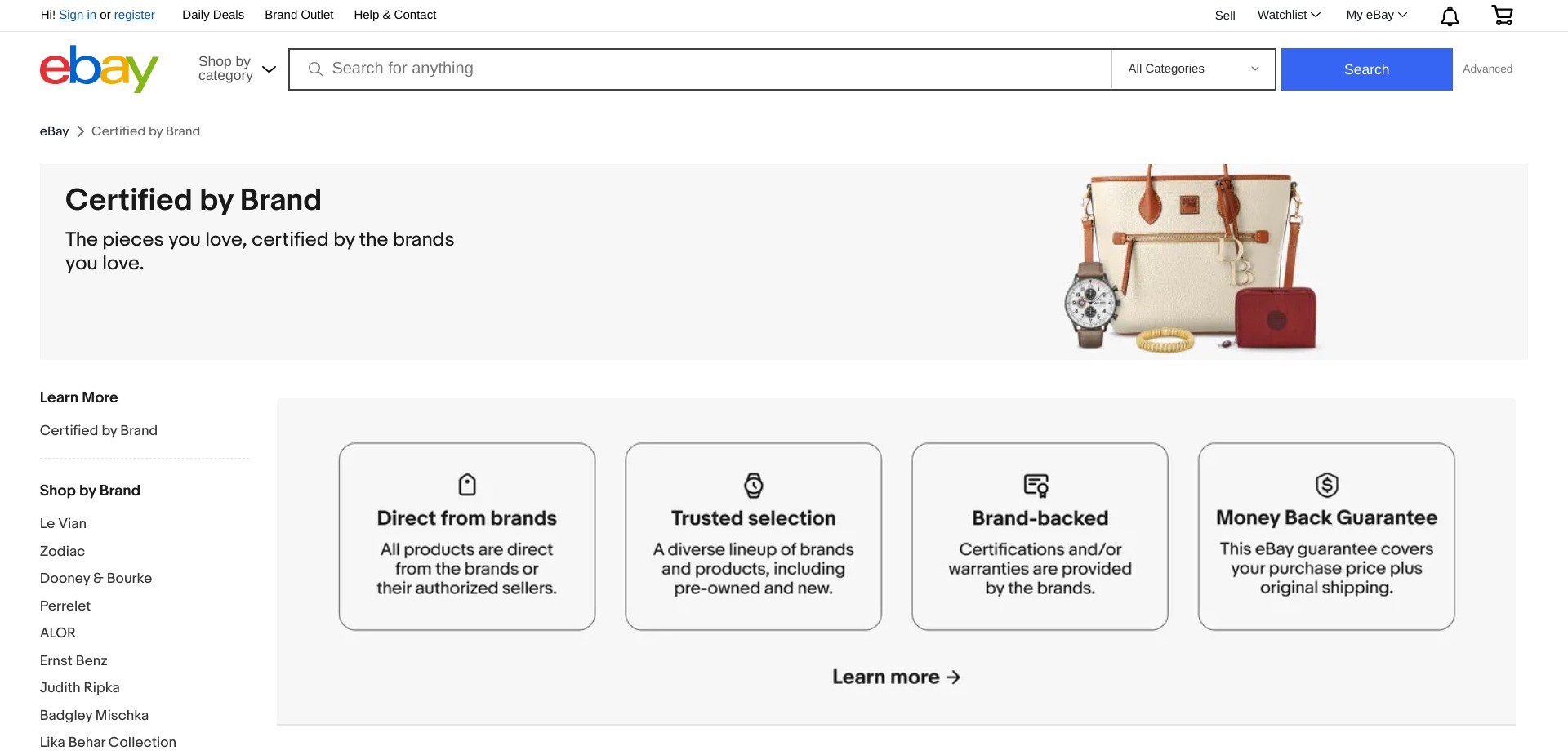 Screenshot of ebay.com displaying the landing page of Certified by Brand
Each listing bears a tag displaying the origins of the products. They can either be "Direct from Brand", meaning the seller is actually the brand or the manufacturer creating the products, or "Brand-authorised seller", indicating that a contracted reseller is behind the sale.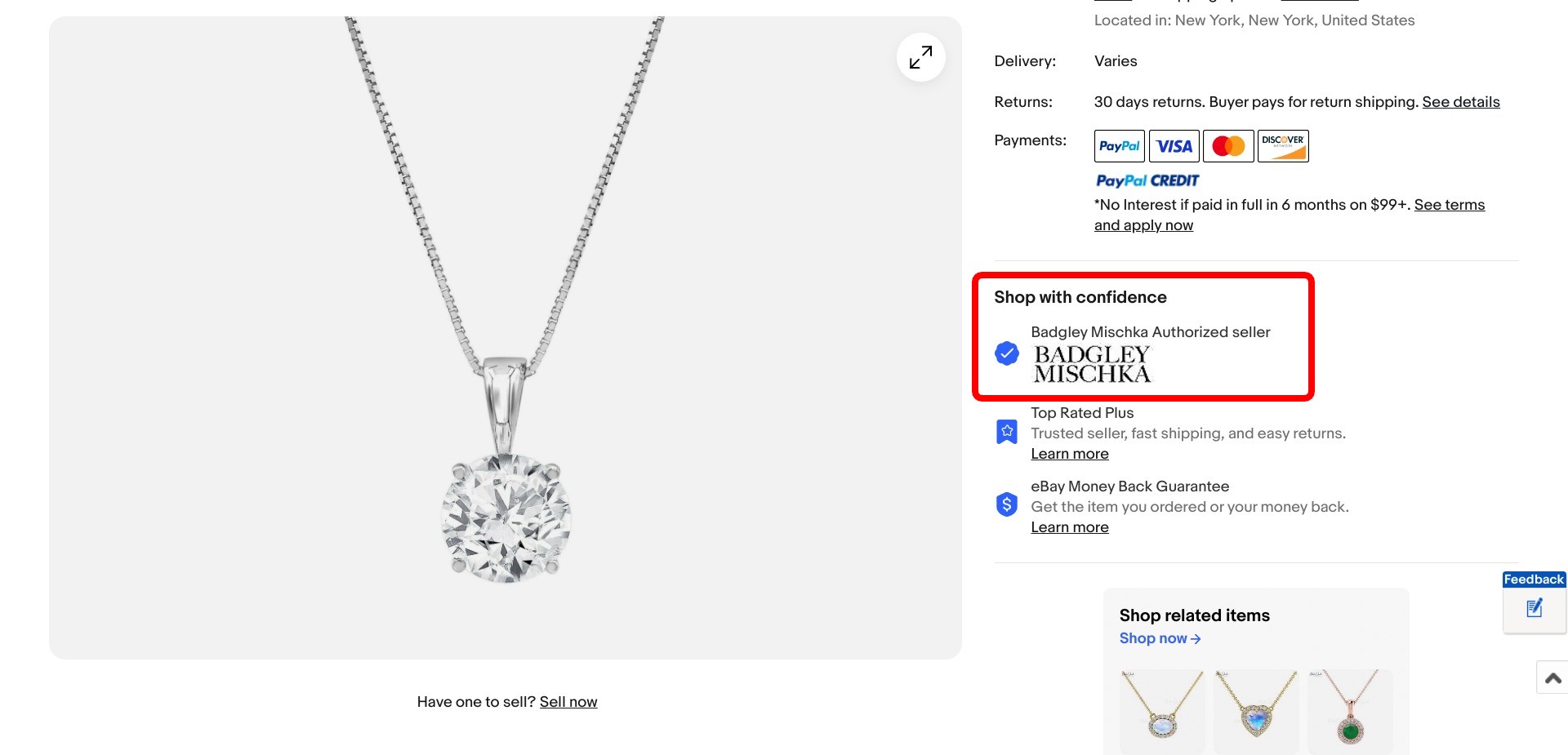 Screenshot of a random product listing on ebay.com displaying "Authorised Seller"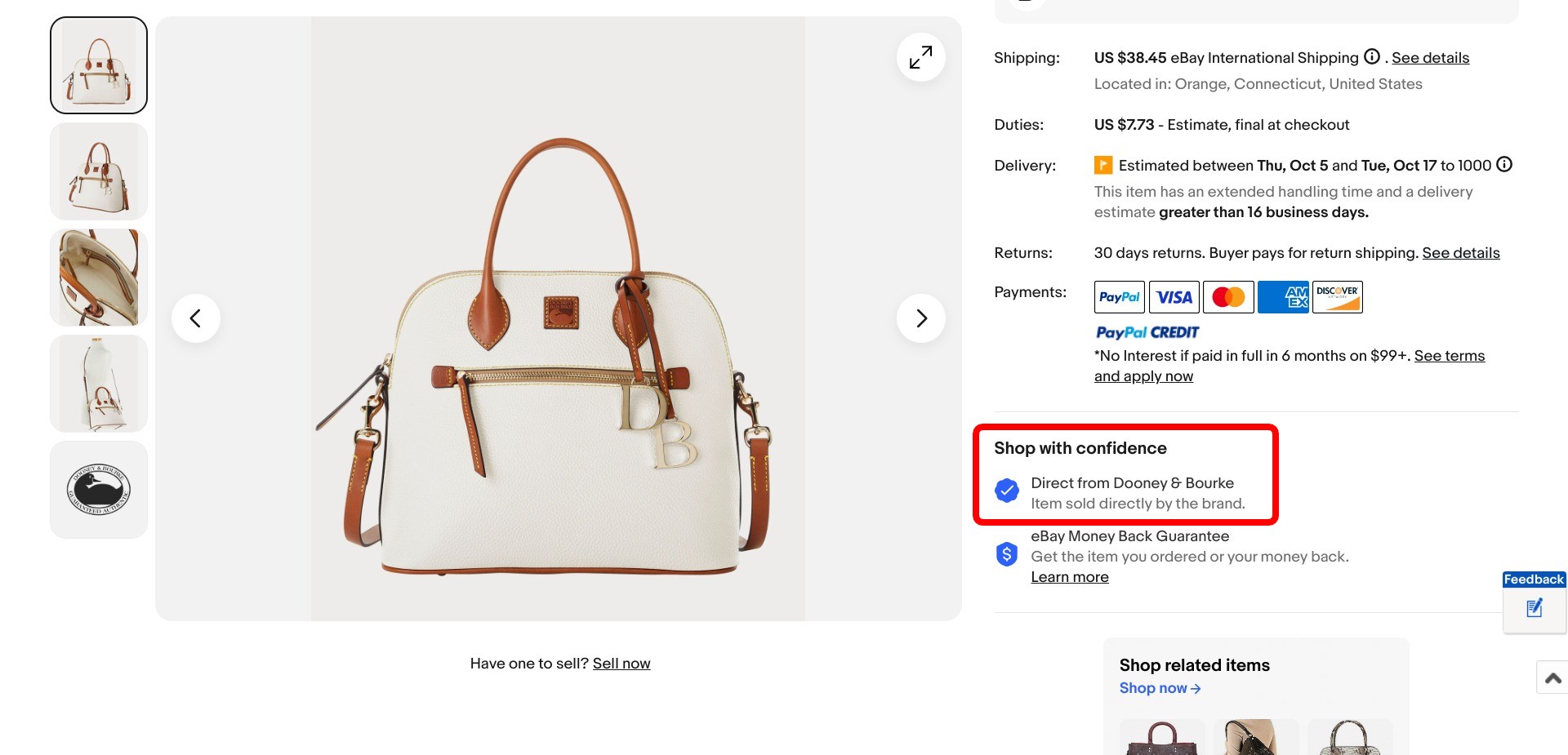 Screenshot of a random product listing on ebay.com displaying "Direct from Brand"
In either case, customers can rest assured that they're purchasing an original product designed and created by an esteemed luxury brand.
Certified by Brand items can be bought instantly or bid on in an auction. Some listings even offer both buying options at the same time to shoppers.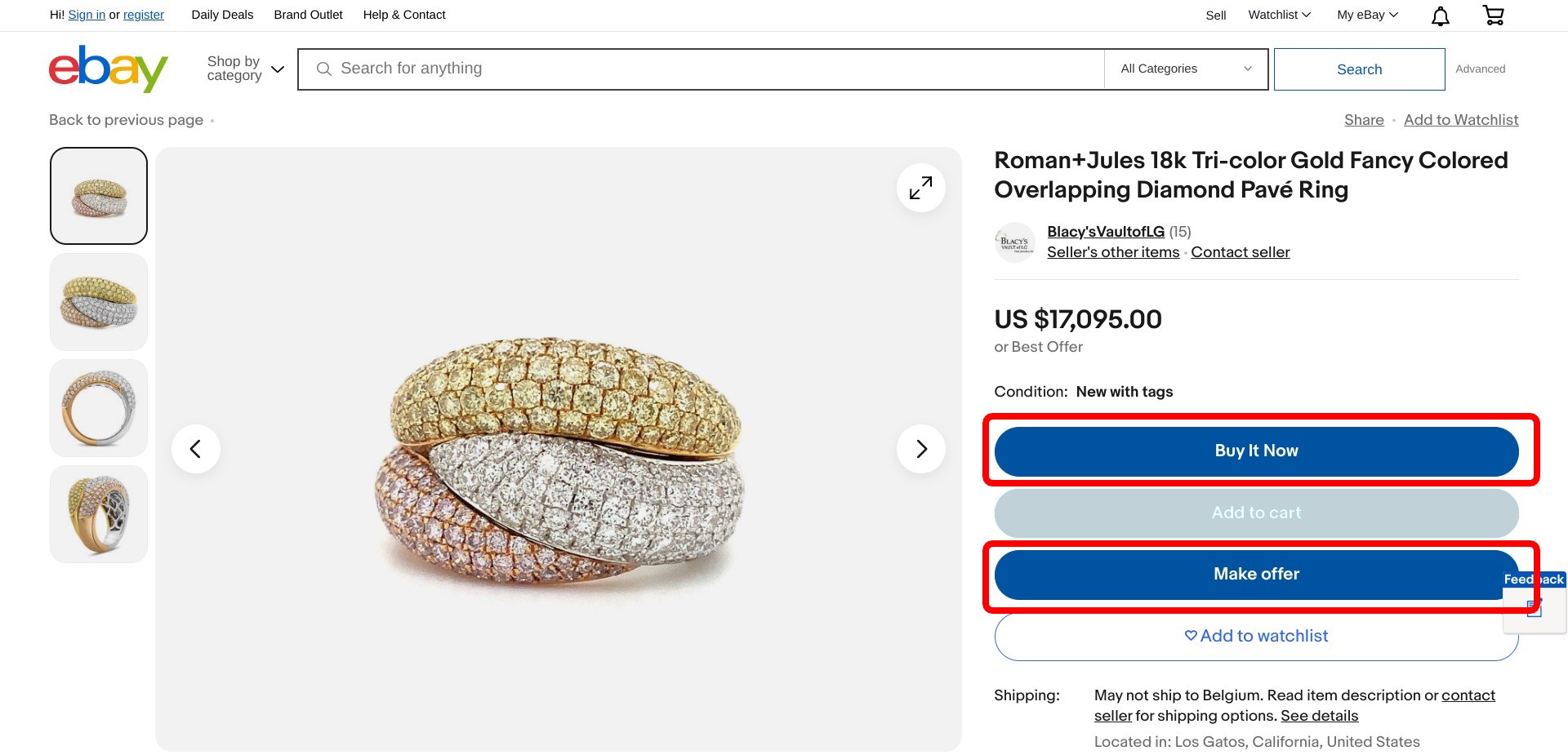 Screenshot of a random product listing on ebay.com offering both a fixed price and an auction
Currently Certified by Brand works with luxury brands like Alberto Milani, Birthstone, Judith Ripka, Zodiac, Le Vian and RGMT. According to eBay, they're in negotiations with more brands to join the initiative in the near future.
Pre-owned luxury watches Certified by Brand
Luxury watches are among the three product categories offered on Certified by Brand. The market of high-end watches is booming: new products currently generate an annual sales value of 52 billion €, which is a 22-24% increase from the previous year. Second hand watches add an annual 25-30 billion euros to that, making the market increasingly valuable for brands and sellers alike.
No wonder the market looks appealing to counterfeiters as well. Unfortunately, there are several vulnerabilities they can exploit to get to unsuspecting customers.
For example, tracing a pre-owned watch's journey from factory to owner(s) to second hand marketplace is not easy, especially for a consumer not trained to look for fakes. It may be tempting for fraudsters to insert themselves into the process and claim their lookalike product comes from an earlier collection of a luxury watchmaker.
This is why an authentication stamp like Certified by Brand is essential to exclude fraudulent sellers and fake products from this lucrative market.
Luxury brands like Ernst Benz, Spinnaker, Avi-8 and Laco have recognised the value of certification and joined the initiative. Customers shopping watches like the pre-owned Ernst Benz timepiece on the screenshot below can rest safe in the knowledge that they're buying an original product and won't contribute to the harmful activities of counterfeiters.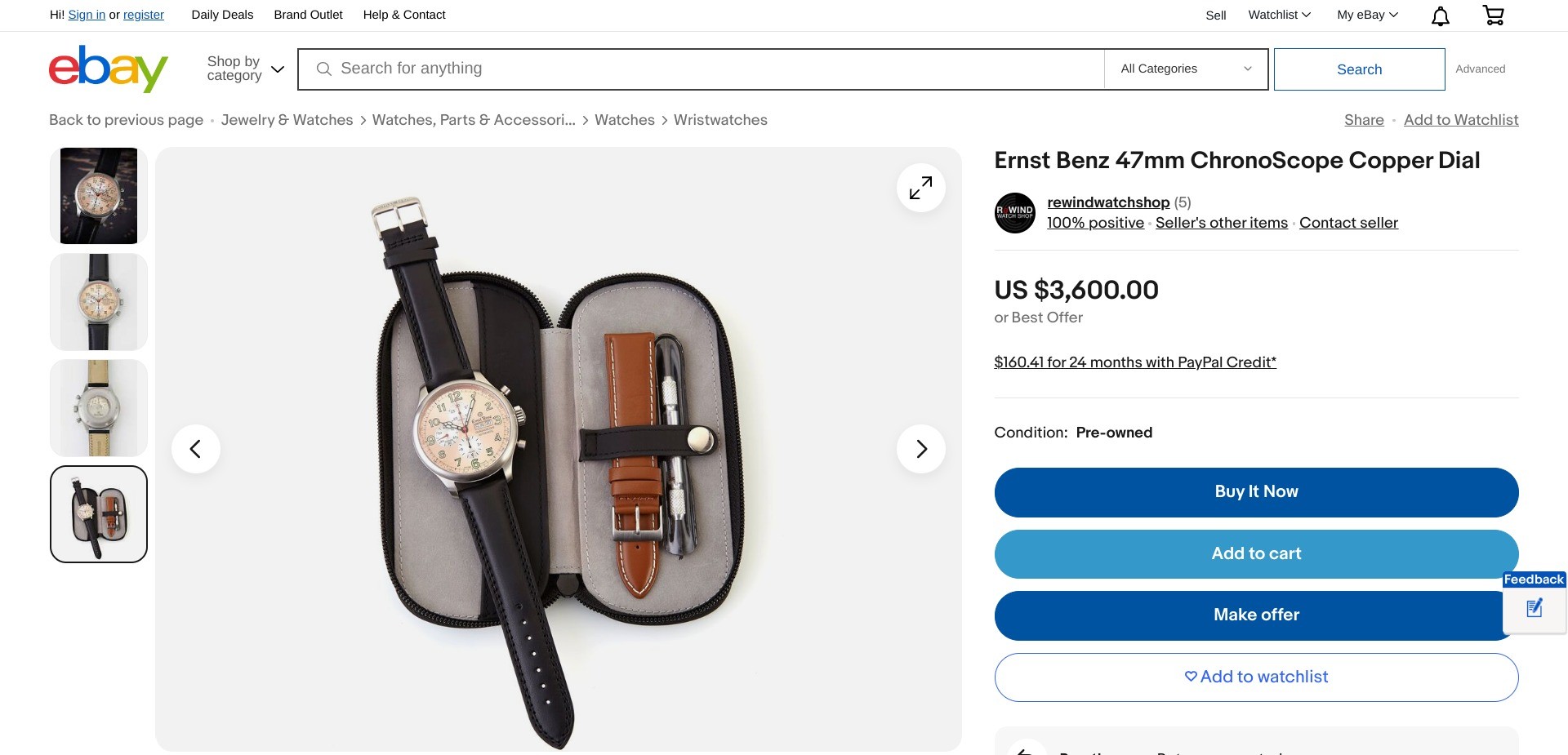 Screenshot of a random pre-owned luxury product listing on ebay.com
Related topics
The end of illegal offers on eBay?
Online brand protection and Certified by Brand
We at globaleyez welcome eBay's newest effort to ensure a counterfeit-free selling environment for brands. Thanks to Certified by Brand and its authentication process, fraudsters don't have a chance to pass off their fake products as original luxury goods. This is a giant step forward for both the protection of your brands' IP rights as well as general consumer protection against harmful counterfeits.
We hope the programme will continue and widen its reach to include more brands as well as product categories.
This platform has an added benefit for luxury brands that have so far refrained from using eBay. With Certified by Brand, eBay becomes a very viable outlet for luxury brands that have stayed away from the platform due to the presence of dubious fakes, lookalikes and grey market products.
For marketplaces not certified by brand (or any other credible authenticating party), we recommend you set up a comprehensive online brand protection programme to protect your brand's IP rights, revenue and reputation.
globaleyez's versatile solutions and services are fully flexible and scalable, which means we can adapt to any and all of your requirements to fit your brand's exact needs.
Whether you're looking for a specific leak in your distribution channels, stubborn fraudsters popping up on various marketplaces, overly enthusiastic fans creating and selling their versions of your brand merchandise, or any other issue threatening your IP rights, we're glad to provide you with expert advice, state-of-the-art software tools and sustainable solutions.
Contact us now and tell us about your brand's online brand protection needs!