Find out what we discovered!
What is Temu
If you're unfamiliar with the marketplace, here's a little background info. Founded in 2022, Temu is one of the youngest e-Commerce ventures to date. Although the company's headquarters are in Boston, US, its owner is the China-based PDD Holdings that also owns the popular Chinese marketplace Pinduoduo.
Temu is a general marketplace offering products in a wide variety of categories, including fashion, home and kitchen, children's clothing, jewellery, electronics, furniture, toys and games, office supplies, footwear and much more.
The products are displayed in the popular tile format, introduced by social media and used by many other marketplaces, including Wish and AliExpress. The similarities don't end here: in fact, just like Wish & Co, Temu also tries to attract new customers with heavy discounts and flash sales.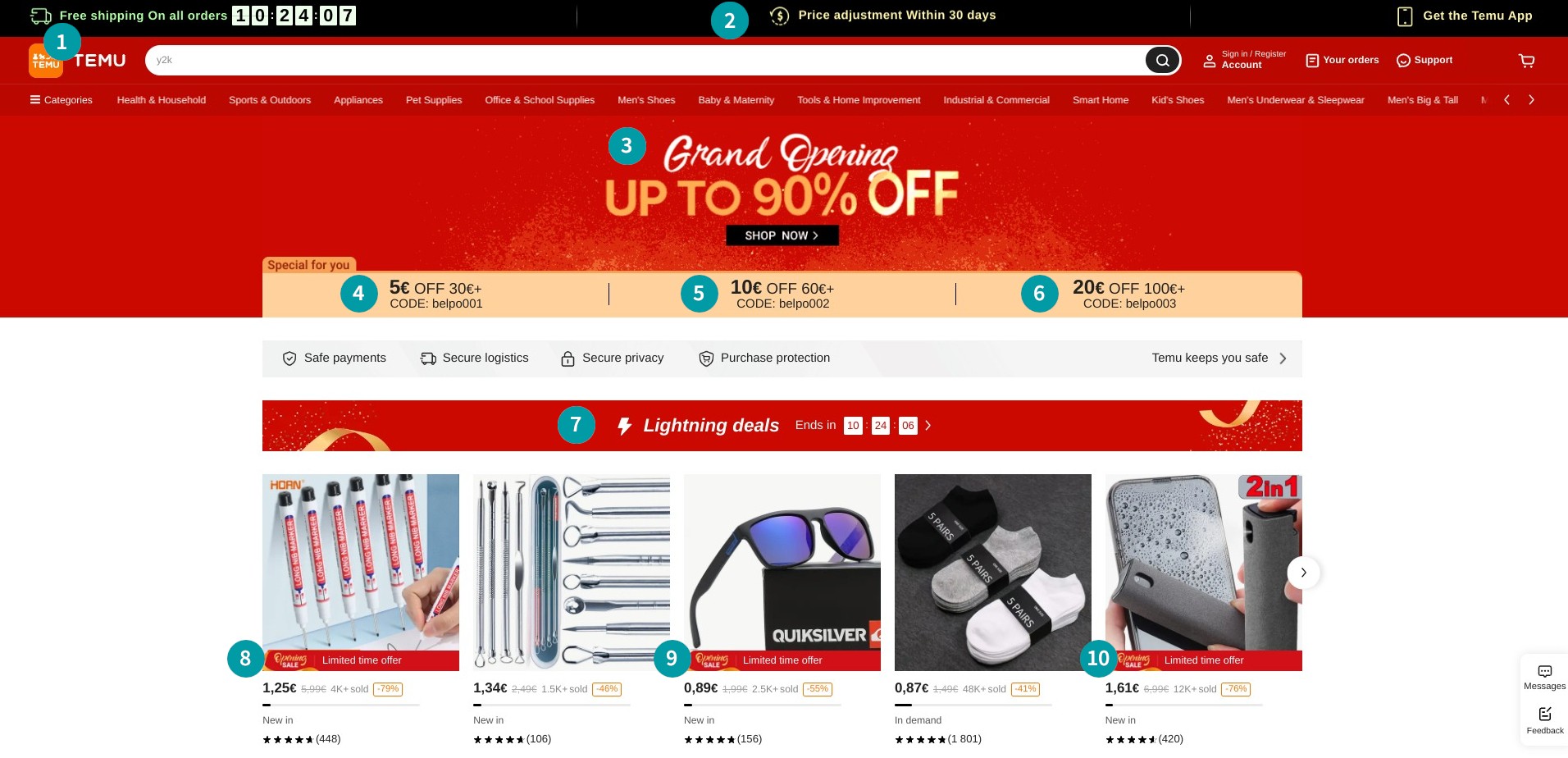 Screenshot of temu.com advertising special deals in ten separate places
Temu is currently available in 10 countries, including Australia, the UK, France, Italy, Germany, Spain and Poland, but generates the overwhelming majority of its traffic (96%) in the US. The marketplace ships most of its products directly from China, evading the cost of keeping warehouses all over the world.
This means that shipping takes a bit longer, between 6-14 business days. However, Temu tends to absorb shipping costs and is thus able to draw customers in with the offer of free shipping. They even offer customers a five-euro bonus if the shipment is late.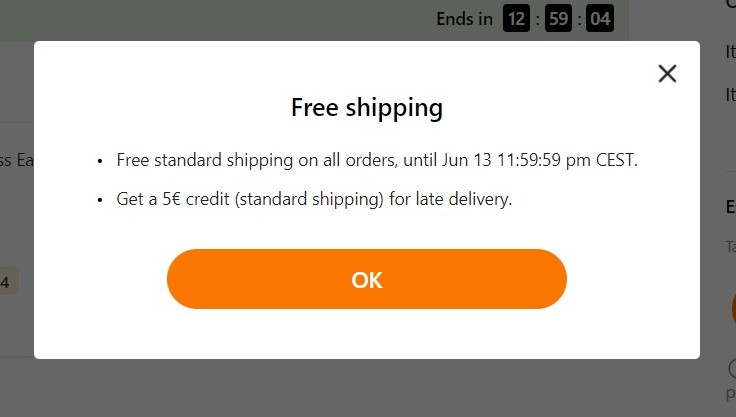 Screenshot of temu.com displaying a 5 € credit for late shipment
Temu in numbers
According to Temu's own report, the marketplace handles 61 billion orders per year, possesses about $20 billion in equity and works with over 11 million sellers.
The Temu app has been downloaded over 50 million times since its inception, thanks to the aggressive advertising campaign that culminated in a Super Bowl ad with the slogan: "Shop like a billionaire."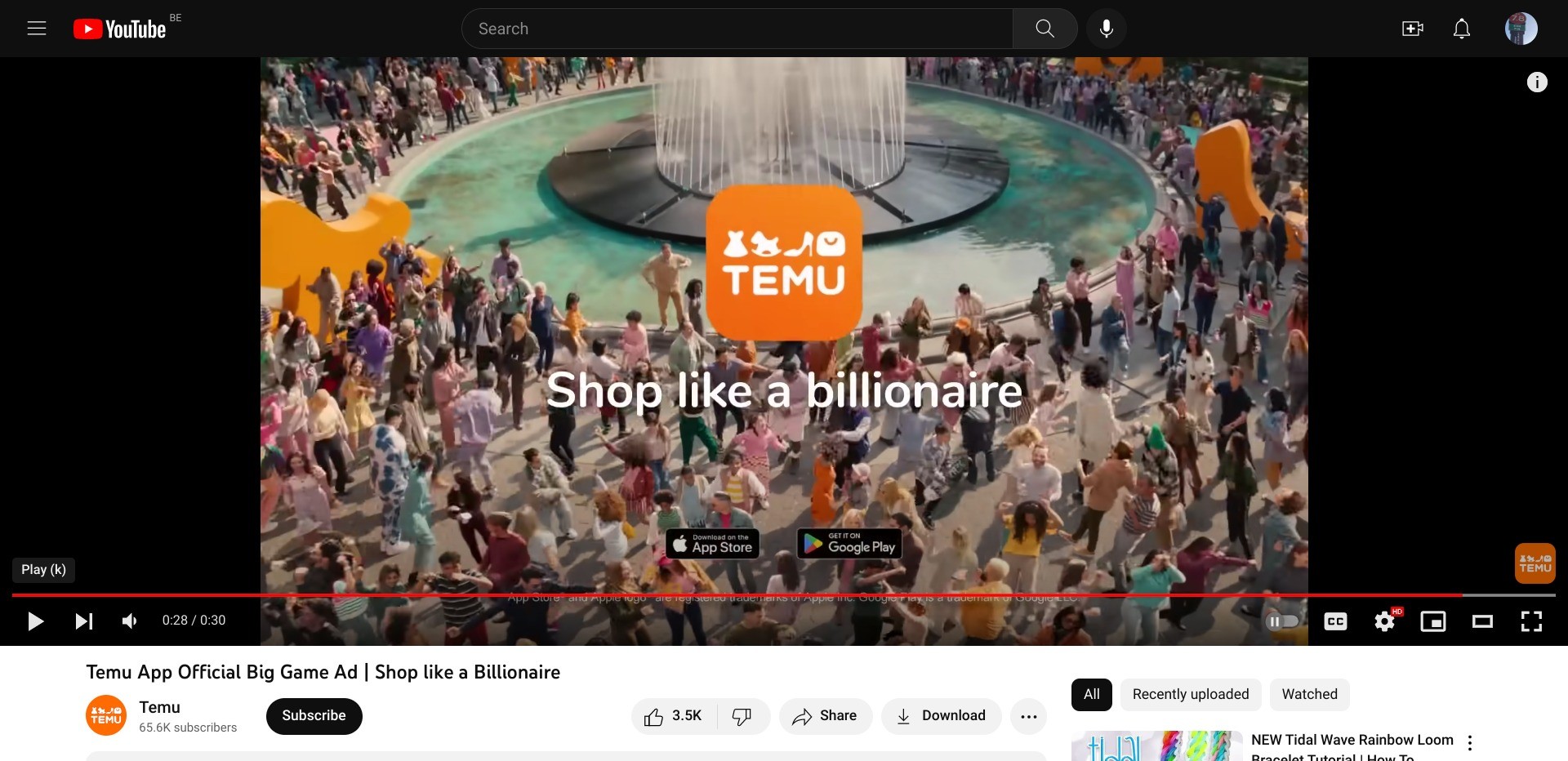 Still image of Temu's Super Bowl ad on youtube.com/watch?v=RgNuwb9lpeg
Problems with Temu
Although Temu is relatively young, it seems to have already gathered a troublesome reputation. Customer reviews complain about sloppy customer service, missing items, bad quality products, misleading ads and even a potentially poisonous product arriving in the mail.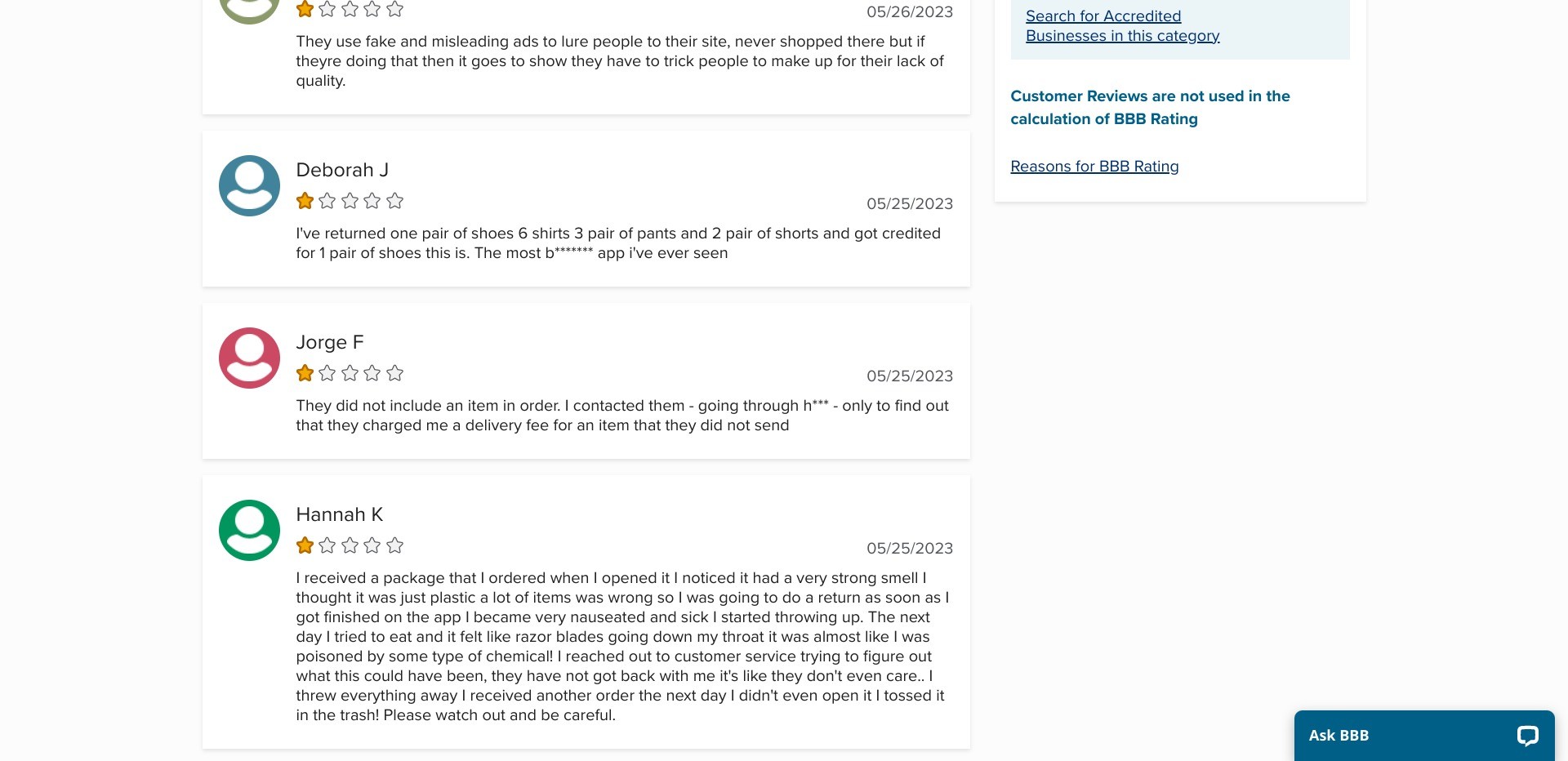 Screenshot of https://www.bbb.org/us/ma/boston/profile/online-shopping/temucom-0021-553943/customer-reviews displaying customer reviews of Temu
Just scrolling through the site, we also noticed dark patterns: language and visual effects that urge customers to act quickly and without thinking.
Learn all about dark patterns and why they are bad for your brand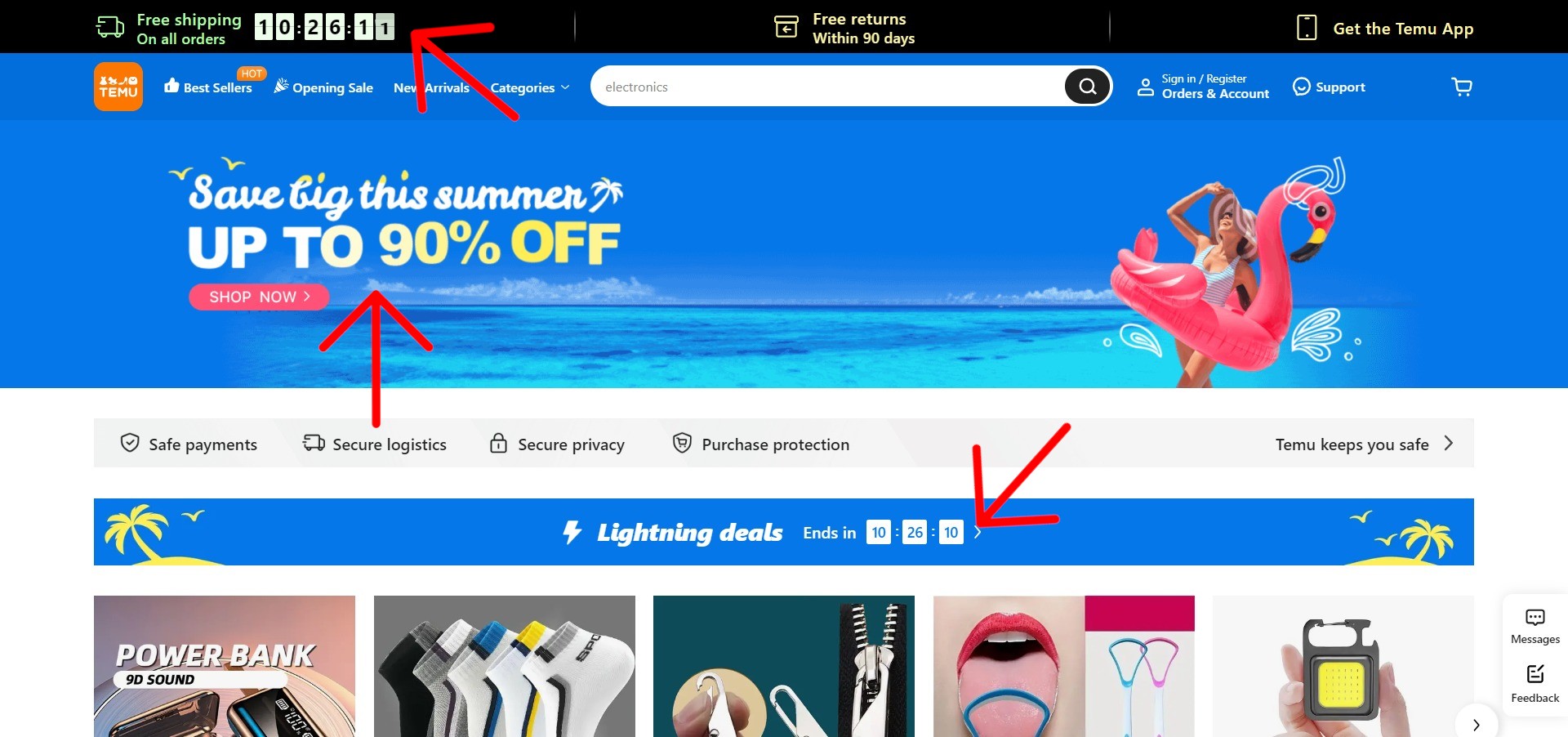 Screenshot of temu.com displaying dark patterns
At a first glance, the marketplace seems to feature a lot of bad quality products, including lookalikes and fakes. Seller information is quite scarce (only a nickname and customer reviews are visible), which means that customers can't be sure who they're buying from.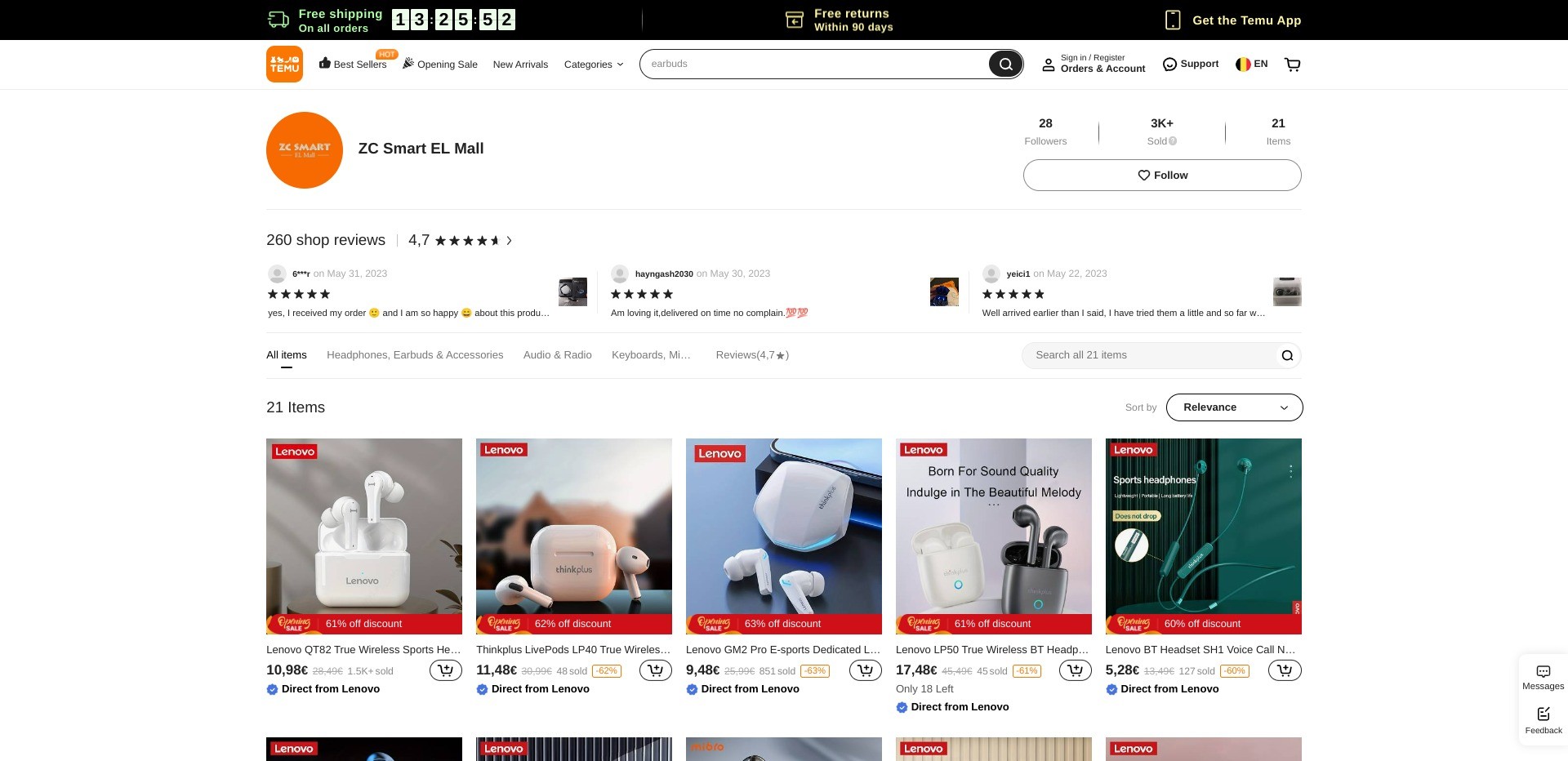 Screenshot of https://www.temu.com/be-en/zc-smart-el-mall-m-4690881966854.html displaying a random seller's shop on Temu
Let's see what else we can uncover with a test purchase on Temu!
Purchasing on Temu
As it was the unbelievably good deal on Lenovo headphones that has gotten us intrigued by Temu, we decided to purchase that item from the marketplace. We chose this listing for 9.19 €.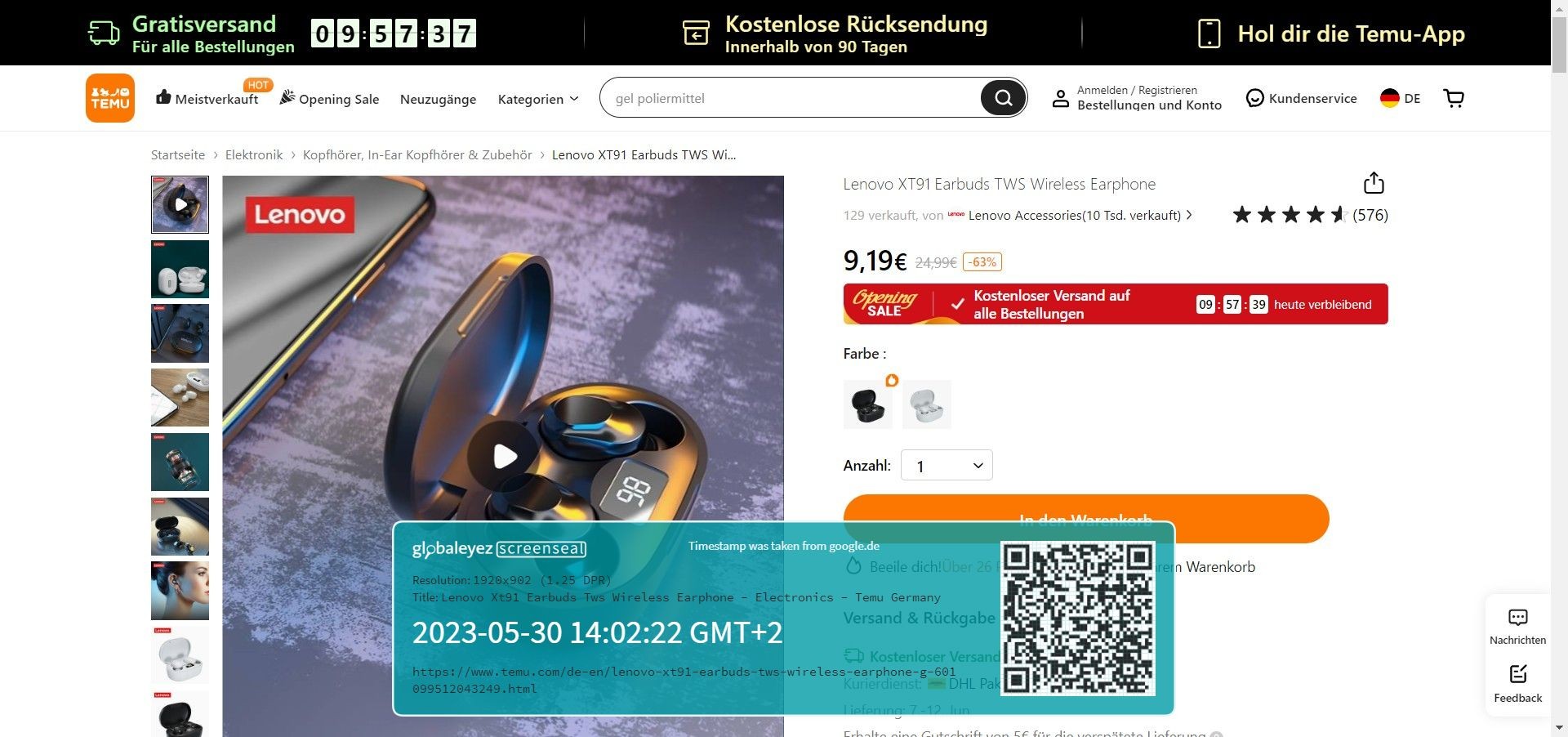 Screenshot of temu.com taken with our tool screenseal displaying Lenovo earphones
Find out all about screenseal!
Since Temu requires a minimum purchase of 10 euros, we added a small item to our cart and headed to checkout.
The purchasing process at Temu is easy and straightforward. We placed the product in our cart with a click, gave our delivery address and were directed to payments. Temu accepts all major payment options, including credit cards, Google Pay, Apple Pay, Klarna and PayPal.
As for delivery, we were offered free shipping by DHL and a delivery date within 7-14 business days. The package arrived earlier than the estimated time frame, just after 5 business days including the day of ordering. Unfortunately, the good news ends right here.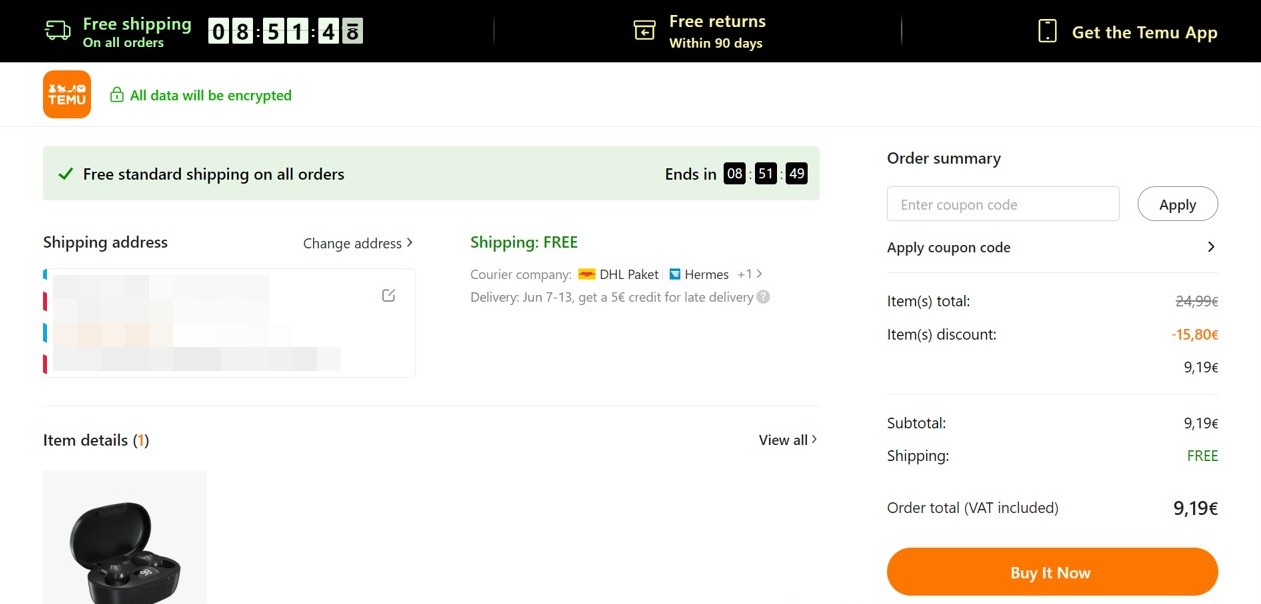 Screenshot of our order confirmation page on temu.com