Traditional clothing production follows a linear model. Clothes are created, sold, worn - then thrown away. The fashion industry encourages this linearity: the constant changing of trends urges people to throw away "old" clothes and purchase new ones as often as possible.
Unfortunately, this linear nature of fashion is quite damaging for the environment. Clothes manufacturers exploit natural resources, release harmful chemicals into the air, soil and water to create new styles, only to see their creations become waste a season later.
But what if there was a way to bend that line and make fashion circular?
Tchibo seems to have an answer to that.
Tchibo pops up on Sellpy
Tchibo, a popular German online marketplace, has recently opened a digital pop-up store on second-hand C2C shopping platform Sellpy. The store sells gently used clothing to consumers, encouraging the exchange of unwanted clothes in good condition and thus eliminating the need to buy new.
The clothes come from the collection of Tchibo Share, a fashion renting service Tchibo operated between 2019 and 2021. Although popular among its small fan base, Tchibo Share didn't take off as expected because it seems that people are more used to buying than renting their everyday clothing.
Luckily, this setback didn't discourage the company from launching a new circularity initiative with Sellpy. As Tchibo states, "We are the first mainstream brand to open a store on Sellpy. While other companies sell their samples or remaining items on Sellpy, we offer high quality second-hand clothing."
Did you know that online brand protection can assist your brand's circular economy efforts?
What is Tchibo
Founded in Hamburg, Germany in 1949, Tchibo originally started out as a mail-order service offering roasted coffee. As the company grew, so did its services: Tchibo opened physical stores, widened its product range, ventured online, and today it's one of the top 10 German general marketplaces with 9.1 million monthly visitors.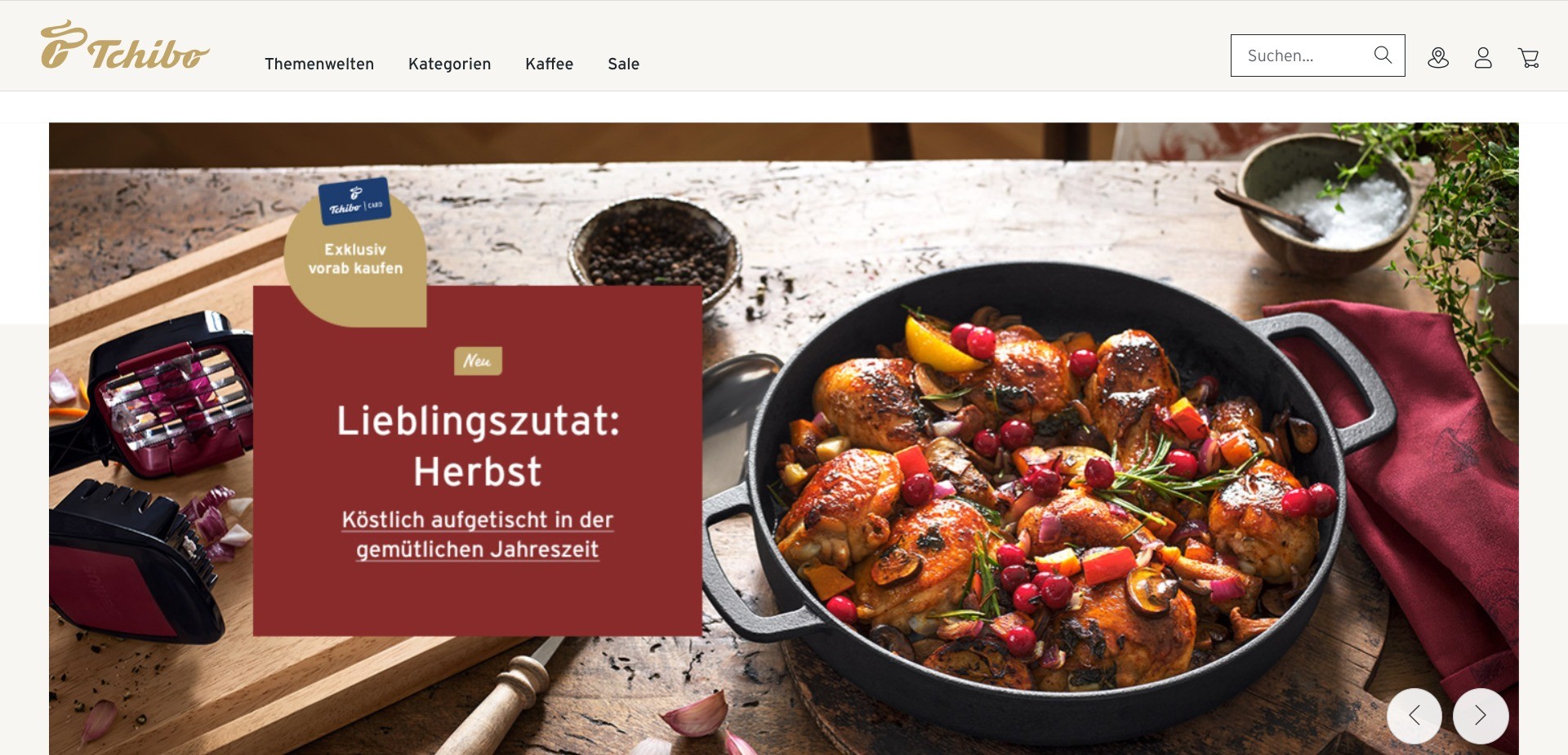 Screenshot of tchibo.de's homepage
Nowadays, Tchibo sells a general assortment of products, including clothing, furniture, kitchen equipment, fitness gear - and of course, coffee.
According to its 2022 fiscal report, Tchibo is the market leader in roasted coffee sales in Germany, Austria, the Czech Republic and Hungary. The company realised a revenue of €3.25 billion and has over 11,000 employees worldwide.
What is Sellpy
Sellpy is a Swedish C2C marketplace selling second-hand goods. Founded in 2014, Sellpy was acquired by H&M in 2021. The marketplace is available in over 20 countries, including Germany, France, Spain, Poland, Italy and Ireland.
Discover the most popular online marketplaces in Europe!
Although brands can open shops on the platform as well, Sellpy is mainly oriented at helping consumers sell their gently used items to one another. Consumers can send their unwanted items to the platform either to be recycled or to be sold again. In the latter case, Sellpy photographs the items and publishes the listings, then takes care of packaging, shipping and customer service. The original owner gets a 40% cut from the eventual selling price.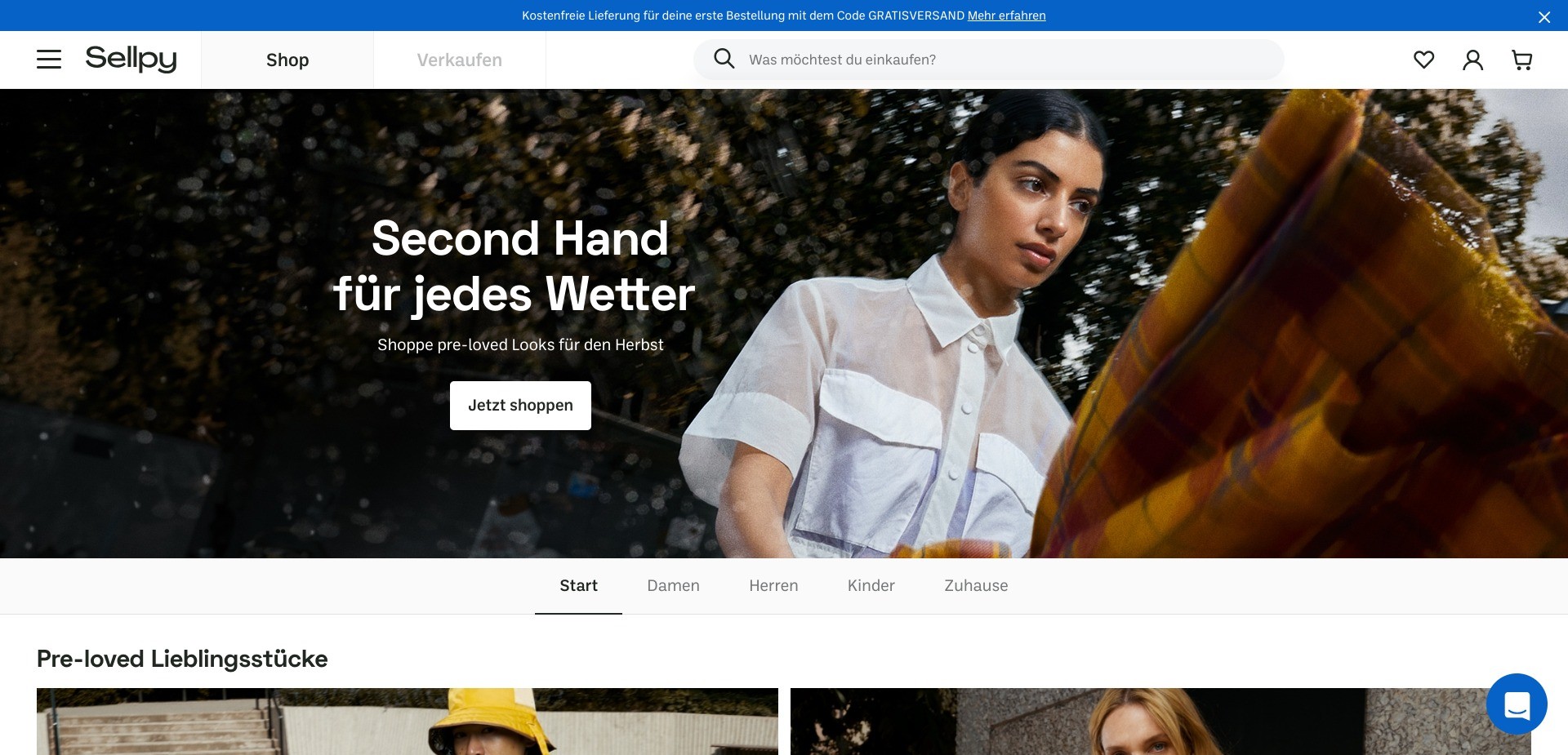 Screenshot of sellpy.de's homepage
While most users look to exchange clothing on the platform, Sellpy also offers electronics, household items, furniture, home electronics, toys, shoes and much more.
Brands on Sellpy
Tchibo is not the first brand to set up shop on Sellpy. In fact, several brands use the platform to boost their sustainability and connect with environmentally-minded customers.
In line with its philosophy, Sellpy has some rules for brands. They welcome individual products that couldn't be sold for whatever reason. Small blemishes, missing buttons or torn packaging are all accepted by Sellpy, as well as sample and returned items.
The marketplace checks each article for faults and other potential issues. Each product page of examined products displays the information what customers can expect regarding quality and originality, as well as what they contribute to saving the environment with a potential purchase.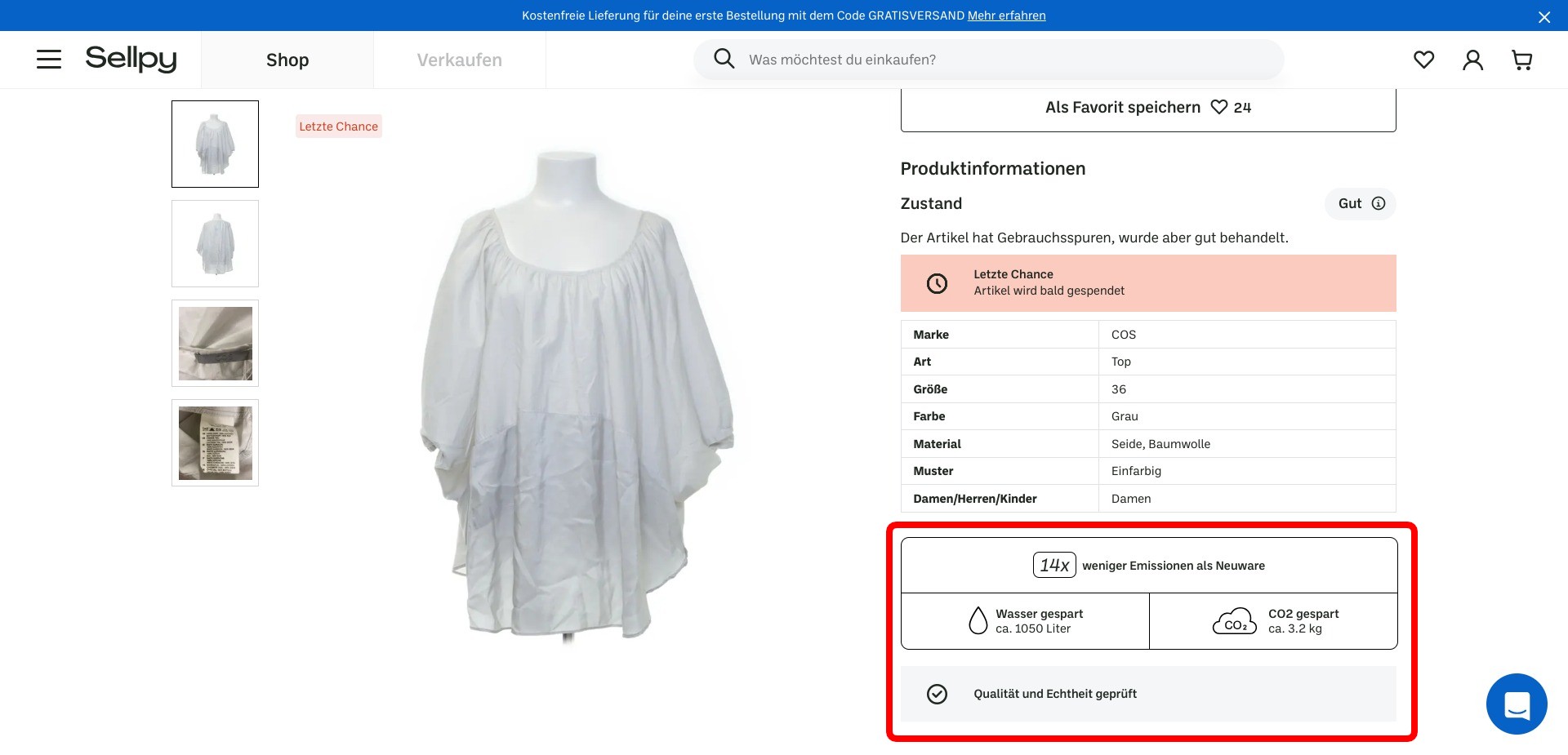 Screenshot of a random product listing on sellpy.de displaying information about quality, originality and environmental awareness
Sellpy doesn't accept a large quantity from the same product, which means you can't simply dump a thousand pairs of unsold jeans on the platform in the name of sustainability.
Interestingly, this policy also contributes to the perception of exclusivity. If you find something on Sellpy, you can rest assured it's unique and buying it will not only help the environment but also your social status as the owner of a special piece of merchandise.
Let's take a look at a couple of brands and their stores on the platform.
Superga
Italian sneaker-brand Superga offers its sample products on Sellpy, as well as out-of-season shoes that haven't sold in regular stores.
For consumers, the buying process is indistinguishable from those of regular B2C marketplaces. You simply click on the product, put it in your basket, choose your delivery and payment options, and you're done.
NA-KD
NA-KD, a Swedish fashion company, uses Sellpy to give its returned products a second chance. Customers can expect small blemishes on these products, which are clearly indicated on the product page with text as well as pictures.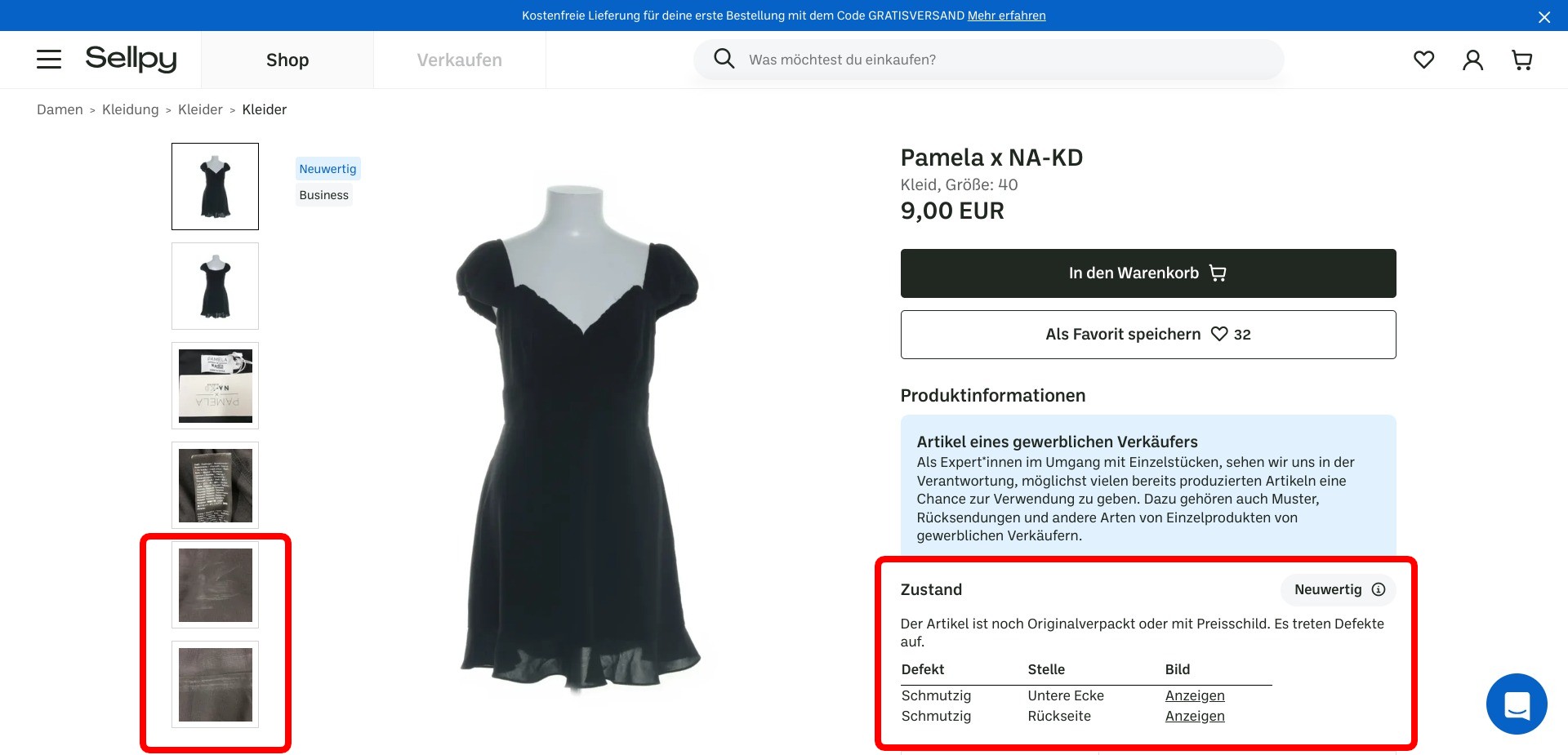 Screenshot of a random product listing on sellpy.de. The text in the bottom right corner explains blemishes, as well as the pictures on the bottom left
Sellpy stores vs brand stores
Second hand and C2C online marketplaces are often plagued by product presentation issues.
It's easy to see why: listings created and pictures taken by consumers usually lack the professional quality a brand has access to on its own webshop. And while nobody expects a second-hand pair of Levi's jeans to be presented like a new product, an unfavourable appearance online can still damage any brand's reputation.
Well, brands on Sellpy don't seem to have that problem. Since Sellpy examines and professionally photographs each product before they post it on the platform, you can rest assured that your carefully crafted brand image will not be damaged by an unfavourable appearance on Sellpy.
Just like in the case of Zara- and Zalando Pre-owned. Check out how those platforms work!
For example, take a look at Superga's Sellpy store and compare it to its own webshop.
| | |
| --- | --- |
| | |
| Screenshot of sellpy.de/store/user/superga | Screenshot of random product listings on superga.de |
While the Sellpy store clearly follows the platform's style and image, it also fits with Superga's own design. Both shops have a clean and professional look, creating a safe and enjoyable shopping environment for customers. Not your usual C2C marketplace for sure!
Find out why clean marketplaces matter and globaleyez's solution to achieve them for you!
Protecting your brand on Sellpy
We as brand protection experts applaud Sellpy for checking each item before posting it online. Besides finding small flaws, the platform can also check for originality issues and thus prevent the publication of potentially fake product listings.
However, since counterfeiters are getting more sophisticated by the day, we can't claim with a 100% certainty that no fake products ever make it onto Sellpy. Luckily, our marketplace monitoring service detects potentially IP infringing product listings on over 150 marketplaces worldwide, including C2C platforms as well.
If you want to expand the search, image monitoring is a perfect addition to catch fraudulent ads and infringing product pictures anywhere on the internet. Once we determine that a listing or a picture indeed infringes on your IP rights, we can enforce your rights and demand its removal from the marketplace, social media platform, webshop, or the internet in general.
Conclusion
It's a welcome fact that despite the early closure of Tchibo Share, the marketplace hasn't given up on the idea of sustainability. We hope that the cooperation with Sellpy will prove to be successful and that other brands will join these companies in the fight for a more sustainable economy.
If you're interested in how online brand protection can help your brand manage a more circular supply chain, or you're worried about IP infringements on- and offline, don't hesitate to get in touch with us!