Fast fashion is a lucrative business: the global market is currently worth $122.98 billion, and it's forecasted to reach $187.96 billion in 2027. But well-known companies in the industry like Zara and H&M seem to have been driven to the back seat by emerging players from the East.
In fact, as we speak, newly launched Chinese faster-than-fast fashion marketplaces SHEIN and Temu keep increasing their market share all over the world.
Their business model is similar: both of these platforms offer fashion items that look like clothes recently worn by celebrities to digital native Generation Z consumers. The products appear on the platforms within days of being worn by famous people, for a very affordable price, in various colours and sizes.
No wonder that their biggest competitors are each other.
Temu sues SHEIN in the US
Owned by China-based PDD Holdings, Temu is the US incarnation of the popular Chinese marketplace Pinduoduo. As a relative newcomer, Temu was launched in 2022 but can already boast over 100 million active users. No wonder: the platform entered the market with a massive coordinated advertising campaign, including an ad at the Superbowl!
SHEIN, on the other hand, rose to fame in the US during the COVID-19 pandemic. In 2019, the Singapore-based company claimed around 12% of all fast fashion transactions in the US. In November 2022, however, a staggering 50% of US fast fashion sales landed at SHEIN.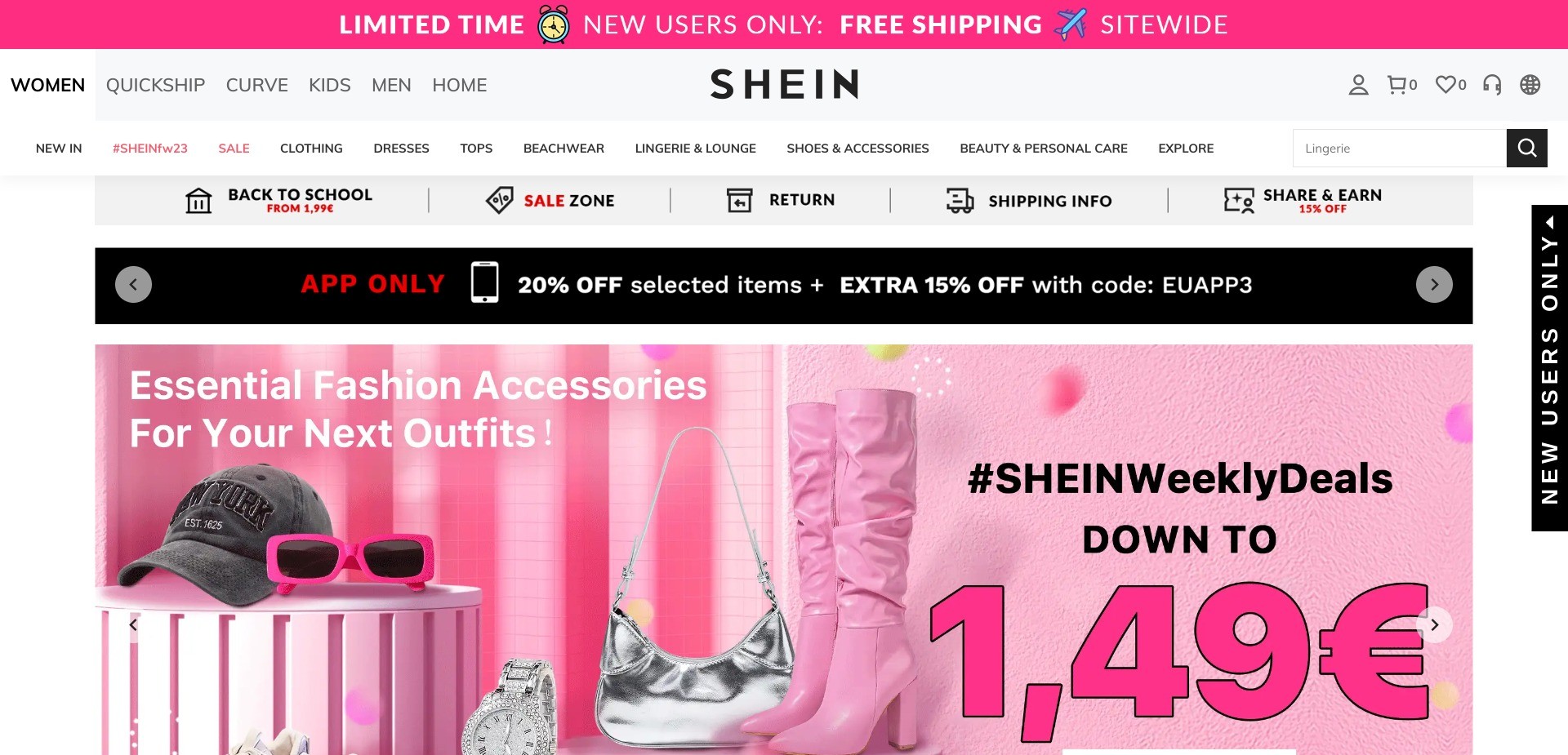 A screenshot of the homepage of shein.com
Hence Temu's accusation and subsequent lawsuit. The latecomer claims that SHEIN possesses about 75% of the US ultra fast fashion market and drops thousands of new items each week, significantly outpacing the traditional fast fashion market with its "modest" 25,000 products-per-year offering.
In doing so, Temu claims that SHEIN violates the Sherman Antitrust Act, the legislation adopted in 1890 that outlawed "monopolistic business practices". Moreover, according to Temu, SHEIN pressures manufacturers to enter into exclusive agreements with them.
A round of Monopoly?
Legal experts believe that SHEIN will defend itself by insisting that fast fashion is not a market in itself, which means that there can't be any monopolistic practices on it either. The key to this argument is in the eye of consumers: as long as people don't regard ultra fast fashion as a separate market, i.e. they look for alternative products elsewhere when the prices of one supplier rise too high, SHEIN's argument can stand.
However, Temu approaches the definition of this market from another point of view. They believe that the fast fashion market is distinguished by businesses that produce and distribute a large amount of products, significantly more than other fashion companies. Since unit costs for these two types of producers are completely different, they clearly exist on separate markets.
Another interesting angle of this case is the concept of monopoly and how it's being handled in the age of e-Commerce. Tech giants like Amazon, Facebook and Google have the means to restrict the access of smaller players to their platforms, significantly influencing the choices and purchase options for millions of consumers.
Legislators all over the world are looking for solutions to these issues. For example the Digital Markets Act (DMA), adopted by the EU in 2022 aims to even out the playing field by introducing obligations and restrictions to regulate the behaviour of tech giants.
Find out all about the DMA from our article
Pressuring manufacturers - and the environment
Temu also has to prove that SHEIN pressures manufacturers into exclusive agreements harmful for them, as well as SHEIN's competitors and consumers. There already have been reports of mistreatment of SHEIN's suppliers prompting US lawmakers to ask for a probe into the company's practices. The outcome of this probe may help make Temu's case against its competitor.  
What nobody needs to prove though is the effect of fast (and ultra fast) fashion on the environment. Given this incredible speed of operation of all companies in this segment, it's easy to see why the production, shipping, selling and discarding of fast fashion products significantly contributes to the pollution of our planet.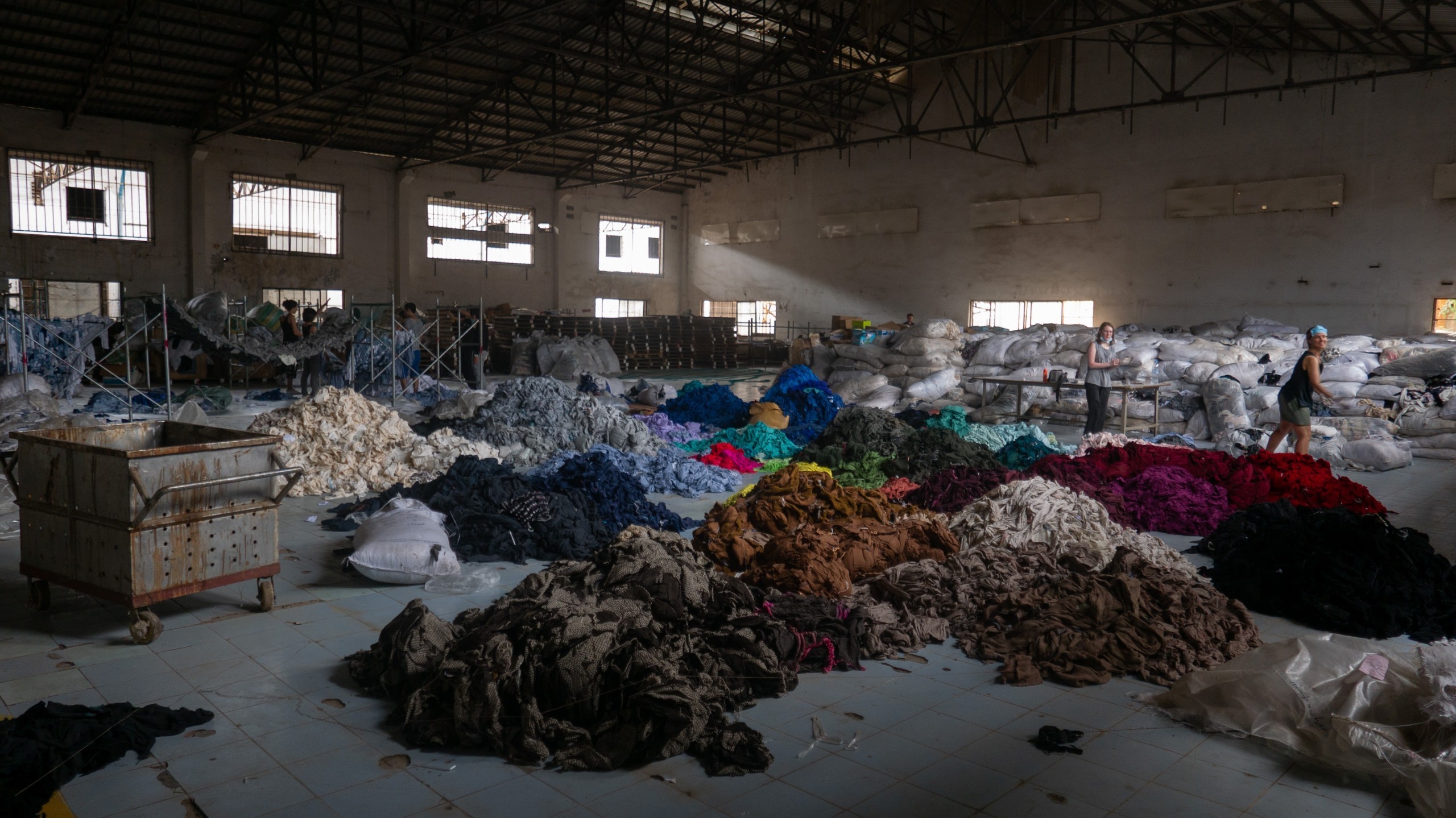 Image of people sorting through clothing in a warehouse
Not to mention the often horrible conditions people creating fast fashion products, not only for SHEIN, are forced to work in.
SHEIN sues Temu for copyright infringement
Some see Temu's lawsuit as a counterattack for SHEIN's own suit against Temu, filed in December 2022 for copyright infringement. SHEIN claims that Temu misled consumers into believing they were the same brand and even operated fake Twitter accounts in SHEIN's name that led users to Temu. In August 2023, a judge granted SHEIN a temporary restraining order against Temu, warning the latter to stop using SHEIN's copyrights and trademarks.
By the way, copyright infringement is a sore topic in the world of fast fashion. SHEIN itself is being sued by several brands for copying their designs, including Zara, that itself is being accused of copying other brands' designs. The list goes on, but if we take a moment to think about the nature of fast fashion, it's quite easy to understand why.
Since the very idea behind fast (and even more in the case of ultra fast) fashion is to offer styles seen on celebrities who tend to wear expensive designer clothing, it's understandable that cheap fast fashion companies quickly create something strikingly similar for a much lower price.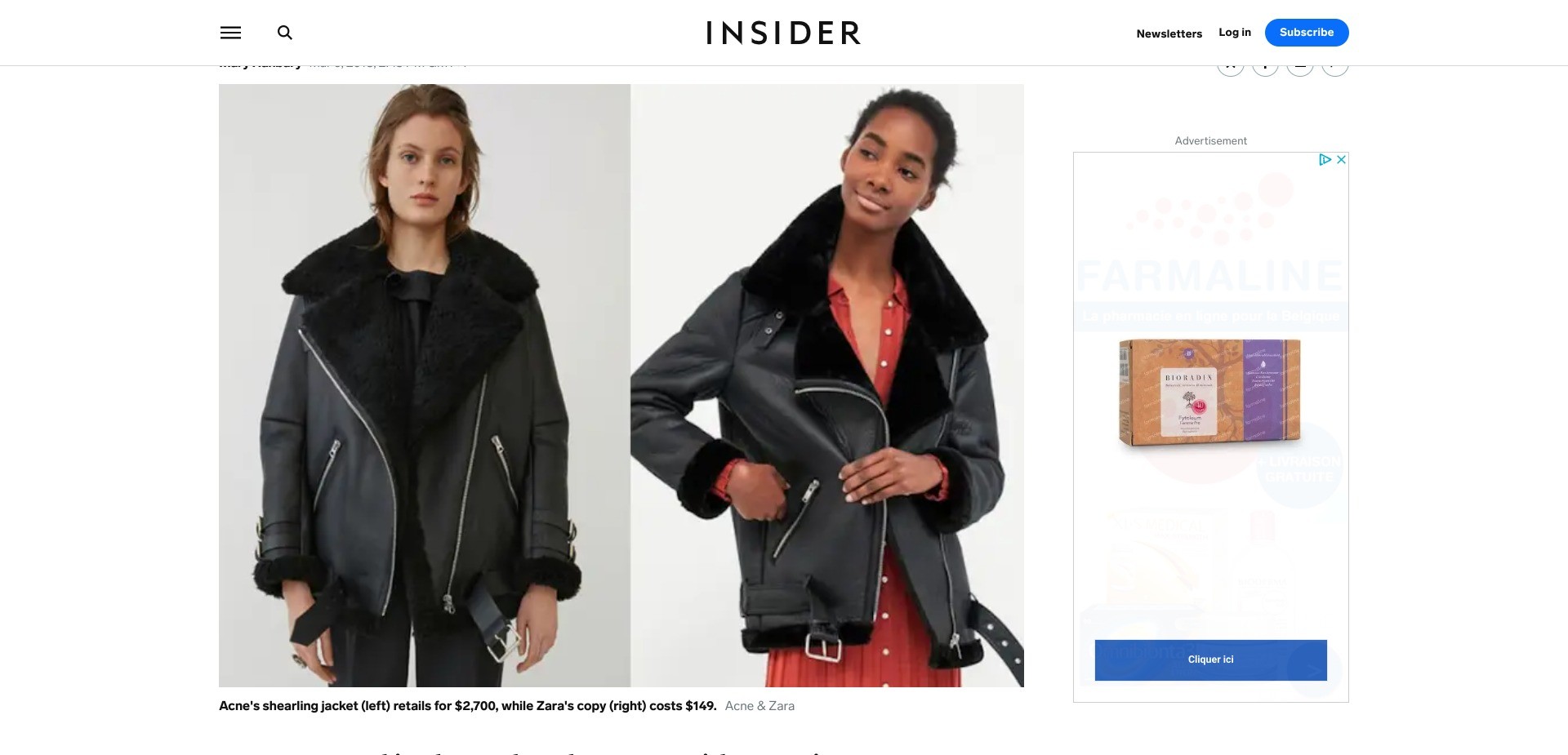 Screenshot of insider.com displaying a leather jacket by Acne and a similar one by Zara
Understandable, but is it also acceptable?
Copyright infringement harms brands
Copyright infringements cost your brand on many different levels. First of all, there's the obvious loss of revenue: instead of your original product, prospective customers buy fakes and thus give their money to fraudsters who take a freeride on your brand's name and reputation.
Then there's the more intangible but very real loss your reputation suffers. Bad quality products being associated with your brand name is incredibly damaging, even if you had nothing to do with them. This is especially the case if your products get targeted by dishonest resellers and your brand is dragged into a scalper scandal.
Discover all about dishonest resellers and how to defend your brand!
Luckily, there's a solution to all that. We created globaleyez's image monitoring service to quickly detect copyright infringements on marketplaces, social media sites, single webshops, or any other corner of the internet.
Our intuitive software tool, infrimage runs systematic, highly scalable reverse image searches to find stolen images and their lookalike versions. The user friendly interface and smart organisation features allow you to get a quick overview of the status of your searches.
With our image monitoring service, you can rest assured that copyright infringements will quickly come to light and be dealt with.
Conclusion
The outcome of the ongoing legal cases between Temu and SHEIN is yet to be determined. Unfortunately, whatever the courts' decisions, we can assume that copyright infringements (and excessive environmental abuse) won't magically disappear overnight.
If you're worried about copyright or trademark infringement, globaleyez is at your disposal. Reach out to us and let us develop a comprehensive online brand protection strategy perfectly tailored to your brand's needs.