e-Commerce is booming across all industries, and beauty is no exception to that. In fact, beauty products may even do better than some others in online retail. In doubt? Just take a look at the numbers.
Beauty in numbers
According to McKinsey and Company's recent report The Beauty Market in 2023, the beauty industry has reached an income of $430 billion in 2022, and is projected to hit $580 billion by 2027. That corresponds to a roughly 6% growth per year.
Global beauty sales are currently at $427 billion, and are expected to increase to $523 billion by 2027. e-Commerce is responsible for 21% of the current value and is projected to reach 26% of the total sum by 2027. This is a significant growth, especially when we consider that in 2015 a mere 8% of all beauty products were sold online.
The two biggest markets of the beauty industry are North America and China. By 2027, beauty sales in the US are projected to hit a value of $115 billion ($45 billion of that via e-Commerce) and $96 billion in China. Interestingly, the rate of online sales is estimated to be even higher in China, reaching $55 billion and accounting for around 60% of all 2027 beauty sales in the country.
Emerging brands and markets
As a new generation is about to reach its full purchasing power (people born between 1996-2010, often referred to as Gen Z), beauty brands compete to win them over as customers.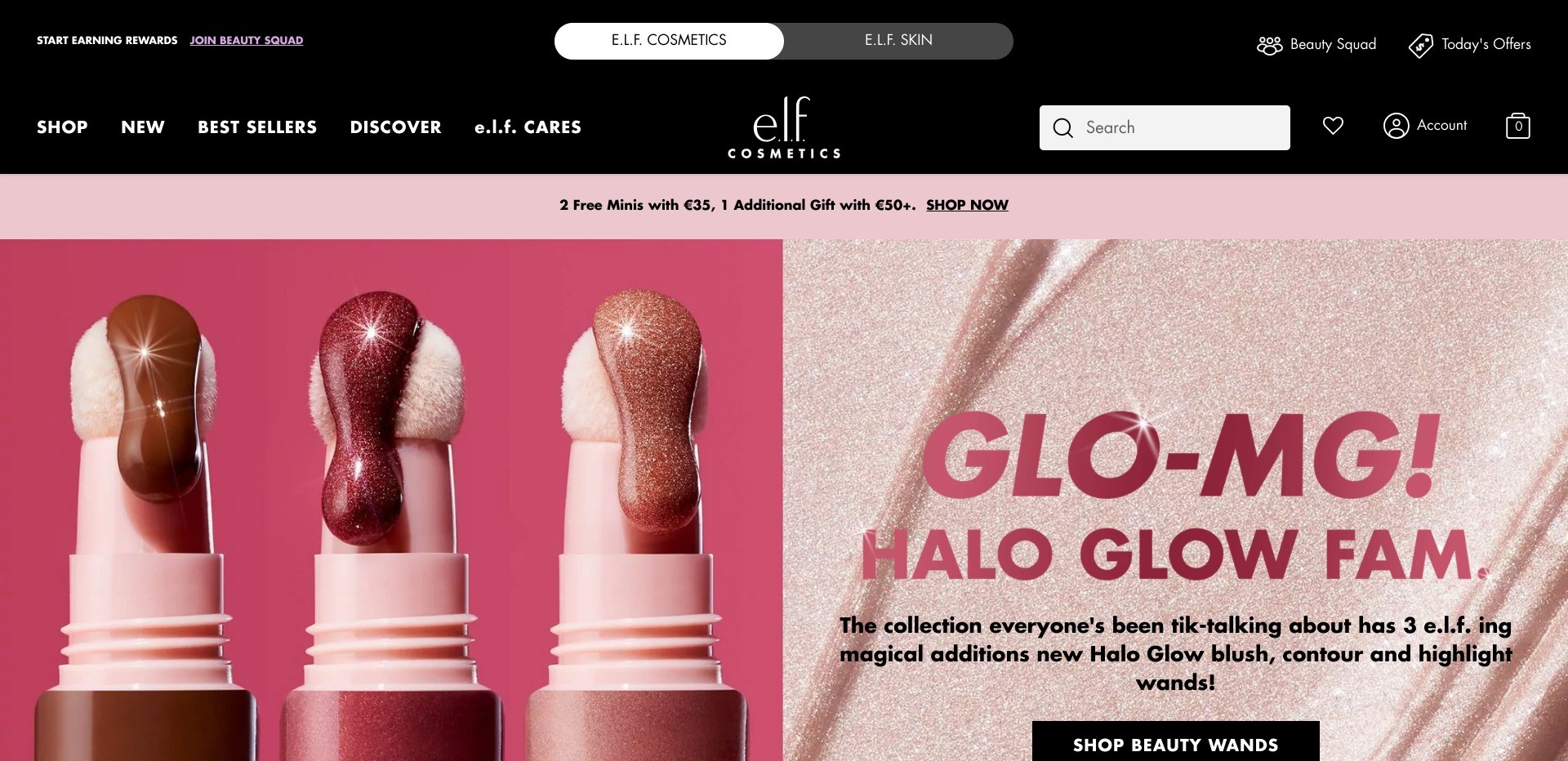 Screenshot of elfcosmetics.com's homepage
According to a recent survey, the majority of young people (22%) today favour E.l.f Cosmetics, followed by Rare Beauty (11%), Maybelline (7%), L'Oreal (6%) and Fenty Beauty (6%). Two of those companies are founded by celebrities, Rare Beauty by singer/actress Selena Gomez and Fenty by singer Rihanna.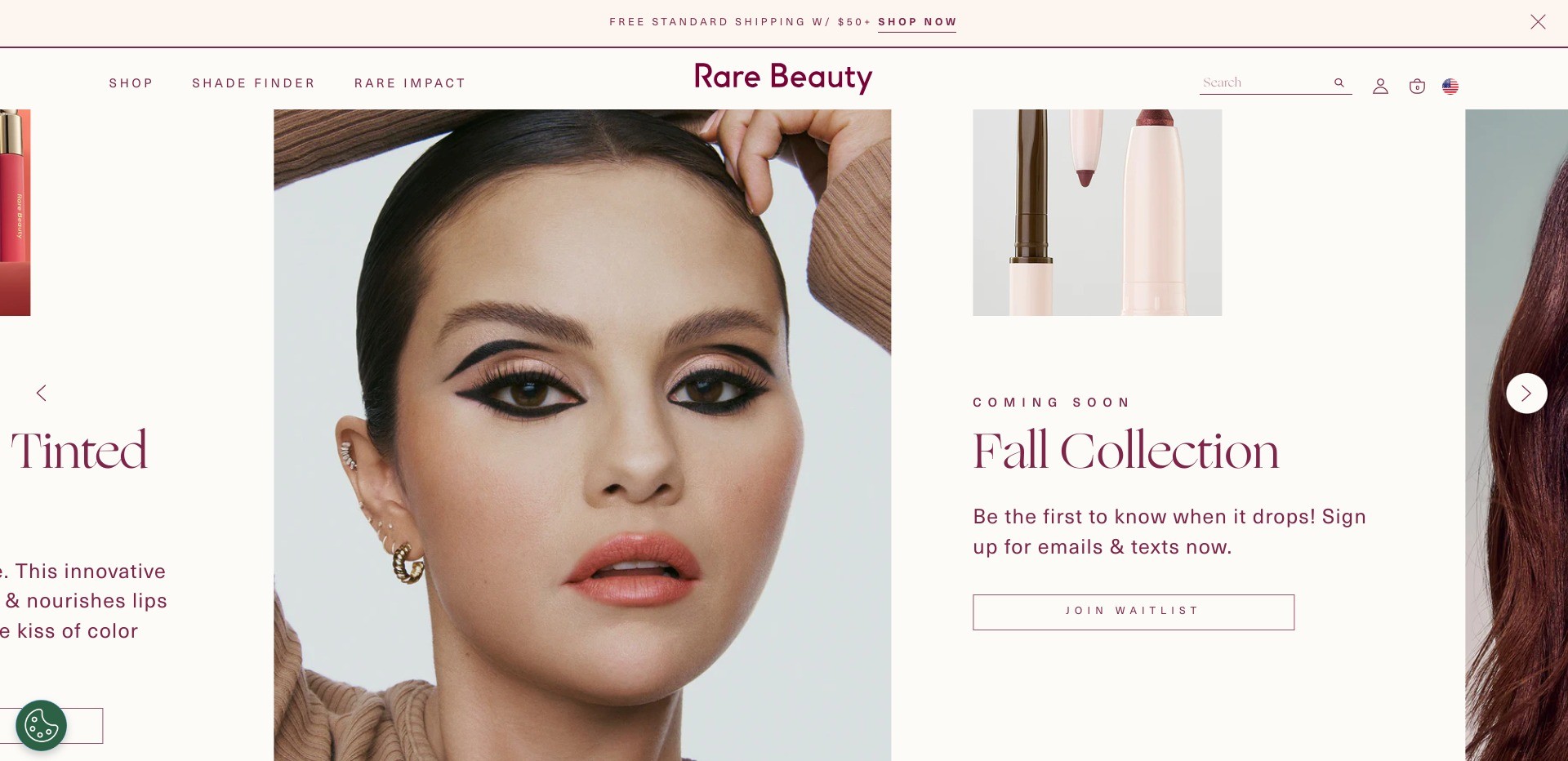 Screenshot of rarebeauty.com's homepage
Relatively unknown to older generations, newer brands like E.l.f specifically target younger consumers with products and messaging adapted to their wavelength.
Similarly, new markets like India, the Middle East and Africa are making waves across the beauty industry. Beauty sales in India are projected to rise to $21 billion in 2027, with sales in the Middle East and Africa both reaching $45 billion.
Meanwhile, the definition of beauty is also widening. The dividing line between the categories beauty and wellness seem to be blurring, which means that the beauty industry is absorbing products and concepts previously mostly associated with wellness (both mental and physical).
According to the McKinsey report, the $1.5 trillion wellness industry can expect a 10% growth by 2027.
Beauty products in e-Commerce
Beauty brands and sellers face special challenges in an e-Commerce environment. While distance-selling is hard on any brand, the nature of beauty products requires more of a physical connection between seller and buyer than, say, the sale of office supplies.
First of all, consumers like to test beauty products before committing to a purchase - the texture, smell and feel of a face cream, or the exact colour of a lipstick are among the deciding factors before buying something. These are all qualities that a screen just can't communicate accurately.
Not to mention the problem perfume marketers face. There's no way consumers can try a scent remotely; no amount of pictures or descriptions can replace actually spraying a bit of perfume on your wrist and inhaling deeply.
Moreover, cosmetic products have an image of being clean and wholesome, which is what their physical selling locations usually try to mimic. All this is harder to achieve online where the product and its buyer have no chance of meeting in the flesh, and where brands have far less control over the presentation of their products.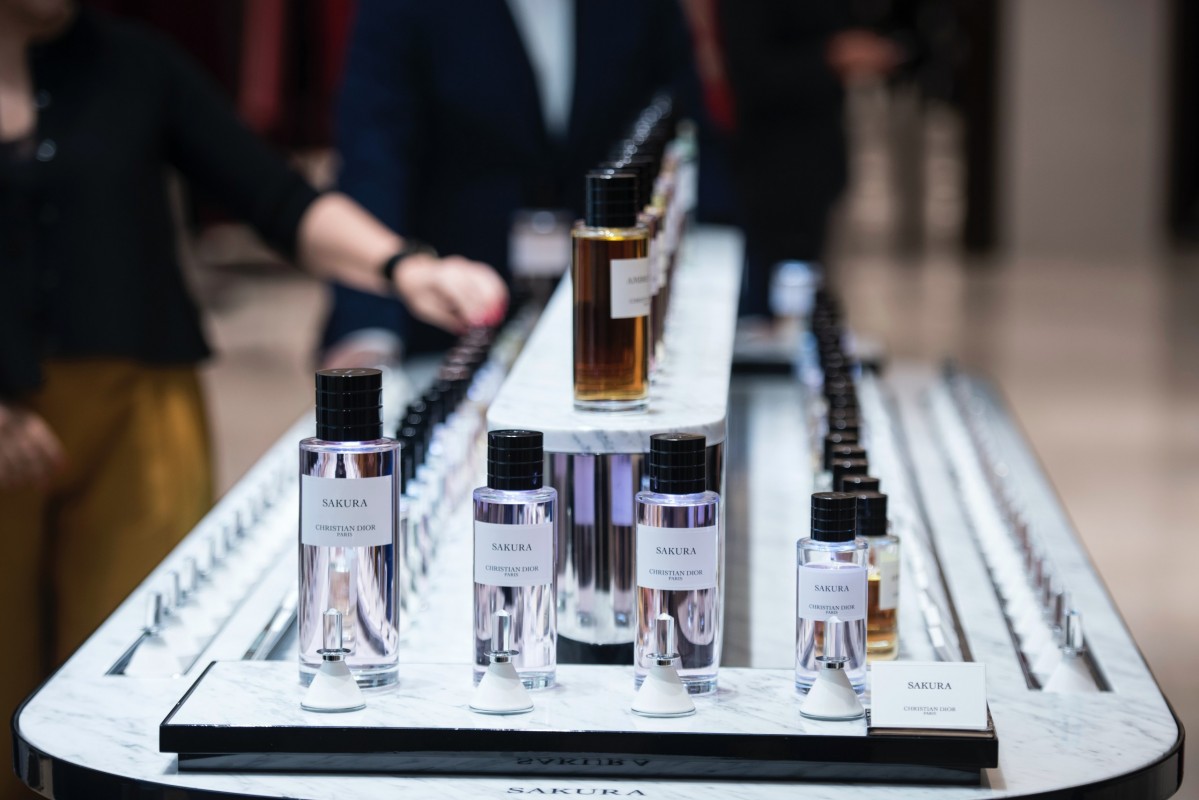 Picture of cosmetic products lined up in a physical store
To address these challenges, specialised e-Commerce cosmetics sellers, like flaconi.de and caretobeauty.com try to create a similar environment online to gain the trust of consumers and encourage them to shop.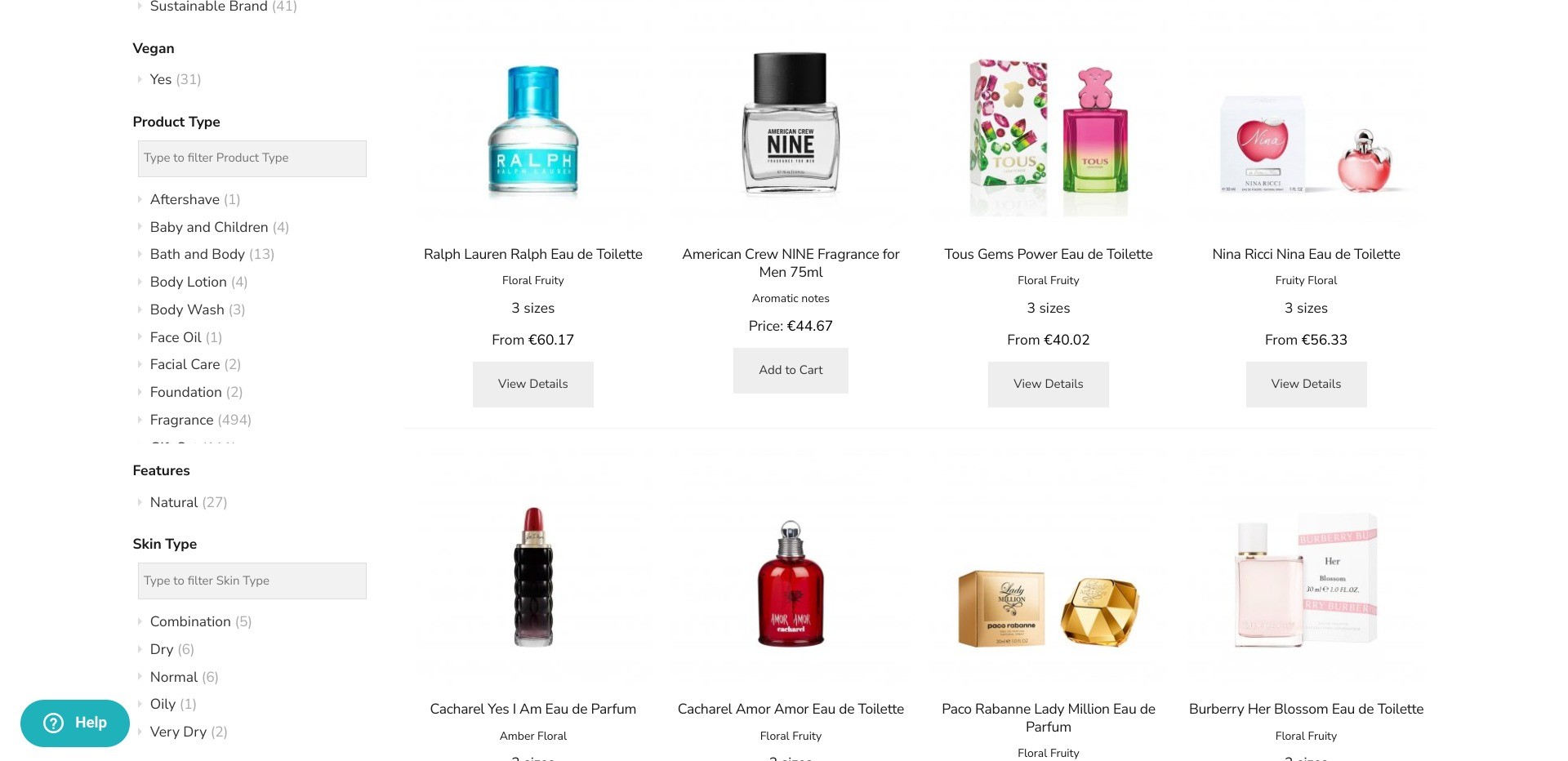 Screenshot of random product listings on caretobeauty.com
Another great way to overcome the shortcomings of online cosmetics sales is the use of social commerce and working with influencers. The informal and relaxed environment of social media platforms, plus the "word-of-mouth" authenticity of some influencers can give brands the extra push to overcome the physical distance between themselves and their online customers.
E.l.f Cosmetics is definitely aware of this trend. The brand is well known for its active social media presence as well as its extensive cooperation with various influencers across several platforms.
Related topics:
Risky Ritzi? - Threats and opportunities of live-stream shopping
Shopifying TikTok - new opportunities in social commerce
A bad influence: fakes promoted on social media
Potential issues for cosmetic brands in e-Commerce
Just like other brands, creators and sellers of beauty products face serious issues in online trade.
Counterfeits
Fake products are bad news in any industry, but especially so in areas where subpar quality ingredients can cause significant damage to consumers - like in the case of fake beauty products.
Toxic, cheap ingredients can easily find their way into counterfeit cosmetics, causing allergies, infections and even worse outcomes to unsuspecting consumers.
Unfortunately, when a scandal hits, the brand's name is inevitably dragged through the mud, even though they had absolutely nothing to do with the fake cosmetics. The resulting loss of reputation, revenue and trust is a huge issue for any honest brand.
Find out all about the dangers of fake cosmetics!
Clean online presentation
As mentioned before, the conditions beauty products are presented in on online marketplaces is especially important. Here, even more than in other industries, your products' image is greatly influenced by other products appearing beside them. If your original beauty product is displayed next to a cheap counterfeit, you could stand to lose a lot of your hard-earned standing with consumers.
Similarly, would you want your exclusive perfume to show up next to a power drill or a dog grooming kit? Your chosen sales channels matter quite a lot in this respect. But what if some sellers disregard your contract terms and offer your products on marketplaces you don't want them to appear on?
This leads us right to the third most prevalent danger beauty brands face online.
Grey markets
Grey markets, i.e. original products on offer outside of their authorised distribution network pose significant problems for brands in any industry. Although original, grey market products undermine your prices and erode trust in your entire distribution network - not to mention the damage the lack of quality customer service can do to your reputation.
Find out all about grey markets and how we fight them!
Online brand protection for beauty products
globaleyez's agile team of experts is well-versed in the specific issues plaguing brands in the beauty industry, ensuring our solutions and services are fully adapted to your brand's unique situation.
Our clean marketplaces solution, for instance, oversees the detection and removal of IP infringing product listings from online marketplaces to create a perfectly clean environment for your original product listings to shine.
To do so, our marketplace monitoring service is indispensable for detecting potentially infringing product listings on over 150 online marketplaces worldwide. When paired with image monitoring, we can also ensure that picture-based infringements (such as ads, social media posts, etc) are detected as well.
Since social media is a very important platform for selling beauty products, we'd recommend our social media monitoring service to catch infringing sellers and other content on Facebook, Instagram & Co.
A test purchase may be required to gather more information about a seller and the origins of a product. Finally, once we've established what we're dealing with, we can enforce your rights and demand the removal of any infringing content (product listings, ads, domain names, etc) from marketplaces, social media platforms, domain registries and the internet in general.
Conclusion
Beauty products face unique opportunities in e-Commerce, along with unique challenges. Don't let the former be diminished by the latter: contact us and let's create your brand's individual online brand protection programme together!