Swedish online fashion marketplace Boozt has recently banned 42,000 of its customers from shopping on its website. The reason: these customers were abusing Boozt's free delivery and return policy and harmed the company, the environment and other customers as well.
Ask Kirkeskov Riis, Communication Director at Boozt, explained that while these shoppers constituted only 2% of the marketplace's 3 million customers, they were still responsible for about 25% of all returns. The main reasons behind these returns were ill-fitting garments and regretted purchases.
Barring these accounts and stopping the returns generated by them saves ca. 791 tonnes of CO2 and the need for 600 additional delivery vans per year.
e-Commerce experts say this bold move may pave the way for similar policies at other companies. Amazon, TJ Maxx, Levi's and other companies have already started charging consumers for some returns.
But what is Boozt, the marketplace that started it all?
What is Boozt
After a somewhat less successful start in 2007, Boozt was relaunched in 2011 with the aim to become one of the leading Nordic marketplaces in fashion and lifestyle. The platform was founded and is currently based in Malmö, Sweden, with offices and fulfilment centres operating in Denmark, Lithuania and Poland.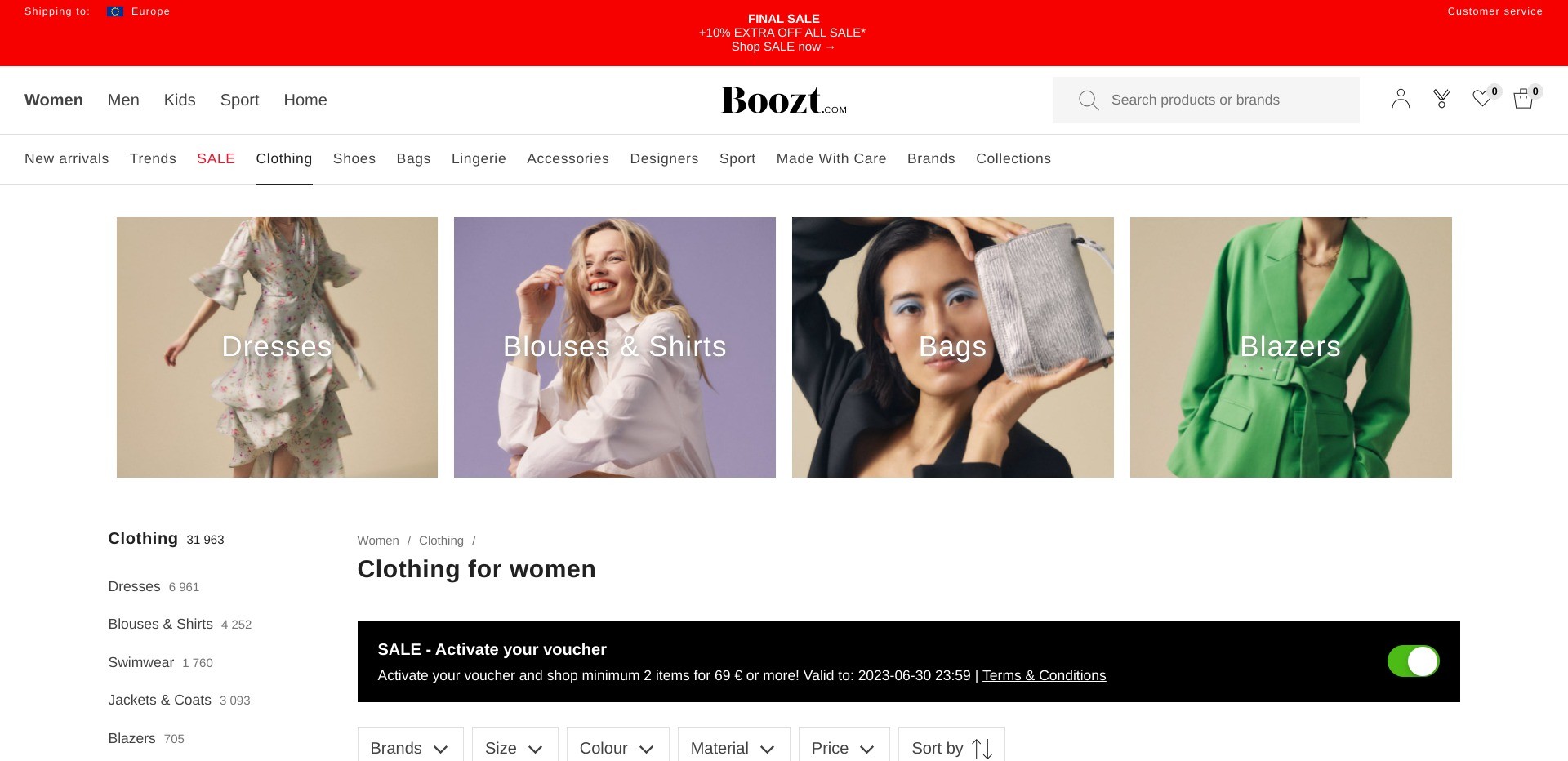 Screenshot of boozt.com displaying clothing categories for women
While initially Boozt focused on fast fashion, the company moved away from that approach in 2014 and started offering products by a selection of Scandinavian and international premium brands.
Learn all about fast fashion and why it's bad for the environment
In addition to quality products, Boozt places a high emphasis on excellent customer experience achieved by innovative in-house technology.
Online and physical
Besides its flagship online marketplace, Boozt also has an outlet offering prior trends (Booztlet.com) as well as physical stores in Malmö and Copenhagen. Currently, Boozt has around 1100 employees, and reported an annual revenue of 6.7 billion SEK (ca. 5.8 million EUR) in 2022.
Boozt sells mainly fashion, lifestyle and beauty products created for women, men and children. The company ships to European countries, including EU Member States as well as Iceland, Norway and Switzerland.
In line with its philosophy, Boozt focuses on high-end brands like Emporio Armani, Mads Norgaard, Juicy Couture and GANT.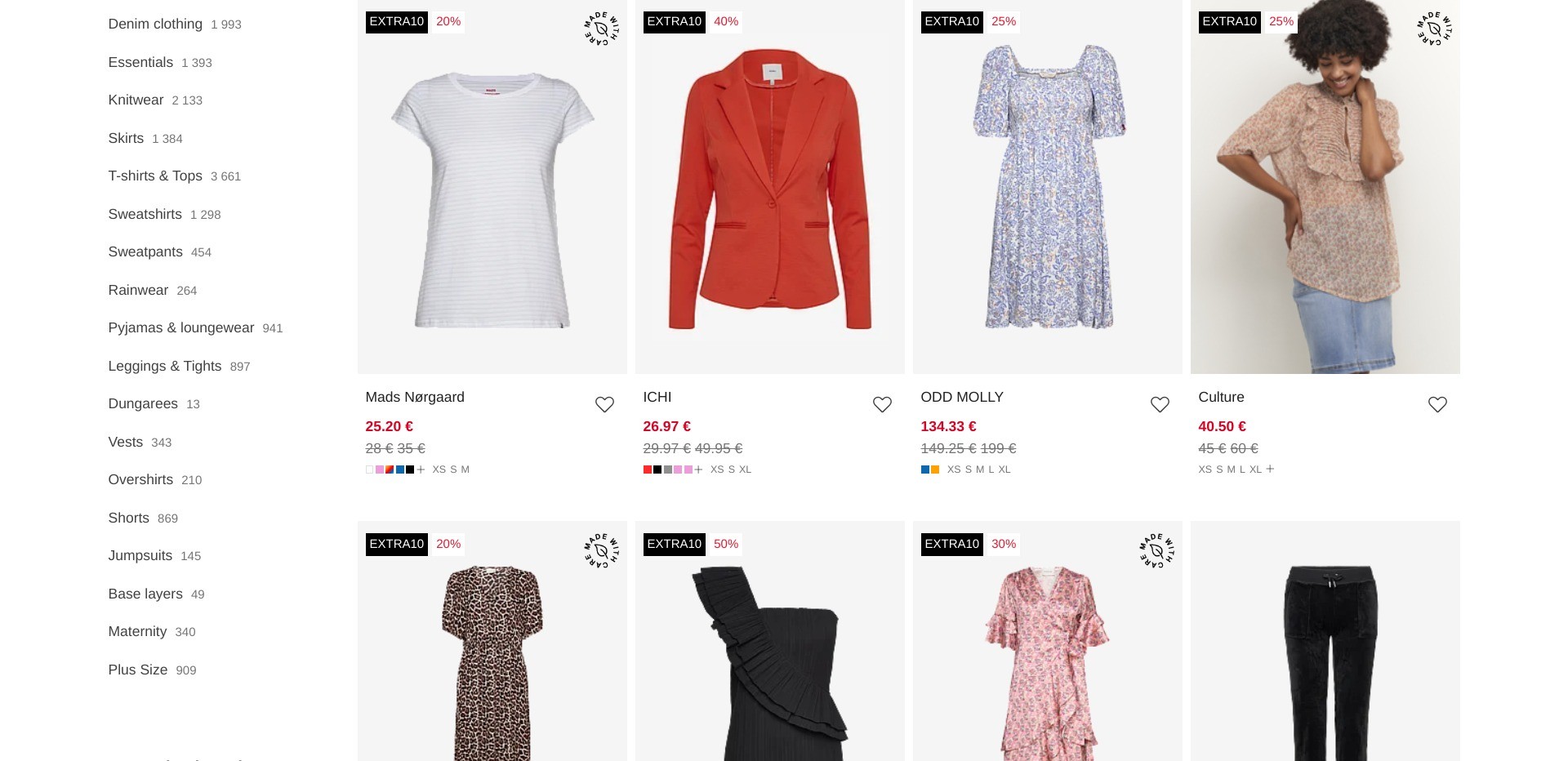 Screenshot of random product listings on boozt.com
Boozt offers several major payment options, including credit cards, PayPal and even store credit. As for delivery, the service provider depends on the shipping location. For example, in Germany, Boozt works with DHL. Customers in Denmark can choose from four providers including GLS, while UPS is the sole provider in France.
In line with the new, stricter return policy, Boozt has stated serious commitments to reducing the company's ecological footprint. This includes optimising deliveries, working with local suppliers as much as possible, using recycled and recyclable packaging materials, as well as scaling up the use of renewable energy.
Based on all these efforts, Boozt aims to be climate-neutral across all of its operations by 2025.
Stricter return regulations vs consumer protection
As mentioned earlier, several e-Commerce retailers have started tightening their return regulations. However, brands following this example have to ensure that their new return rules still comply with the consumer protection laws in effect in their countries of operation.
In the EU, for example, online shoppers have a right to change their mind and expect a full refund (including shipping costs) within 14 days of the original purchase, no questions asked. Traders have to accept returns and refund purchases regardless of the reason the customer chose to send the product back.
This regulation could very well be the reason why Boozt went as far as banning those 42,000 customers from the platform, since they couldn't refuse free returns without facing legal action.
On the one hand, it's fair that online shoppers who weren't able to actually examine a product before purchasing have the right to send it back if it fails to live up to their expectations. On the other hand, this rule encourages people to overconsume, as they can do so without any financial repercussions. Not to mention the fact that the increased emissions and excess waste caused by returns is very harmful for the environment.
Since sustainability is an increasingly important factor for consumers when choosing products, brands that emphasise their commitment to the environment in actions like tightened return regulations have a real chance to win over new customers.
Unfortunately, this has not escaped the attention of businesses less committed to the environment than to their own financial gains. The resulting greenwashing creates a lot of confusion and distrust in consumers, causing them to lose faith in brands that really go the extra mile.
Learn all about greenwashing and the circular economy!
Online brand protection on Boozt
At a first glance, Boozt seems to be a serious marketplace respectful of IP regulations. The company's code of conduct states that Boozt is committed to the protection of intellectual property.
Nevertheless, we can expect fraudsters trying to capitalise on the marketplace's reputation and finding their way onto the platform. This is all the more likely since Boozt works with third party sellers, which significantly raises the risk of fraudulent listings appearing on the marketplace.
When they do, we'll be ready. Our marketplace monitoring service covers over 150 online marketplaces, and discovers potentially IP infringing product listings in a heartbeat. Where further investigation is needed, we offer a test purchase to learn as much about the seller and the origin of the products as possible.
To extend the scope of examined content, we provide image monitoring to catch any fraudulent ads, social media posts, single webshop listings or any other type of image-based content outside of regular marketplaces. Finally, we're happy to enforce your rights and ensure the swift removal of any infringing content from the internet.
Conclusion
When it comes to gaining the trust and approval of an increasingly environmentally conscious consumer base, sustainable operations are a must for any brand. We at globaleyez not only strive to become more sustainable, but are able to help our clients to do so as well.
We have already assisted several of our esteemed clients on the supply chain side to increase the sustainability of their operations. Furthermore, we continue to explore what else our specific online brand protection tools can do in this respect.
Contact us if you have any questions about this effort, or any concerns about the safety of your IP rights both on- and offline.