September 2021 | latest update: 08.09.2023 | by Lili
What is a third party seller?
Table of contents
"Third party seller" is a term often used when talking about online marketplaces. Although seemingly innocent, these words often trigger unease in people, especially in brand protection experts. But why?

Not me, not you, but a third party
When customers shop on an online marketplace like Amazon, they tend to assume that since the products are listed on Amazon, the marketplace itself is the seller. In many cases, that is true. But not always.
Amazon allows other sellers to use the platform as well. Quite a lot of them, actually: in 2022, 9.5 million third party sellers were counted on the marketplace worldwide. These sellers pay a fee to Amazon for access to its service and its considerable customer base. Not to mention its reputation as a reliable online marketplace (although this latter is sometimes in danger, not unrelated to the presence of third party sellers on the platform.)
Not only Amazon, but many other marketplaces work with third party sellers. And, if all of those sellers were honest, this wouldn't be an issue at all. Or rather, the only issue would be a slight difference in shipping, since some third party sellers are unable or unwilling to provide the same shipping conditions as the marketplace itself. Unfortunately, there are much more serious problems caused by third party sellers.
But who are they, and where do they come from?

Sellers' identities
In short, they can be anybody from anywhere.
Depending on the marketplace's profile and reach, these sellers may be anyone from the neighboring grocery store to a large distributor of international products in a far-away country. If we remain with the example of Amazon, a very international marketplace, you can expect to find all kinds of sellers there from all over the world.
Obviously, sellers want to find their target markets as easily as possible, which makes it more likely that you'll find German sellers on Amazon.de and French sellers or Amazon.fr. But on both of these, you can find sellers from China, the US, Brazil, and many other countries of the world.

How to discover who you're buying from
If you want to check whether a seller is a third party or Amazon itself, look for the "sold by" line among the product information. If the information there is anything other than "Amazon", you've found yourself a third party seller.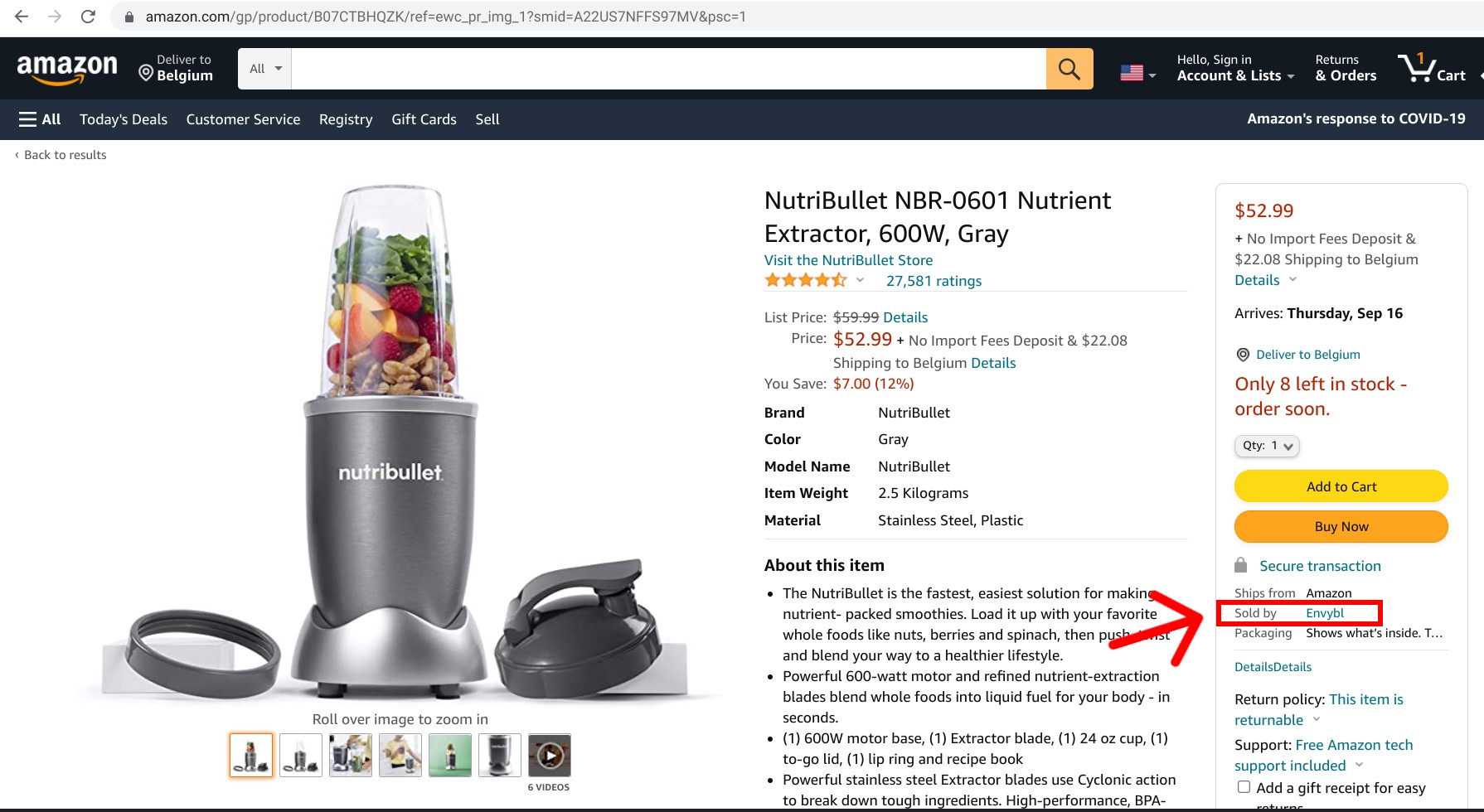 Screenshot of a third party seller listing on Amazon.com

If it's indeed a third party seller, make sure to find out as much about them as possible. Look for their own website (if they have one), check out their contact info and their ratings. It's also important to find out about their shipping policy, since many third party sellers are not part of Amazon's shipping and could impose quite hefty shipping prices.

Brand protection aspects of third party sellers
The presence of third party sellers on marketplaces presents various issues that online brand protection experts find worrisome.
Even marketplaces that vet their sellers to some extent, like Amazon, aren't immune to fraudsters. After all, government issued IDs and tax numbers can be forged or stolen, and since the marketplace doesn't investigate the originality of these documents, fraudulent sellers can gain access to the platform.
For online brand protection experts, this is quite alarming. Taking advantage of the immense quantities of products and sellers, these fraudsters offer IP-infringing products, including grey market and fake goods.
And since it's getting extremely hard for customers to distinguish original products from fakes (and virtually impossible to tell a grey market product from an authorized one, as they're both original), shoppers can fall victim to bad quality, potentially even hazardous products. Not to mention the harm this can do to brands, including the loss of revenue, trust, and reputation.
The matter is further aggravated by the method Amazon lists its products, i.e. the Buy Box.

What is the Buy Box
The Buy Box is the panel on the right of the product page on Amazon where the "Buy Now" button is displayed.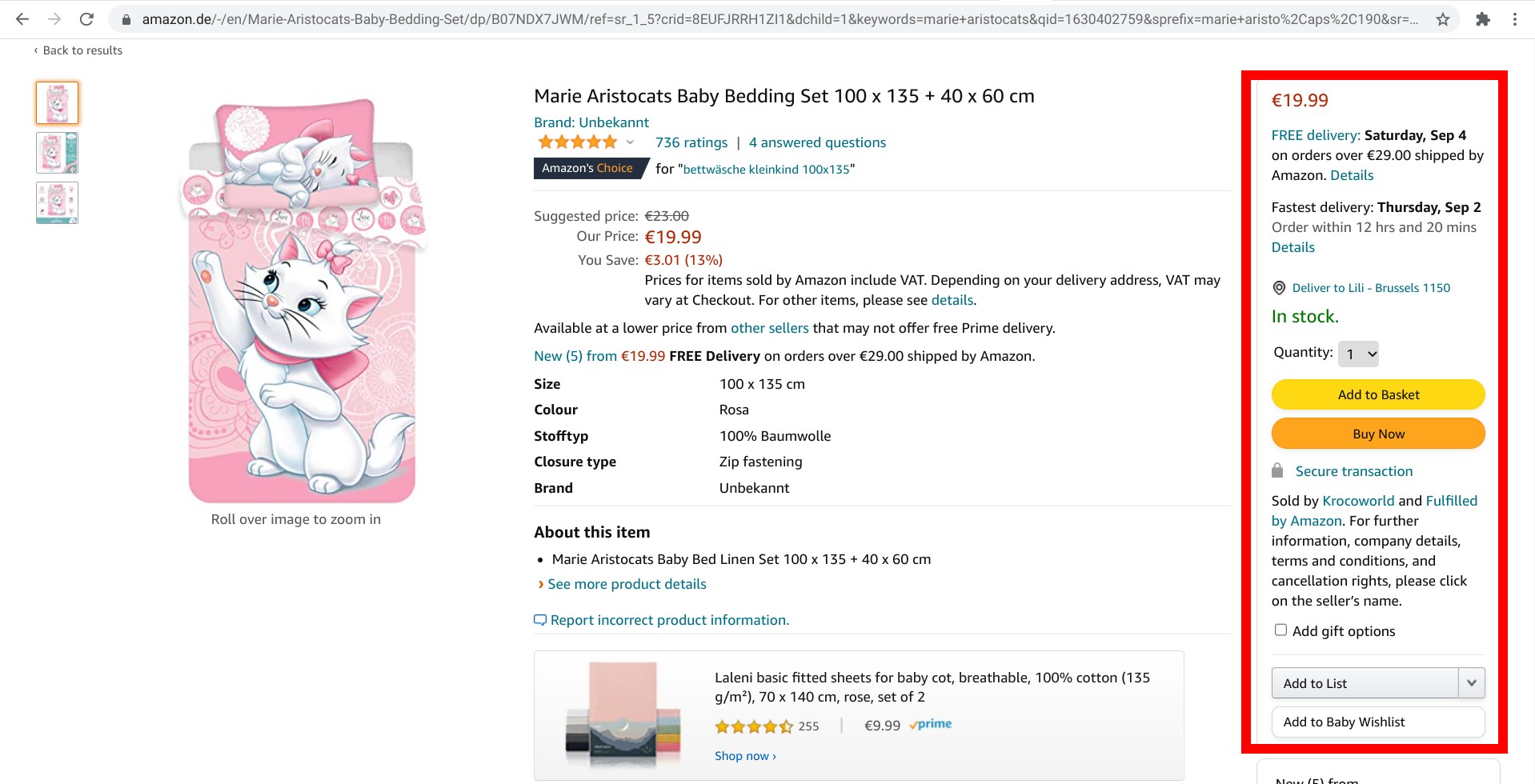 Screenshot of a product page from Amazon.de with the Buy Box highlighted
If you've ever done a search on Amazon, you may have noticed that this marketplace doesn't display the same product offered by different sellers in a row next to each other like other marketplaces do. Instead, you only see one option: the product page of the seller who happened to win the Buy Box. This is because Amazon assigns the same product card ( Amazon Standard Identification Number, or ASIN) to one product, regardless of how many sellers offer it.
When several sellers offer the same product, Amazon makes them compete for the Buy Box. They don't disclose the exact criteria, but sellers with the most competitive offer, the most readily available stock, and the highest customer ratings have the best chance to win the Buy Box.
And those that win, win big, because theirs is the only product listing a shopper will automatically discover. In fact, 82% of sales on Amazon occurs through the Buy Box. No wonder: to get to the other sellers, you have to click on "new or used", or "other sellers." As you can see, these options are quite well hidden under the Buy Box.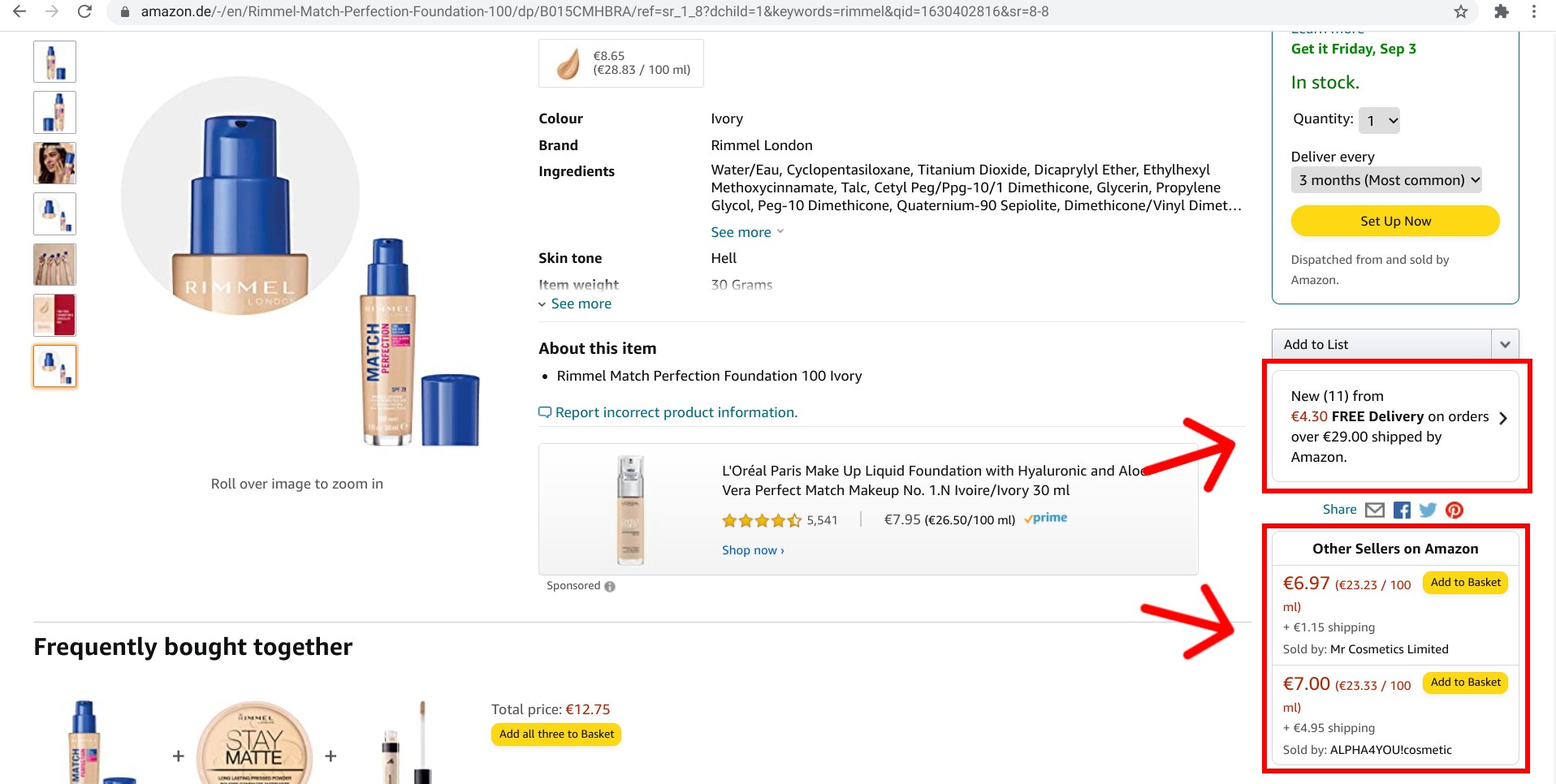 Screenshot of a product listing from Amazon.de with "new" and "other sellers" highlighted
But what happens if a fraudulent seller wins the Buy Box? Well, in that case, customers will be flooded with grey market or fake products, causing brands (and themselves!) immense harm.

How to protect your brand and your customers
Don't worry though; you don't have to accept this as an inevitable fact of life. A comprehensive online brand protection program is the best way to eliminate the threat posed by IP-infringing third party sellers on Amazon or any other marketplace.
globaleyez's highly scalable and adaptable services, especially marketplace monitoring and test purchase are perfect for discovering listings that infringe on your IP rights. Combining the power of state-of-the-art software tools with human intuition and expertise, our marketplace monitoring service detects listings that may be harmful to your brand on over 150 marketplaces worldwide.
With our test purchase, we can gain tangible and court-admissible evidence about the origin of the product and the behaviour of the seller in over 50 countries. Finally, if a listing indeed infringes on your brand's IP rights, we enforce your rights and make sure it's taken down from the marketplace.
If you're worried about third party sellers infringing on your rights and stealing your revenue (or really, any other brand protection issue):
Reach out to us and let us show you how we can adapt our services to fit your brand's exact needs