Scientists have discovered that the average attention span of humans is becoming shorter. Apparently, in 2000 we were able to concentrate on something without giving in to distractions for a whopping 12 seconds, which sadly decreased to 8.25 seconds in 2015.
While this is not exactly true for every single situation in a human's life (as evidenced by the existence of books, movies, schools, businesses, etc.), the fleeting nature of our attention has definitely contributed to the birth of new expression forms, including short and funny videos that have quickly risen to the top of mainstream popular culture.
Enter TikTok.
What is TikTok
TikTok's story started in 2016 when Chinese media company ByteDance launched Douyin for the domestic market. Douyin is only available in China and allows its users to create short-form videos in various genres, including entertainment, dance, jokes and pranks.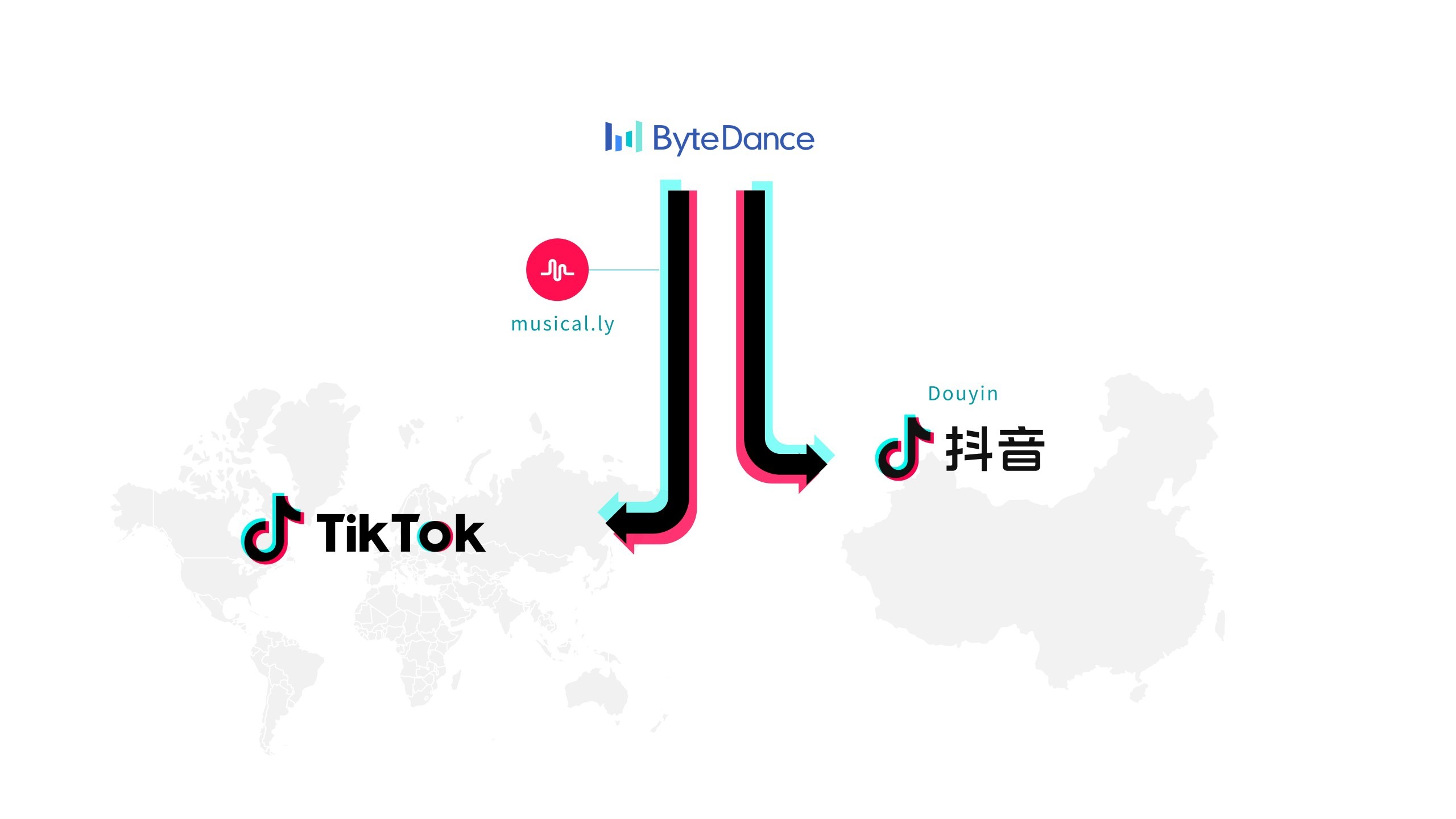 Infographic explaining the relationship between ByteDance, Douyin and TikTok
The platform quickly rose in popularity, which prompted ByteDance to expand to the global market. They already launched the international version, TikTok in 2017, but it only gained massive popularity after ByteDance bought another similar platform, Musical.ly and merged the services in 2018.
Since Muscal.ly was already popular in the US, bringing its users to TikTok proved to be the push it needed to rise to the top.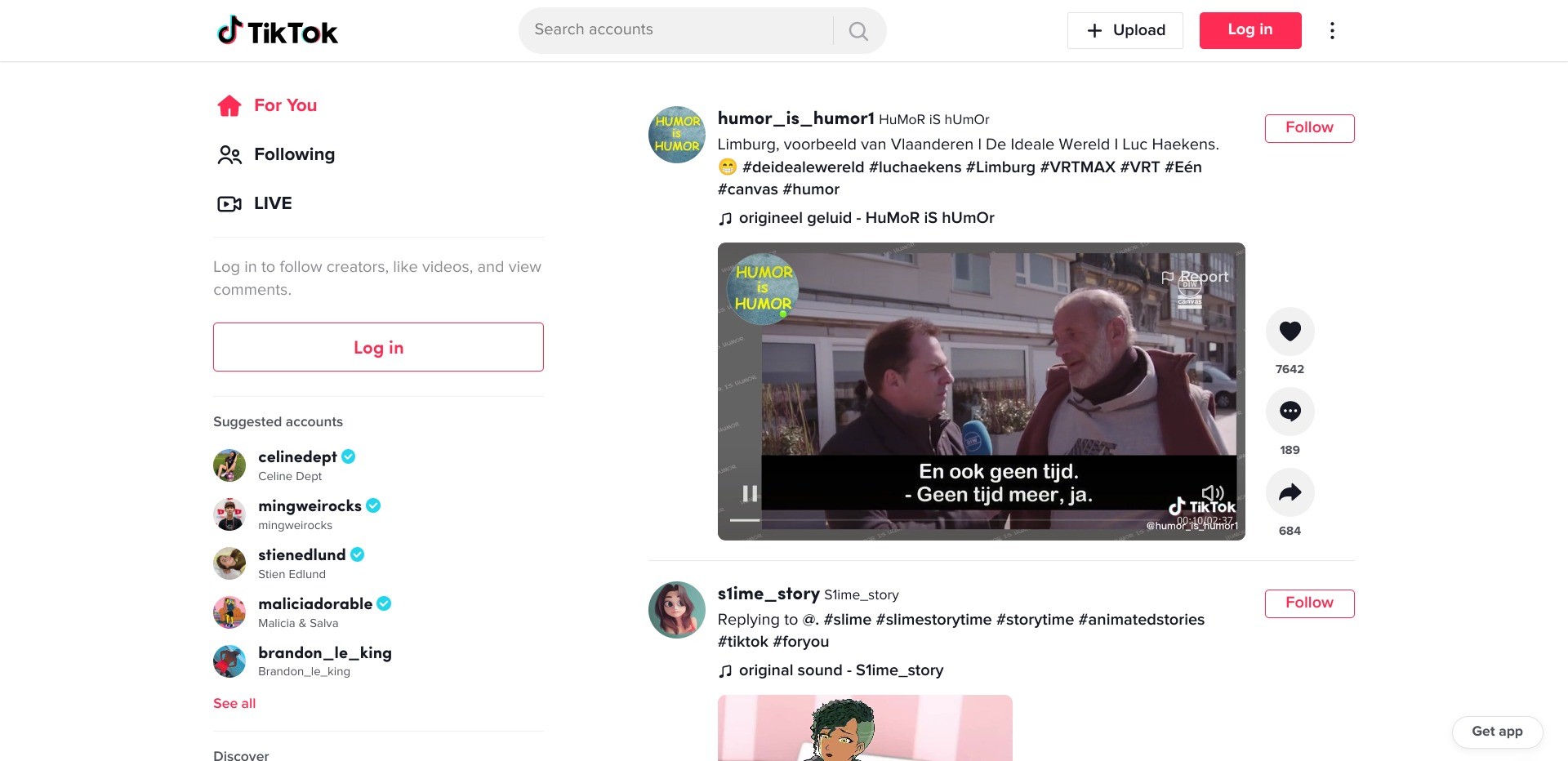 Screenshot of tiktok.com
TikTok mainly appeals to the younger generation (62% of users are below 30) and has the highest engagement rate per post among social media platforms. It was the most downloaded app in 2020 and 2021, surpassing even Facebook. No wonder that the platform currently has a net worth of $50 billion and keeps growing.
TikTok in social commerce
With such potential, it came as a surprise to no one when TikTok decided to enter social commerce in 2021. Partnering with Shopify, the social media platform launched TikTok Shop to offer in-app purchasing options, delighting its user base that previously had to resort to the tedious process of googling products they'd discovered in TikTok videos.
Find out all about TikTok's venture into social commerce
The operation proved to be a success. With 23.7 million US shoppers buying products on the platform, TikTok may not be the biggest name in social commerce (in comparison, Facebook boasts 63.5 million shoppers while Instagram stands at 41 million), but definitely a force to be reckoned with.
No wonder that they're already considering the next steps. In the second half of 2022, TikTok Shop started testing a Live-Shopping option for the US as well as the UK, and seems to be in the process of establishing fulfillment centers in both of these markets.
---
+++ Update Winter 2022 +++
To boost its European operations, TikTok Shop partnered with ChannelEngine, a Dutch marketplace integration platform. TikTok Shop hopes the new partnership will help solve the initial problems emerging after its European launch, including customer complaints about shipping issues and frustrated merchants leaving the platform.
---
All this suggests that further expansion plans are in the works and TikTok is following the path of its sister company, Douyin into e-Commerce success.
Douyin in e-Commerce
Launched in 2016 by ByteDance, Douyin is currently only available in China where it's one of the most popular social media platforms numbering 692.5 million users. Researchers predict further growth to 835 million users by the end of 2025.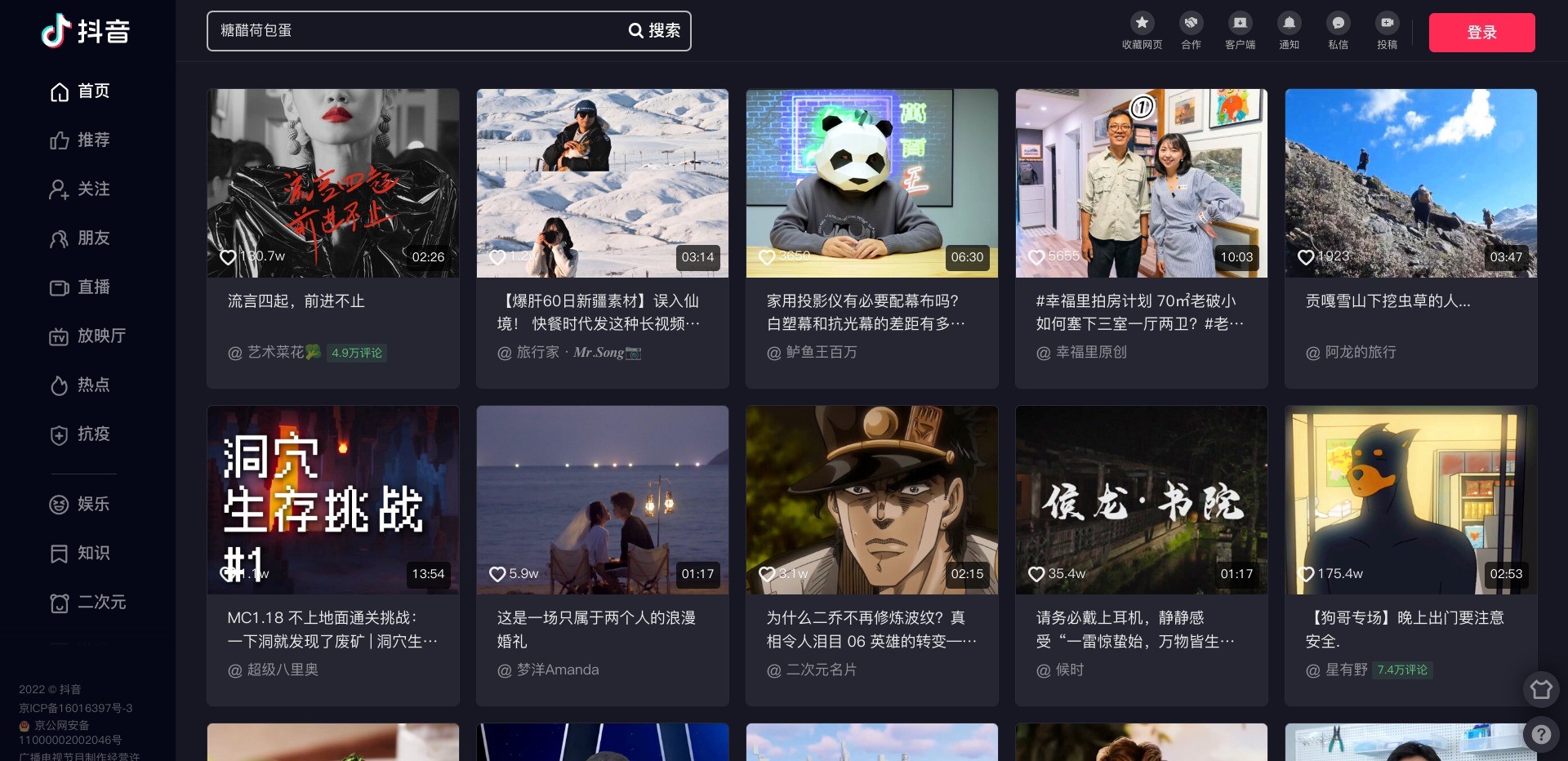 Screenshot of douyin.com
Douyin is built and functions the same way TikTok does. However, while TikTok is available in over 150 countries, only users in China can download Douyin. Furthermore, ByteDance states that the two apps can't access each others' databases and content, and even their servers are supposed to be stored separately.
However, the biggest difference is in their e-Commerce offering. While TikTok is a relative newcomer to this field, Douyin is one of the most important players in the Chinese mobile commerce market.
For instance, Douyin's live-streaming function is much more developed and is a major contributor to the company's social commerce success. Live streams are extremely popular and offer various perks to viewers, including limited-time discounts that expire as soon as the stream is over.
In addition, more advanced search filters allow Douyin users to narrow down their search results, which saves them considerable time and enhances their shopping experience.
To top it all, Douyin provides its sellers with an integrated sales channel to facilitate buying and selling on the platform. Perks include shoppable links and videos, AI-curated lists of related products, linkable bank accounts and much more for the comfort of both consumers and sellers.
IP infringements on Douyin and TikTok
While social commerce can boost the profile of honest sellers and expand their audience, it unfortunately provides the same advantage for fraudsters, if not more. The anonymity and reach offered by the internet allows fraudsters to mix their listings with those of honest sellers' and harm brands as long as they go undetected.
In every case, a lot depends on the platform the fraudsters work on and its specific IP-protection policies. Since TikTok is relatively new to the game, we can't say for sure how this situation will turn out over there.
But we have definitely come across some cases on Douyin.
In our experience, professional traders (both honest and fraudulent) rely on Douyin's many features. Sellers use videos, live sessions and all the other perks the platform offers to reach their target market.
Interestingly, many fraudulent sellers don't seem to be overly concerned about advertising IP infringing products. In fact, some of them even show how they create the fake and lookalike products they're selling via Douyin.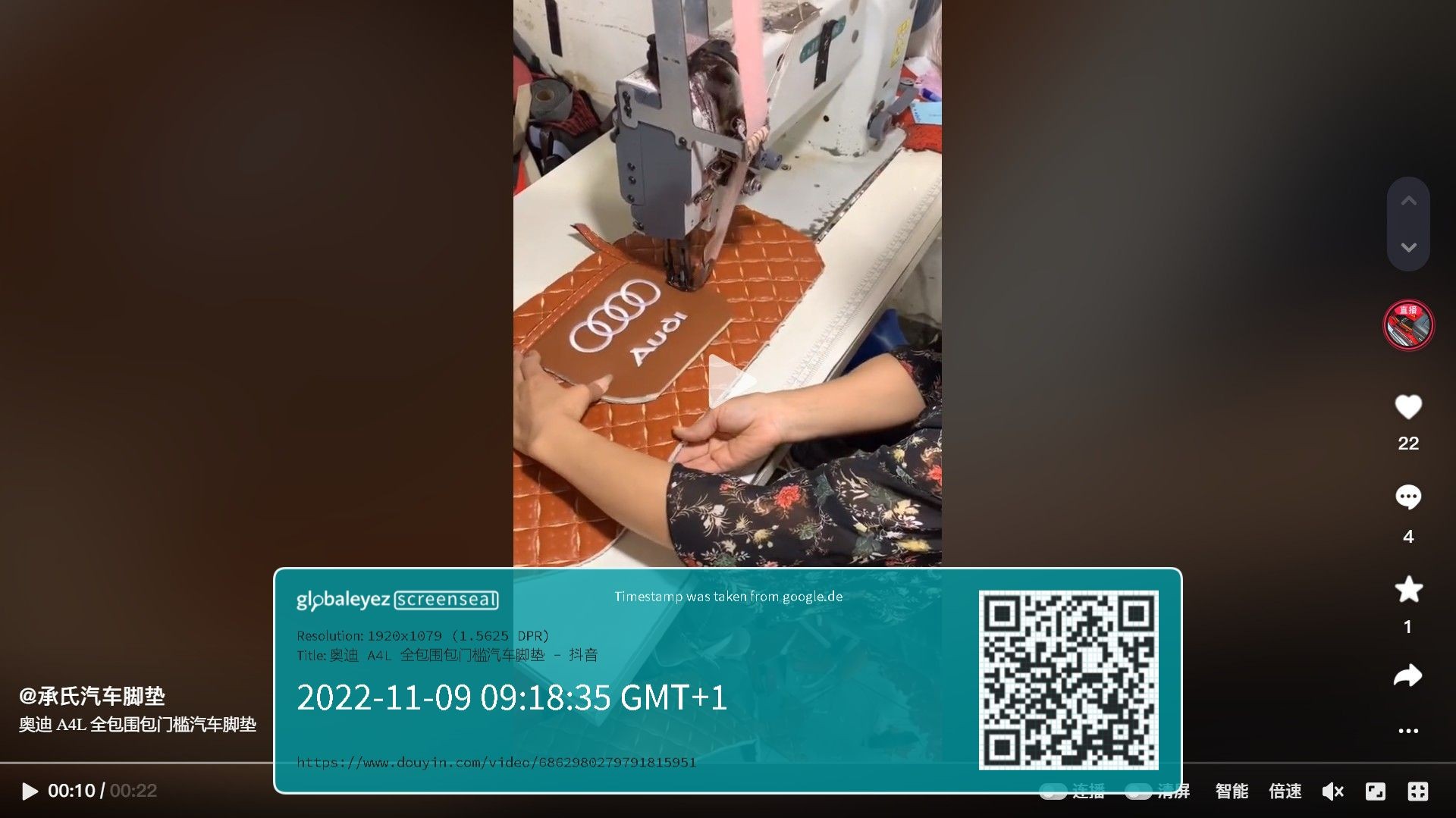 Screenshot of a douyin video in which fake Audi car floor mats are manufactured and advertised. The screenshot was created with screenseal.
The reason they dare to do this is the relative anonymity Douyin provides for its sellers. No real data is shown about them, not even their real name, only a nickname or a shop name is visible on their profiles. And while Douyin gives an approximate location of a shop, that information is too vague for tracking down a fraudster.
Online brand protection on TikTok and Douyin
Luckily, this isn't the end of the story. You can fight fraudsters on Douyin, TikTok and anywhere else with the aid of an online brand protection programme tailored to your brand's exact needs.
At globaleyez, we offer targeted measures to fight off IP infringements on Douyin (and TikTok, Facebook, Instagram, etc).
For instance, we provide extensive keyword monitoring combined with deep manual research to find out as much as possible about fraudulent sellers on Douyin. This is a part of our social media monitoring service that aims to eliminate IP infringements on Facebook & Co.
In addition, we provide domain monitoring to detect fraudulent webshops and other sites linked to fraudsters active on Douyin, TikTok and the rest. Since these sellers rarely limit their presence to one platform, our marketplace monitoring service is a perfect addition here to make connections between fraudulent listings and find out more about elusive sellers.
Moving forward, a test purchase is the best way to gather all the necessary information along with court-admissible proof about IP infringing products and their sellers. Finally, with all the information in hand, we enforce your rights and ensure the removal of the infringing listings from the platforms in question.
Conclusion
Although Douyin and TikTok may seem like unfamiliar ground for your brand, they could provide you with unmissable opportunities to reach your target market. However, whether you consider using these platforms or not, fraudsters may already be present there, abusing your IP rights, stealing your revenue and ruining your reputation.
Don't let this be the case.
Contact us now and let's find out together what's happening to your brand on these platforms