After the successful introduction of the Shop Module last year, Twitter continues to step up its e-Commerce efforts. Welcome to the next level: Twitter Shops.
Shopping on Twitter?
Although the platform has already tried to venture into the realm of online shopping back in 2015, the first really successful step was the launch of the Shop Module in 2021. This feature introduced shoppable profiles for selected vendors in the US and allowed them to display a carousel of up to five of their products above their tweets.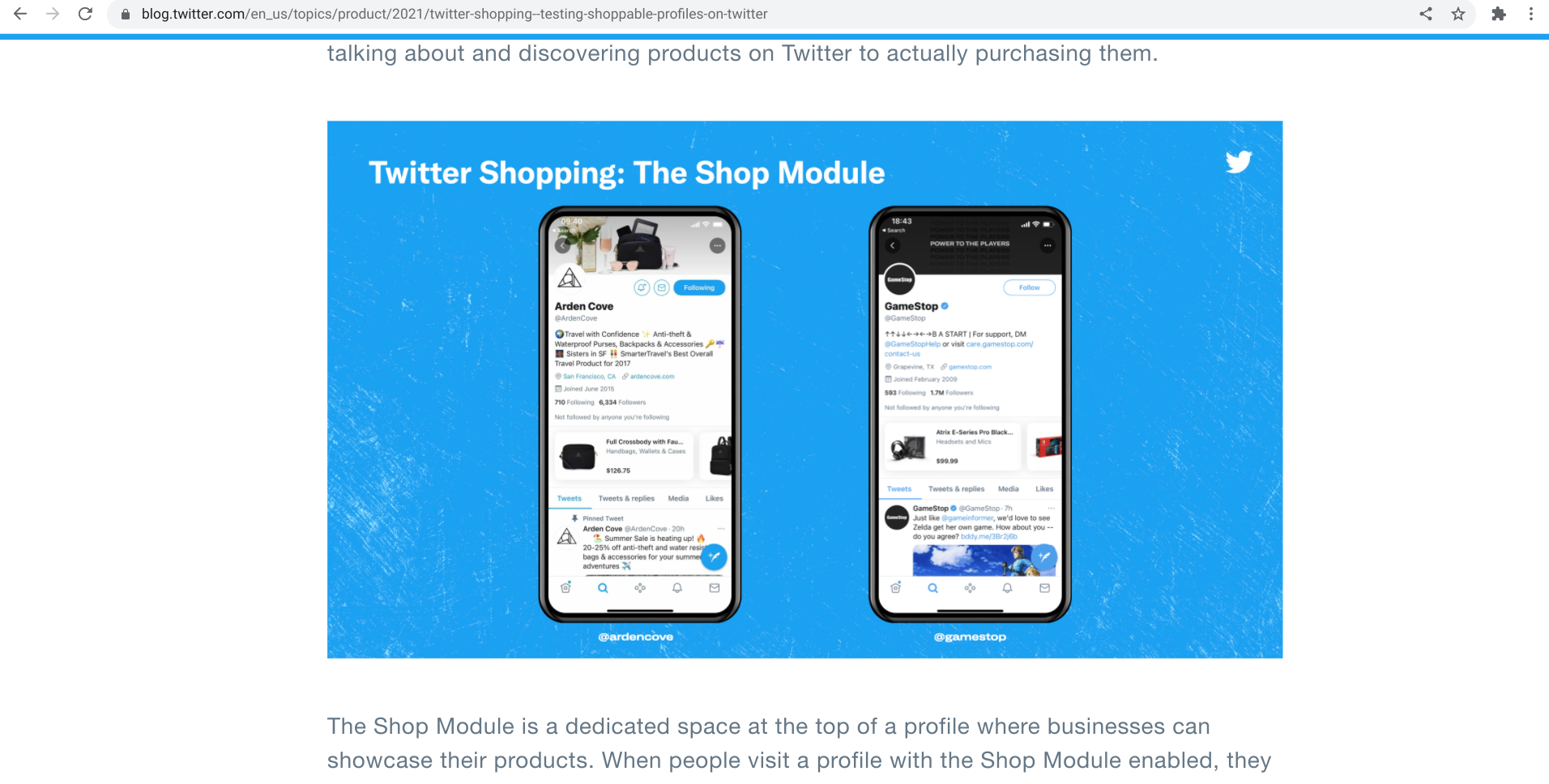 Screenshot of blog.twitter.com displaying the Shop Module feature
Potential customers using iOS devices in the US can scroll through the products on the carousel and tap on the one they're interested in. An in-app browser appears, providing customers the opportunity to learn more about and even purchase the desired product without leaving Twitter.
Introducing Twitter Shops
The newly launched, free Twitter Shops (currently still a beta version) takes all the advantages of the Shop Module to the next level. Instead of a mere five products, Twitter Shops allows brands to showcase up to fifty products plus include an entire catalogue with a maximum of 10,000 products on their shoppable Twitter profile.
Customers can discover shops via the "View Shop" buttons visible above your brand's tweets. Interested parties will land on a "larger, fully-immersive space" that allows them to learn more about the products and even purchase them without leaving the Twitter app.
Just like the Shop Module, Twitter Shops is currently only available to a selected few US brands (including wireless network operator Verizon, fashion companies Gay Pride Apparel and Arden Cove, as well as the podcast Latinx in Power and food delivery service All I Do Is Cook) and to customers using Twitter on iPhones set to English.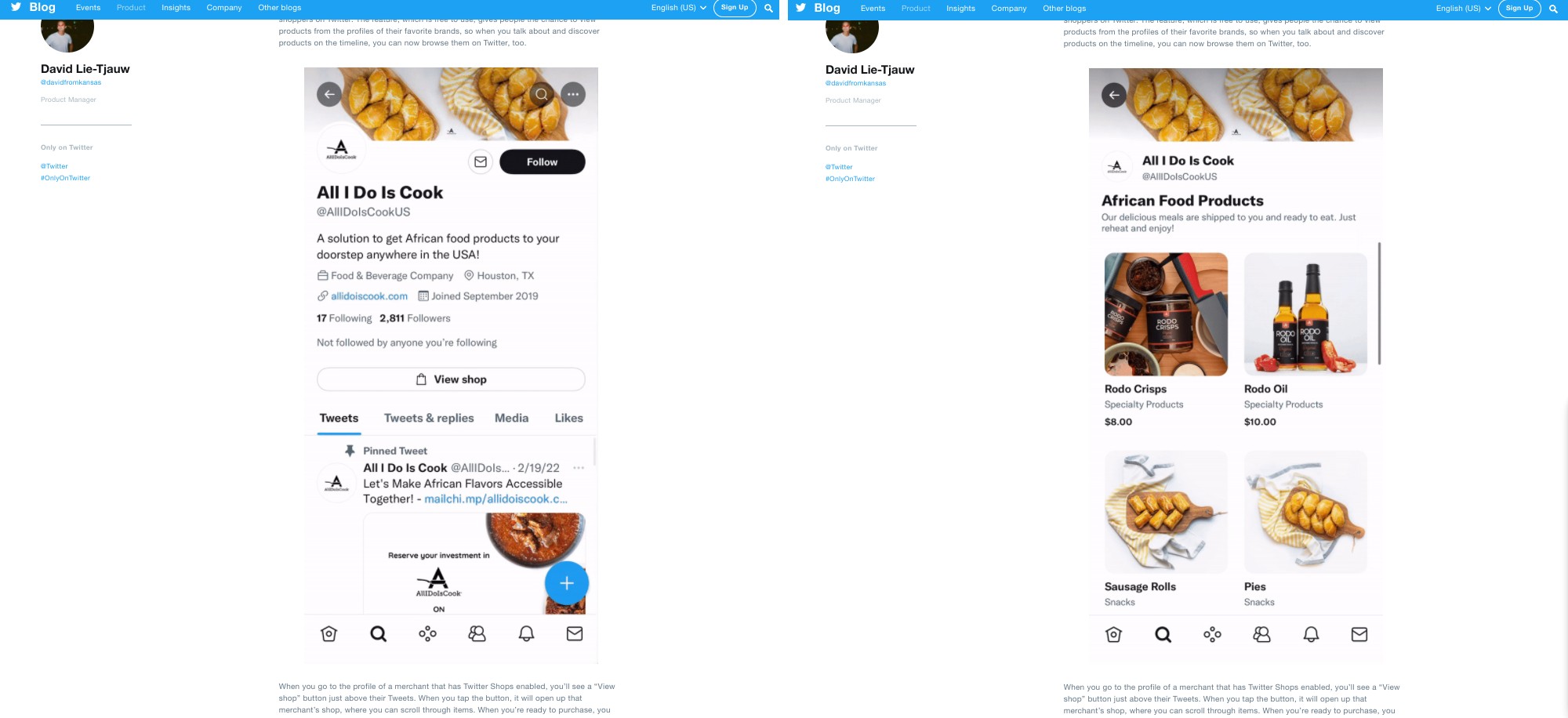 Screenshots of blog.twitter.com displaying the new features including the View shop button and the product catalogue
The new feature helps brands to connect with potential customers. Since, according to Twitter, people are already talking about products on the platform, it makes sense to allow them to actually purchase those products on Twitter.
If your brand is already present on the platform (and you're among the selected few US brands currently allowed to participate in the beta version), it makes sense to give the new features a try and see how they help you acquire new customers. Especially smaller brands with a tighter budget may find that Twitter Shops can help them widen their reach and bring in more customers.
As Product Designer Chrystal King announced on Twitter, "Today, we launch Twitter Shops! I feel so proud to have worked on this with my team. It's always amazing to see designs transform from ideas to something real and tangible. The best thing is... this is only the beginning - there's SO much more to come."
What else is new
Twitter Shops and the Shop Module are not the only e-Commerce ventures of the social media giant.
Live streaming options are also available to brands and merchants to showcase products. They can be placed in the videos and viewers can land on the product page via an in-app browser during streaming.
Another tool, Twitter's Shopping Manager helps with the onboarding of brands and managing their shopping features within the platform.
---
+++ Update September 2022 +++
In the summer of 2022, Twitter announced another handy feature, Product Drops. This tool allows iOS and Android users in the US to get reminders for product drops they're interested in.
From now on, if your customers see your tweet about a future product drop, there will be a "remind me" button on the bottom of your tweet. By tapping that button, customers ensure they'll receive an in-app notification of the product drop 15 minutes before it starts, and then another when it actually begins.
In addition, your tweet announcing the product drop can lead interested customers to a "product details page" that contains all the necessary information about the new product, including pictures, a description, and price.
---
Brands on Twitter
Social commerce is a great way for brands to close the gap between displaying ads and shopping.
With a well-placed, compelling ad that leads to your shop, customers who have potentially never heard of your brand or products are just a click away from an actual purchase. And Twitter, a massively popular social media site with "217 million monetizable daily active users", is the perfect place for it.
Gone are the days when you had to leave a platform and open your browser to shop for products. With in-app browsers and other seamless connections, social media apps allow customers to shop products without even changing displays on your device.
Related topics
Social commerce is hotter than ever in 2022
TikTok partners with Shopify to enter the world of social commerce
The resulting opportunities are way too good for brands to miss. Due to the highly scalable nature of campaigns and other handy features of social media platforms, brands can easily locate their target audience and create meaningful connections with interested people, converting them into customers.
The downside
Unfortunately, brands and honest merchants aren't the only ones using the opportunities provided by social commerce. Just like on marketplaces, fraudsters are hot on your heels on these platforms as well.
Easily targetable ads are available to both honest and fake sellers alike. Fraudsters posing as brands or authorised vendors can use the very same opportunities as you, duping customers into doing business with them and stealing your reputation and revenue in the process.
Sadly, posing as something else has never been easier than in the age of social media. When stealing your brand's IP-protected imagery takes less than two seconds, you have to be extra vigilant to catch imposters, who, thanks to the helpful features detailed above, can reach your customers just as easily as you.
That's not a new phenomenon; online brand protection experts have been dealing with trademark violations on social media for ages. However, what's new is Twitter in social commerce, which, despite its obvious advantages, may have certain drawbacks as well.
Despite all the experience of the social media giant, e-Commerce is a relatively new territory for it, which means its IP-protection policies and practice may not be as effective as other platforms', like Facebook's Brand Right Protection tools.
There's definitely a learning curve, and while we're confident Twitter will eventually get there, the question is, how will fraudsters exploit the newcomer's vulnerabilities?
And what's even more important: will you let them?
Online brand protection on Twitter
While Twitter may be new to e-Commerce, globaleyez certainly isn't. With decades-long experience in online brand protection, we know how to detect and eliminate IP infringements on social media.
Just like on other social media platforms, we already provide keyword-based searches on Twitter. And as Twitter is stepping up its game, so are we: we can extend our comprehensive social media monitoring service already existing on other platforms like Facebook or Instagram to Twitter as well.
What does that mean? Well, we monitor for both images and keywords on social media, checking ads, product listings and buying groups for potential trademark- and other IP infringing content.
Our extensive filtering options quickly separate authorised sellers from infringers. If you want to make sure, (or need to gather court-admissible evidence), a test purchase confirms the origins of the product and tells us invaluable information about the seller.
Find out if you need a test purchase
And, should it come to that, we'll enforce your rights and ensure the removal of the infringing content from social media.
We have excellent working relationships with major social media platforms, including Facebook and Instagram. We're very excited to extend that to Twitter and look forward to an effective cooperation with the platform.
If you're concerned about Twitter's entry to e-Commerce or face trademark issues on any other social media platforms, get in touch with us and let us show you how globaleyez can solve that for you.