The prestigious Shopping Awards (formerly known as Thuiswinkel Awards) in the Netherlands were handed out for the 21st time in a row at the end of March 2023.
These annual Awards, organised by BBP Media and the Shopping Awards Foundation, are given to businesses and entrepreneurs active in e-Commerce as a recognition of their excellence.
The Awards in a nutshell
Businesses can be nominated in two main categories, Audience and Professional Awards. Any webshop active in the Netherlands can register for the award.
In the case of the Audience Awards, the public can vote for their favourite online shop in 36 sub-categories, like apps and platforms, hardware stores, gift shops, fashion, electronics, personal care, flora and fauna, pets, etc.
The vote of the audience counts for 50% of the final decision. The other 50% is determined by around 1,000 industry professionals, including experts, entrepreneurs and e-Commerce leaders. Before the awards, industry experts can sign up for a deciding spot via the Shopping Awards website.
In contrast, nominees and winners of the Professional Awards are chosen by independent expert juries. This year, winners were announced in five categories: sustainability, B2B, marketplaces, new technologies and best new shop. The categories are named after their main sponsors, namely DS Smith, Mondu, Amazon, PostNL and PayPal.
The Best Webshop of the Year award is sponsored by DHL.
Jury members come from all corners of the industry, including companies like Google, Amazon, Heineken, Wholly Greens, DS Smith, and prestigious universities.
Public recognition
The Shopping Awards are widely recognised in the Netherlands and get reported on by national media and trade publications. In addition, nominees of the Audience Awards have access to promotional material they can use to publicise their nomination and ask consumers for votes.
Winners and runners-up, in turn, can purchase publicity packages that allow them to use the logos and other promotional material of the awards for an entire year.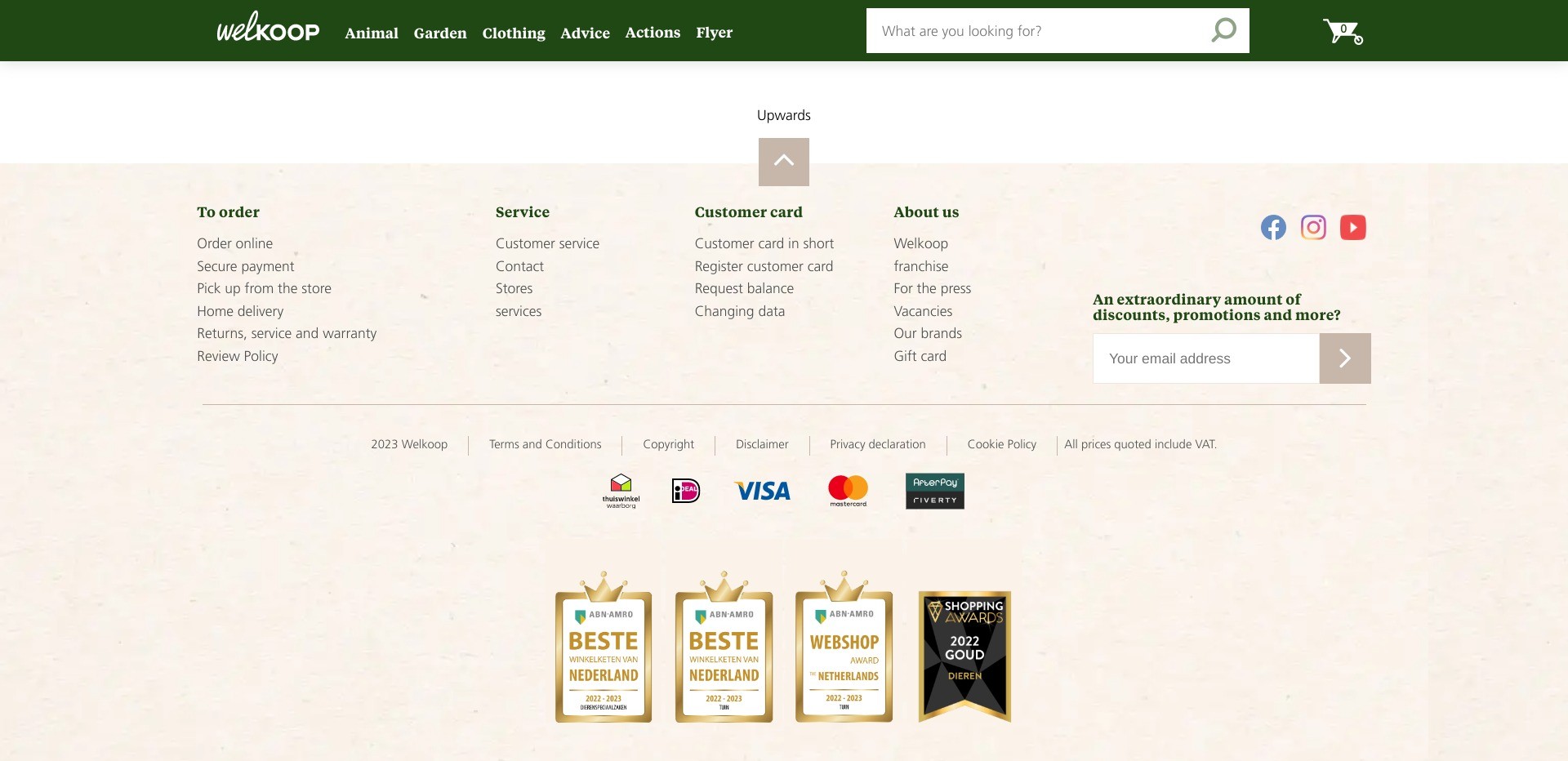 Screenshot of the bottom of the homepage of welkoop.nl, displaying its Shopping Awards badges
The winners
Audience Awards
DHL Webshop of the Year: Welkoop
Welkoop is a retail chain in the categories of garden and animals. The marketplace sells plants, seeds, pots, gardening tools and clothing, as well as pet food and pet care products. Welkoop is available both online and as brick-and-mortar stores all over the Netherlands.
Interestingly, Welkoop not only won the DHL Webshop of the Year award, but the animal category as well.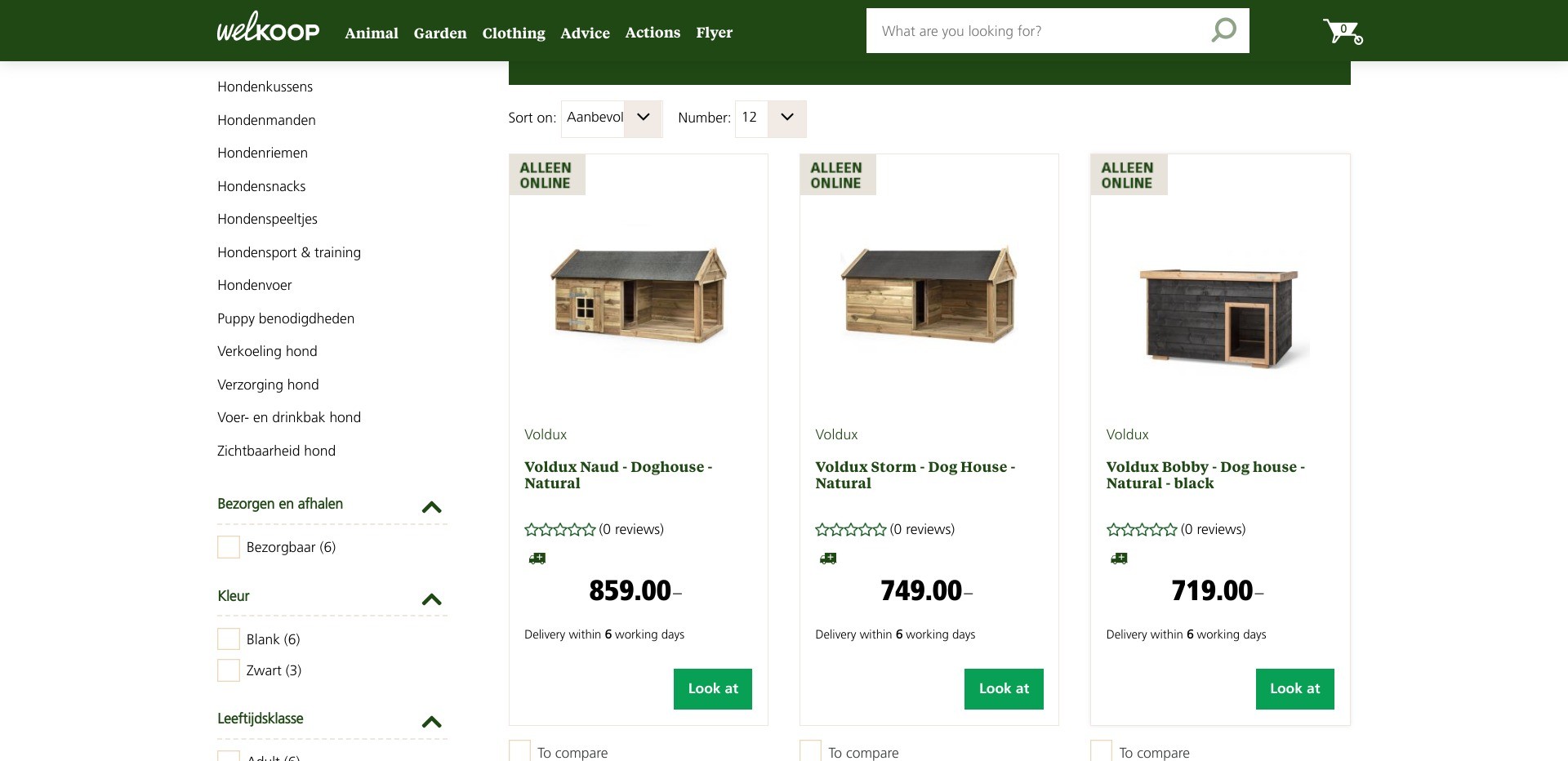 Screenshot of random dog house product listings on welkoop.nl
Since introducing all winners in the other 35 sub-categories of the Audience Awards would be outside the limits of this article, we decided to focus on the results of the Professional Awards. Nevertheless, you can find a full list of winners and runners-up here.
Professional Awards
PayPal Best New Shop: Cloudpillo
Cloudpillo sells bed-linen, pillows, mattresses and other sleep-related products. The company offers fast shipping, secure payments with various well-known payment options as well as lifestyle advice on their blog.
DS Smith Sustainability Award: ZO Schoon
ZO Schoon sells environmentally sustainable cleaning products like soaps, detergents, cleaning agents and more. The company's products include reusable plastic bottles and refills, eliminating the need for single-use plastic.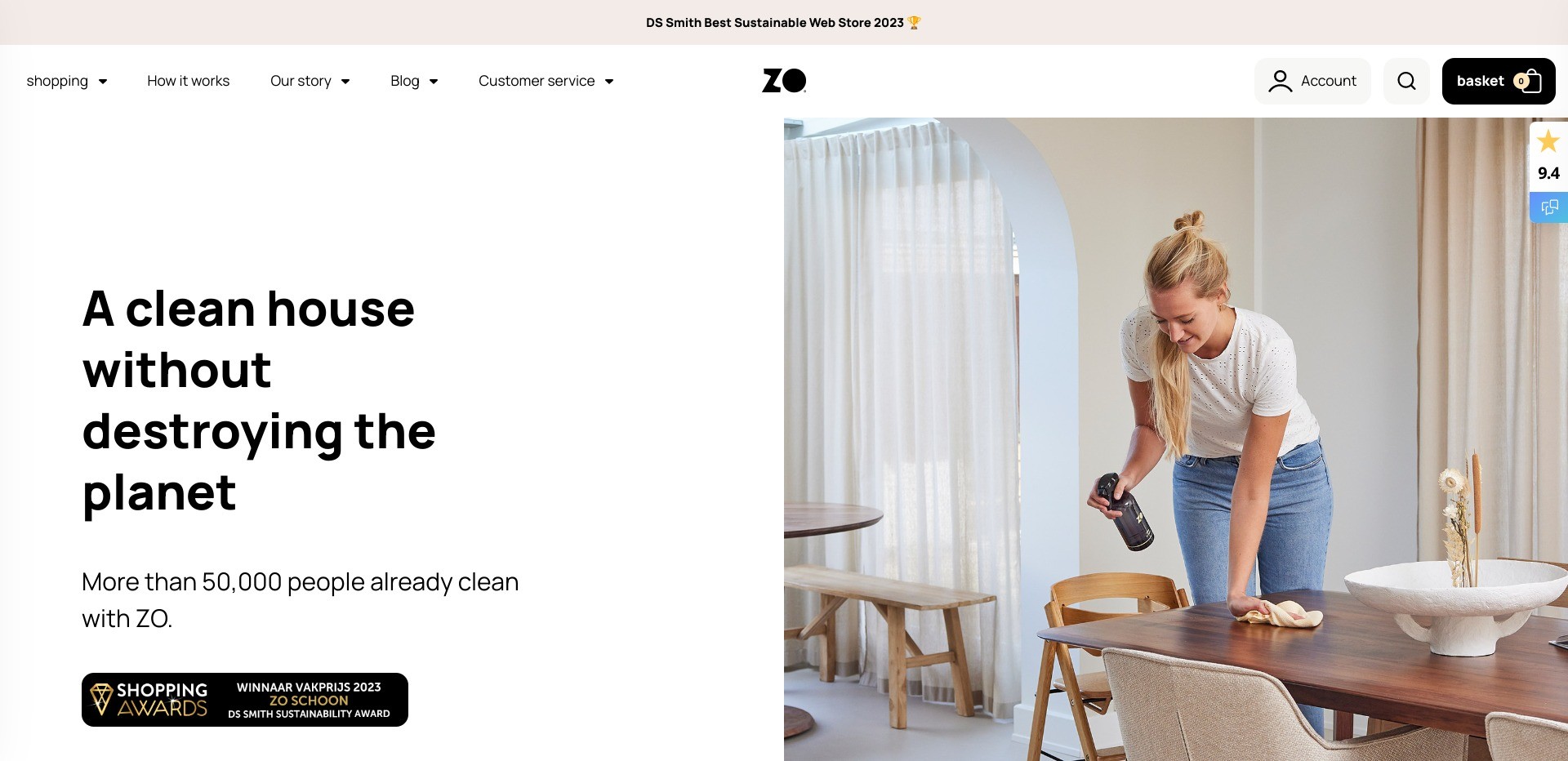 Screenshot of zoschoon.nl's homepage, displaying its winner badge from the Shopping Awards
The website's About us and Blog sections help bring ZO Schoon closer to its customers, and offer invaluable advice on a more sustainable way to wash and clean.
Mondu B2B Award: IGO Promo
IGO Promo sells promotional products like mugs, pens, bags, garments, and many similar goods to businesses. The company personalises the chosen products with its clients' logos, website address or any other desired phrase and image.
Amazon Marketplace Seller Award: Bolsius
Bolsius sells scented candles and home fragrances in 50 countries. The company grew out of a family business founded in 1870, and today has over 1000 employees. Bolsius candles can be bought online in the company's own webshop, or on Amazon.nl.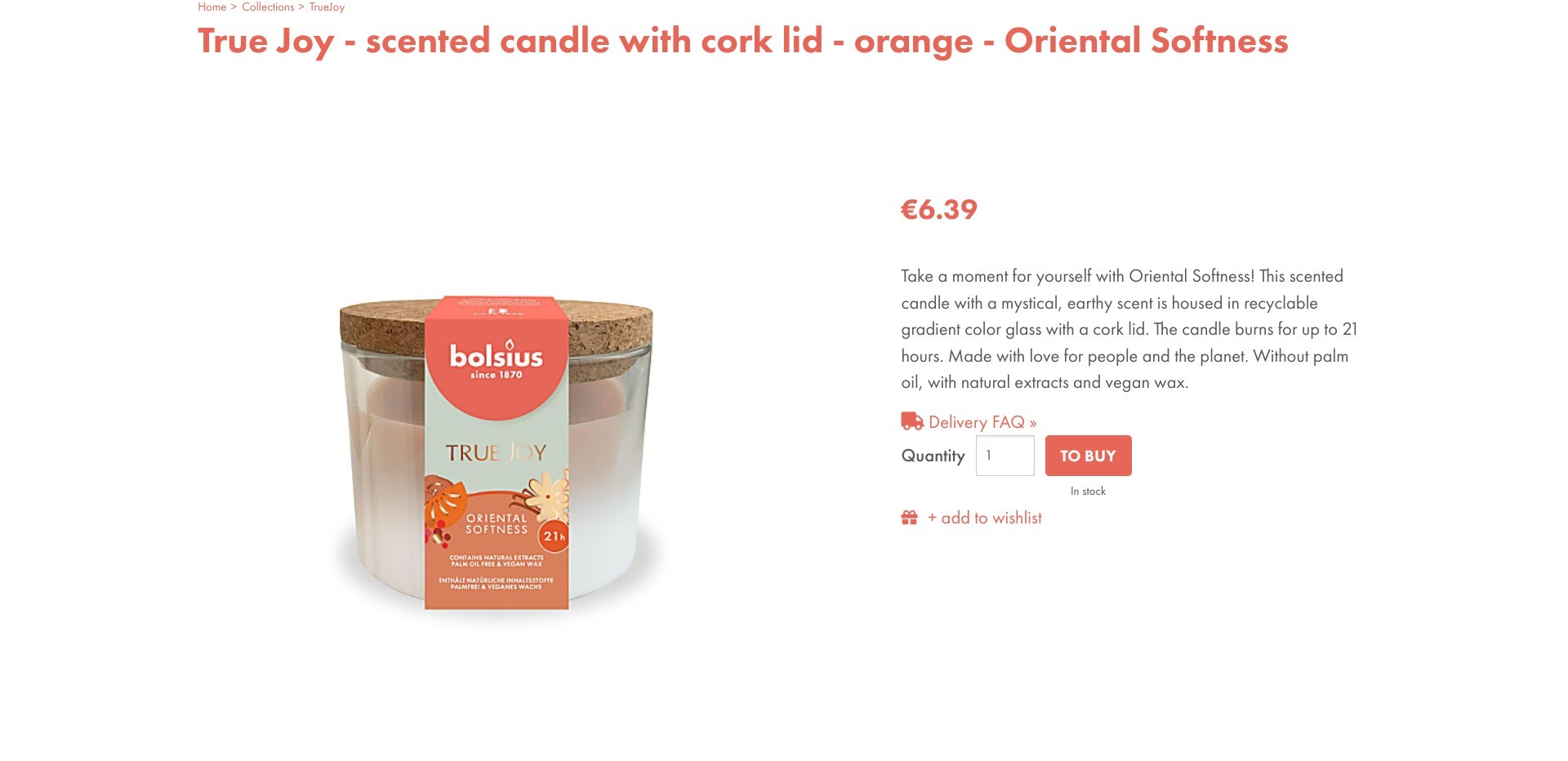 Screenshot of a random product listing on bolsiuskaarsenshop.nl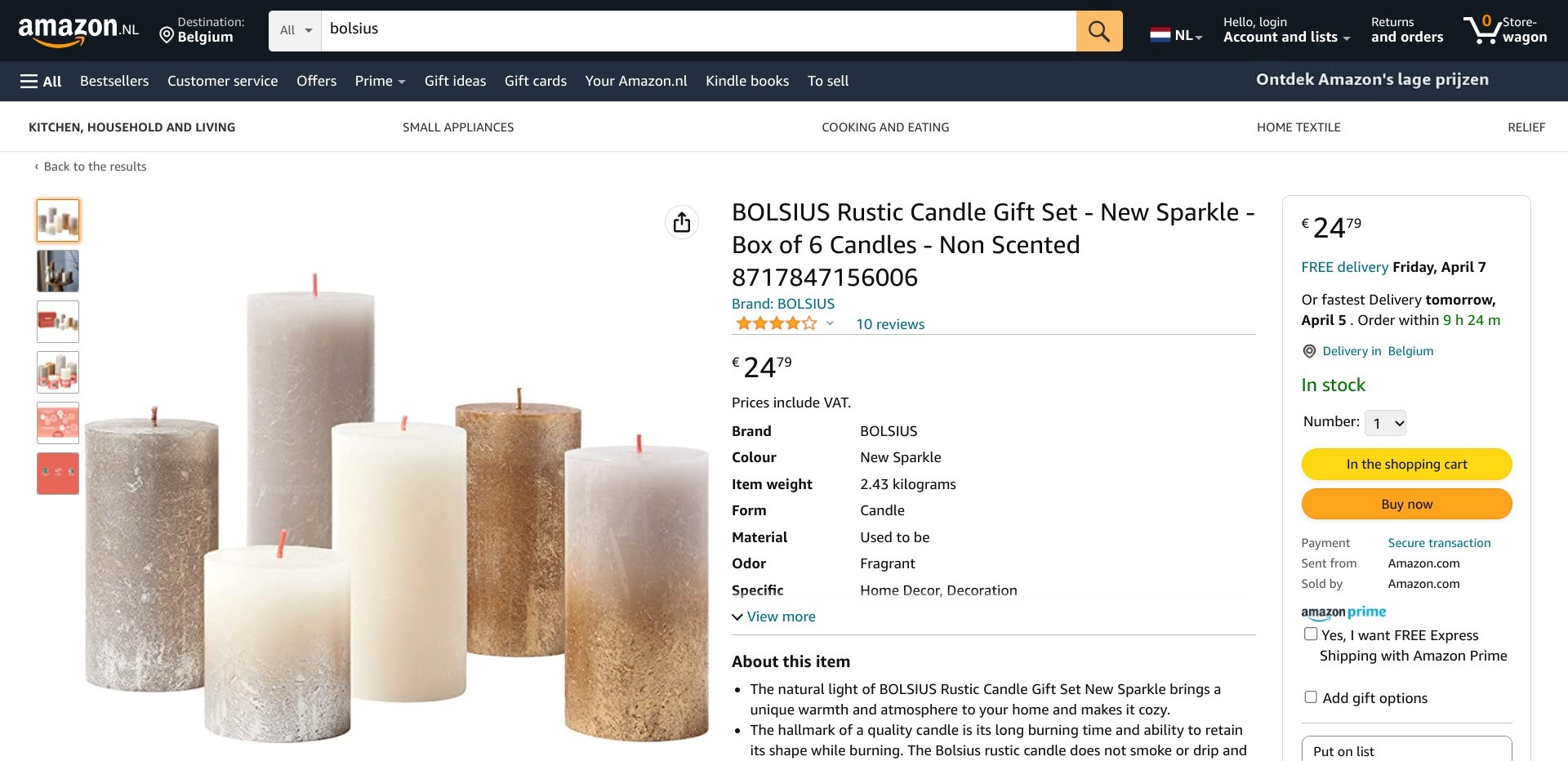 Screenshot of a random Bolsius product listing on Amazon.nl
PostNL New Technologies & Innovations Award: SteigerbuisOnline
SteigerbuisOnline sells scaffolding tubes and othe
r kinds of building materials for furniture, coat racks, hangers, fences and more.
Awards and online brand protection
In many industries, e-Commerce included, awards are the best way to show the specific profession's and/or the audience's appreciation for excellence. Receiving a prestigious award helps a business gain recognition, elevate its reputation and build trust towards it in consumers.
Imagine a consumer seeing your brand for the first time. Since today's e-Commerce environment is incredibly competitive, it's quite hard to gain his or her attention and trust at first glance.
However, if your website features the logo of a prestigious award, you can stand out from the crowd and have a better chance of closing the deal. No wonder that fake certificates are also in circulation in e-Commerce.
But to win a genuine award (and, simultaneously, your audience's trust and business), first you have to fulfil the criteria. Some of these are quite tangible (be registered in a certain country, be active in a certain industry, etc.)
Other criteria, however, may be less easy to grasp. Like, have a good standing in the industry. How do you get that? Well, online brand protection experts have quite an interesting answer to that.
Clean marketplace - clean reputation
Eliminating IP-infringing content from the internet is what we at globaleyez do. This includes fraudulent ads, product listings, social media posts, IP-infringing webshops, and much more. Once we've done our job, guess what remains online?
Your authentic and authorised content that perfectly fits your carefully constructed brand image.
This way, almost as a side-effect, online brand protection ensures the flawless presentation of your brand in e-Commerce, which in turn elevates your good standing in the eyes of the industry and consumers.
We're killing two birds with one stone for you: we eliminate hurtful IP infringements and create a clean marketplace for your authorised content to shine.
All our services work together for this goal. For example, our domain monitoring service detects infringing domains (e.g. fraudulent webshops) that dupe your potential customers into buying dodgy, cheap quality fakes instead of your original products.
Our social media monitoring discovers IP infringing ads, posts, product listings and other content on social media platforms, while our image monitoring detects fraudulent product images, ads, etc. anywhere on the internet.
The results? A flawless online and marketplace presence for your brand, ready for a prestigious industry award.
Don't let fraudsters steal your rightfully earned revenue and destroy your reputation. Contact globaleyez and let's devise a personalised strategy for your brand to restore your earnings and your reputation in e-Commerce.