The new obligations of digital service providers
All four categories are obliged to issue transparency reports, respect users' fundamental rights in their terms of operations, and cooperate with the authorities. However, only the inner three categories are required to report criminal offences, and only the inner two must vet their third party suppliers and are banned from targeting children in advertisements.
Online platforms, both large and small, also have to work with "trusted flaggers", users who flag content, products and services as illegal.
Finally, only very large platforms are subject to certain risk management obligations and crisis response, as well as external and independent auditing, public accountability and data sharing with authorities and researchers.
Legislators hope the new obligations will, among other things, improve the mechanisms for removing illegal content, increase the protection of users' rights and safety, reduce the number of illegal products and services online, and create transparency within both the operation of service providers and their legal oversight.
Related topics:
Learn all about the Digital Markets Act

China tightens e-Commerce regulations
The next steps
After the Presidents of the European Parliament and the Council of the EU sign it, the DSA will be published in the Official Journal of the European Union and enter into force 20 days later.
Then a 15-month grace period follows so the affected parties can get ready for the new rules, which means the DSA will start to apply 15 months after its publication.
The DSA and online brand protection
We at globaleyez are very excited about the DSA and its implications for our work. In particular, we like the requirements about online platforms having to know their third party suppliers, as well as the general notion of reduced illegal content, including counterfeit product listings online.
Find out all about third party sellers here
Currently, online marketplaces aren't required to know a lot about their third party sellers. Most have their own, varyingly strict requirements which range from submitting an email address or phone number to uploading proof of identification. No wonder that fraudulent third party sellers usually find their way to platforms with the least amount of security checks and requirements, provide their contact info and start selling.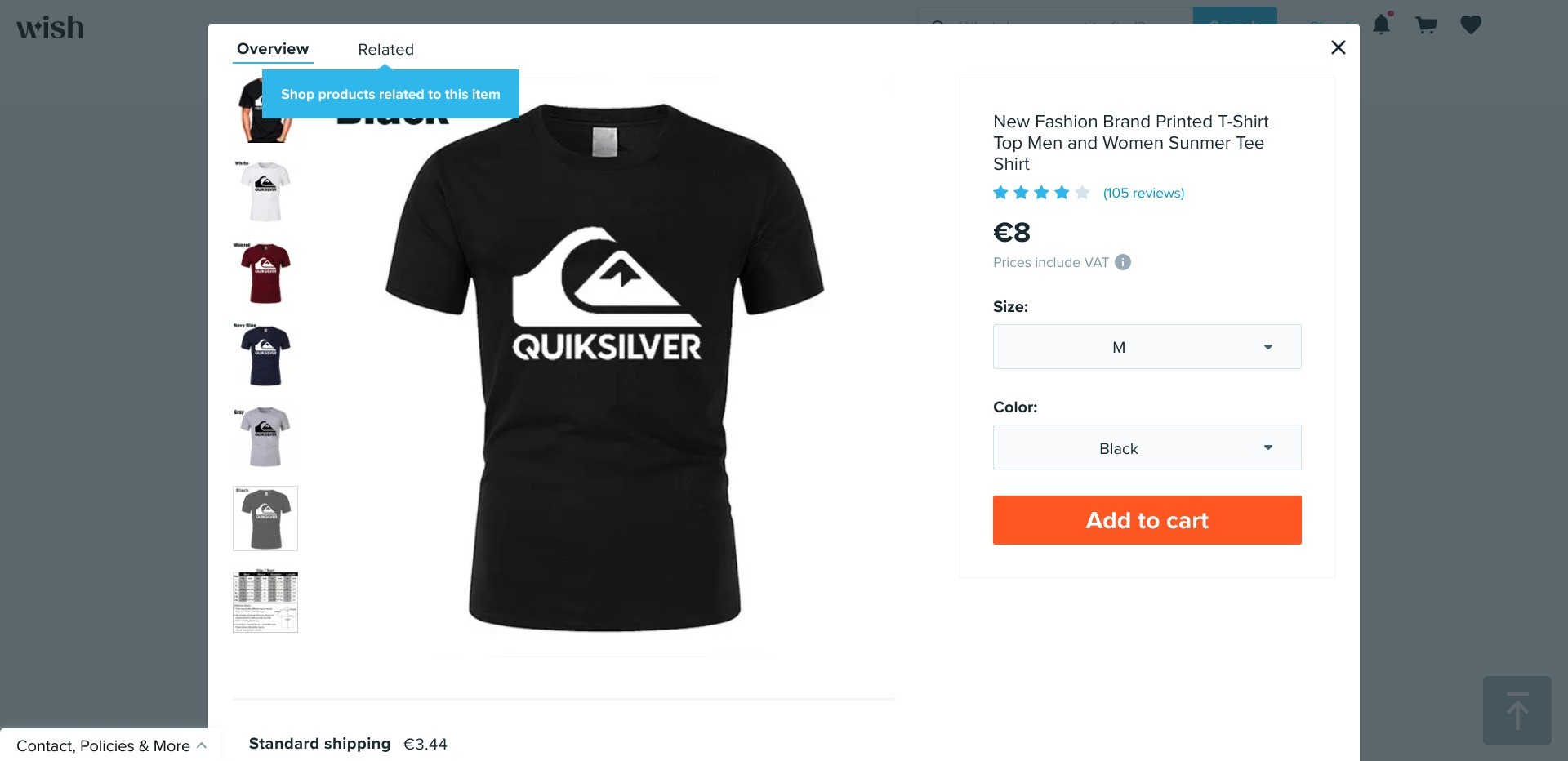 Screenshot of a random listing for a "Quiksilver" T-shirt on wish-com
Take a look at the above listing, for example. The price of an original Quiksilver T-shirt is usually between 25-35 euros. Here, this Wish seller offers it for 8 €. While we haven't run a test purchase so we can't be totally certain this is a counterfeit product, but the significant price difference definitely points in that direction.
The DSA could indeed be a game changer in the right direction. If online marketplaces face legal obligations to vet their sellers before allowing them access to their platform, third party sellers with dishonest intentions would have a much harder time to set up shop.
Obviously, this largely depends on the actual vetting process marketplaces will have to put in place, how serious it is, and how it is enforced. But for now, let us be optimistic and assume that the process will be sensible, effective and strictly enforced.
Unfortunately, even the strongest rules can be circumvented and we can't assume that as of the date the DSA will start to apply, counterfeiters will disappear from the internet. However, their numbers could be significantly reduced, at least until they find their way back somehow, and at least in Europe.
Trusted flaggers
We also like the idea of trusted flaggers reporting illegal content like counterfeit product listings online. Actually, globaleyez already does that: we monitor marketplaces to find IP infringing listings on over 150 online marketplaces worldwide, we check for infringing content on social media as well as domains and images on the entire internet.
Then we contact the marketplace/web hoster/registry or registrar in question and ensure the removal of the illegal content from the internet. We have an excellent working relationship with most of these service providers who tend to act quickly and efficiently upon our removal requests. Therefore, we can attest that this process works really well and we see no reason why trusted flaggers under the DSA wouldn't reach a similar level of success.
Of course, who the trusted flaggers will be, what kind of agreement they'll have with the platforms and what criteria they'll use as a basis of their work remains to be seen.
Conclusion
The DSA brings along a significant shift in the oversight of online content in Europe. We hope the rules will be implemented effectively and will indeed contribute to the reduction of illegal content, including IP infringements.
However, we can't expect that counterfeiters will just close up shop. Fraudsters are known for always finding a way, which means that you can't relax and wait for the DSA to protect your brand. You need to take active steps to avoid any damage caused by IP infringing content and products.
Take the first step now and reach out to us to start building a tailor-made online brand protection programme for your brand.