Livestream shopping continues its victory march. The market is currently worth $32 billion in the US, and is predicted to hit a whopping $68 billion by 2026, accounting for 5% of all eCommerce sales.
Find out all about Ritzi, Germany's first livestream shopping app!
In China, the original home of livestream shopping, these numbers are even more impressive. The market is currently valued at around $96 billion (700 billion RMB), and is predicted to reach $287 billion (2,100 billion RMB) by 2026.
Between 2020 and 2022, livestream viewing time grew by 240%, and in 2022 the download of livestream apps increased by 77% compared to the previous year.
Whatnot is definitely one of those apps.
Introducing Whatnot
Co-founded in 2019 by ex-Facebook employee Greg Lafontaine and his friend Logan Head, Whatnot is one of the newest - and fastest growing - social marketplaces in eCommerce.
The original idea behind Whatnot was to create a platform of exchange for fans of collectible items, like baseball cards and comic books. Sports fans may find this familiar; after all, this is what Notable Live is all about.
Find out all about Notable Live!
Although the idea is not new, the means to achieve it definitely is: Whatnot is a livestream platform, allowing sellers to create and broadcast videos of themselves introducing their products.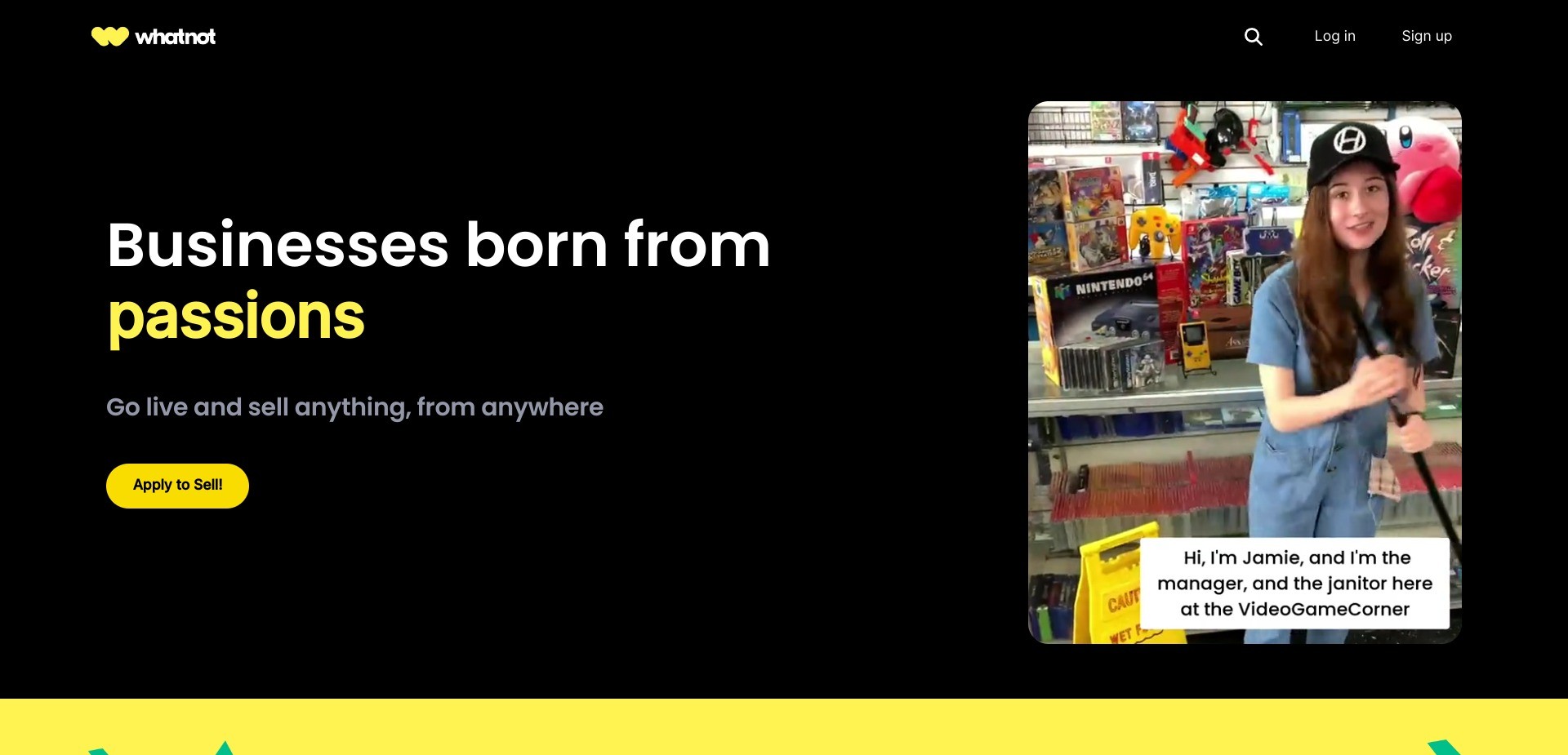 Screenshot of whatnot.com's homepage
This type of selling is live, engaging and interactive, as close to a brick-and-mortar shopping experience as possible, right from the comfort of your home. No wonder it's steadily growing in popularity.
As does Whatnot. Once the idea took off, new product categories were introduced, new sellers flocked to the platform, and now you can buy new and second-hand clothing, electronics, toys, and many other popular categories.
Today, Whatnot has around 3.1 million monthly visitors, with many users staying 2 hours on the platform per day. Sales can be either fixed price or auctions, and are usually conducted during the time a livestream is on.
Related articles
Risky Ritzi? - Threats and opportunities of live-stream shopping
Top eCommerce trends for 2023 and what brand protection experts think of them
eBay scores new cooperation with Notable Live
Sellers with an already established social media following may find it easier to set up shop on Whatnot than those starting from scratch. Also, people who have an engaging online persona and are able to quickly create meaningful connections with viewers have more luck in making a sale.
However, the vendor onboarding process is easy and social commerce enthusiasts can start selling once their seller application is approved by Whatnot. Moreover, the platform also offers to help with shipping by allowing sellers to create and download shipping labels via their Whatnot dashboards.
Advanced sustainability
Livestream shopping has the ability to shine a spotlight on any product - including second-hand items. This type of attention can definitely contribute to increasing the sustainability of e-Commerce and the global economy in general.
In contrast to badly-lit pictures of used items, would-be customers can get an almost hands-on experience of a pre-loved product, as introduced by its current owner. Presenting items like this can boost their appearance and enhance their chance of being bought again and again.
Related articles
Tchibo opens second-hand clothing store on Sellpy
Zara Pre-owned expands in Europe
Major consumer behaviour trends for 2023
Livestream shopping vs your brand's IP rights
Despite all the advantages of livestream selling, there are quite a few drawbacks for brands to consider. These all stem from the lack of control you have over your products' appearance and representation.
While you can definitely control how your products are displayed in brick-and-mortar stores and you may even have a bit of say in how your product listings appear on various online marketplaces, livestream shows tend to be much less organised and controllable than other selling environments. You're at the mercy of livestream hosts, and in case of less professional, less experienced sellers, your product may appear in quite an unfavourable light.
Find out why product representation matters!
Another, even more serious problem here is the issue of IP infringing products. Because of the individually streamed videos, the likelihood of counterfeit, grey market, lookalike, or any other IP infringing products emerging on the platform is quite high.
And although Whatnot promises to vet every seller, counterfeiters are known to be resourceful when it comes to concealing their true identities.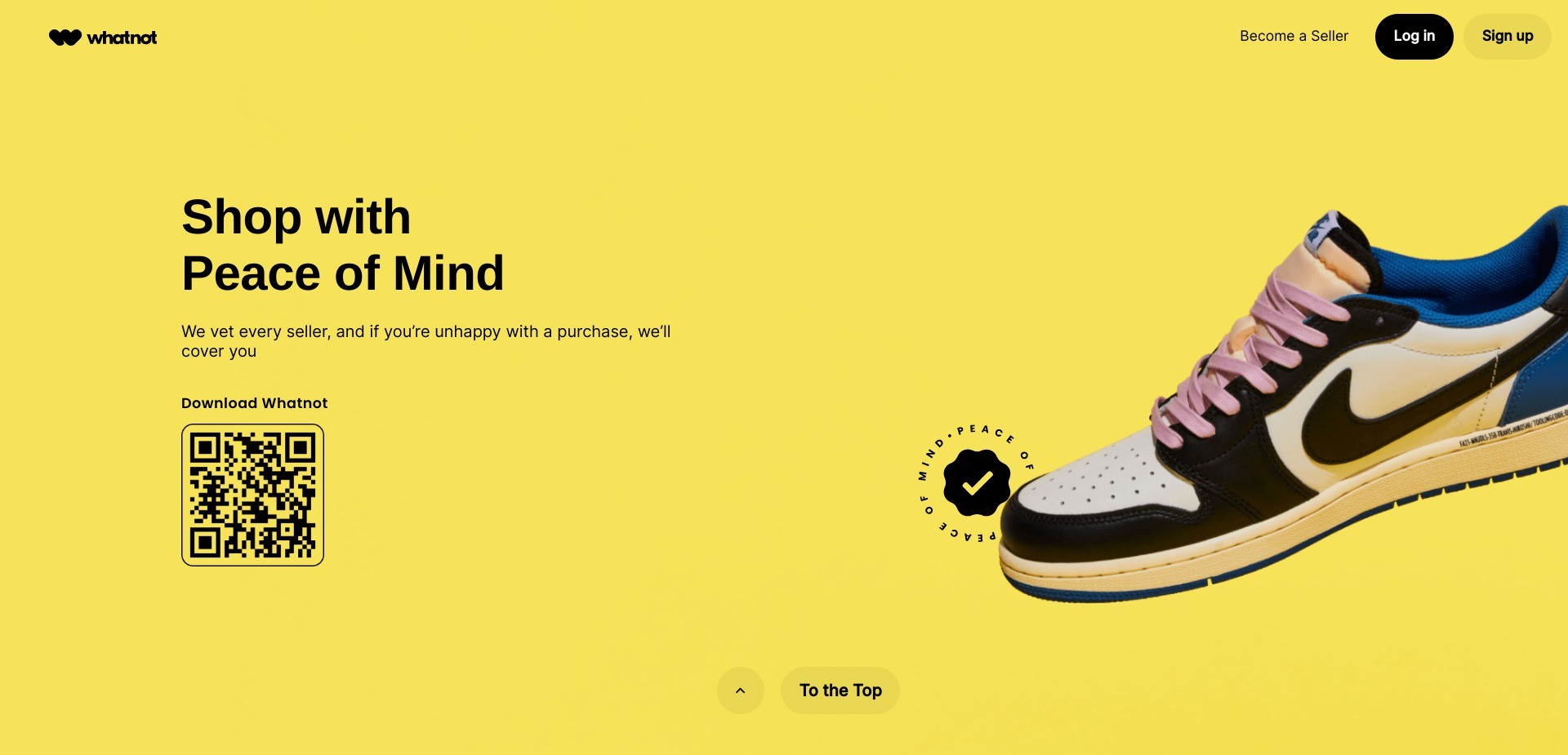 Screenshot of whatnot.com promising to vet every seller
In fact, we have already encountered fraudulent sellers infringing on our clients' IP rights in their livestreams on Whatnot.
Protecting your brand on Whatnot
Monitoring livestreams is different from monitoring regular product listings on a classic online marketplace.
Our software tool traxster definitely picks up keywords in livestream descriptions, however, the video itself may contain infringements that aren't referenced by keywords. Therefore, monitoring livestreaming platforms requires a lot of manual research - and our expert intuition.
Which are the videos most likely to contain infringements? What are the telltale signs that a seller may be offering fake products? When it comes to livestream shopping, these questions can only be answered by human expertise.
Luckily, we developed an excellent cooperation with Whatnot regarding the removal of infringing content from their platform. Whenever we get in touch to enforce our clients' IP rights, Whatnot is ready to remove the offending videos and other content from the marketplace right away.
Conclusion
Livestream shopping is rapidly gaining ground thanks to the interactive and engaging shopping experience it provides for both sellers and consumers. Unfortunately, fraudsters are also present on livestream platforms and try to steal your brand's revenue by infringing on your IP rights.
Don't let this happen to your brand; contact us today and let's put together a plan to protect your IP rights on livestream shopping apps as well!